Prince William County Police Digital Forensics team puts heart, soul, and mind into solving cases
This is the third of six stories in our series that will examine the unique assignments within the Prince William County Police Department.
We see it in the movies and on television all the time, and most of us would be curious to experience what it's like to work in digital forensics. After all, forensics is a captivating division of police work. Something that looks completely innocent to the untrained eye could be the evidence that convicts a dangerous felon.
In the 21st century, evidence usually includes elements of the digital world we live in. It seems everyone has some kind of technology – witnesses, victims, and perpetrators. That is where the Prince William County Digital Forensics team steps in. Meet three detectives who take on hundreds of cases per year, deciphering evidence in several devices per case.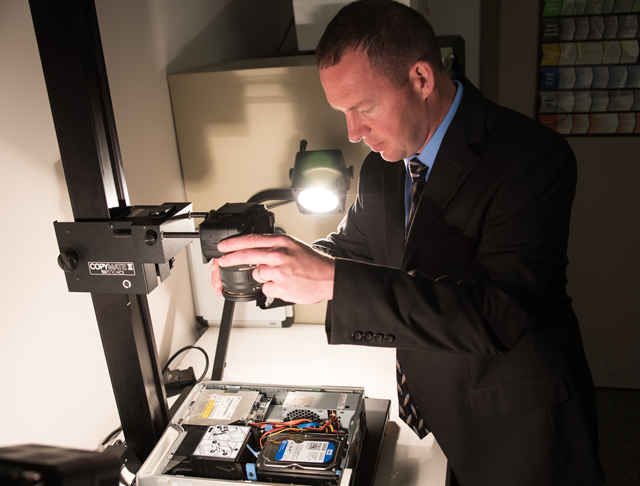 Detective Jon Kennedy
Detective Kennedy has been with the department for 16 years and says he likes keeping up with the numerous changes that come with an evolving field. When Kennedy (started with the Department), police vehicles didn't carry computers. Kennedy began doing computer forensics with the Department before the Digital Forensics Unit was created.  Now, he finds himself working in all aspects of digital forensics.
"It's challenging. We go to training as much as the budget will allow," he said, "because technology is changing all the time."
Kennedy likes the problem-solving aspect of resolving each crime. The caseloads are large. Requests for examinations of multiple devices per case are typical.
Each device must be put through a methodical and systematic exam.
"We do have to testify to what we do," Kennedy explained, which is why everything must be carefully examined and documented. Certified as an expert witness, Kennedy said the examiners "try to present evidence in a way anyone would understand."

"I enjoy the Job," said Kennedy, who went into police work because he wanted to help people. "That's pretty generic," he said, "but that's the truth."
What is the most satisfying aspect of the work? "It brings closure for the victim or family of the victim, or all those involved in the investigation."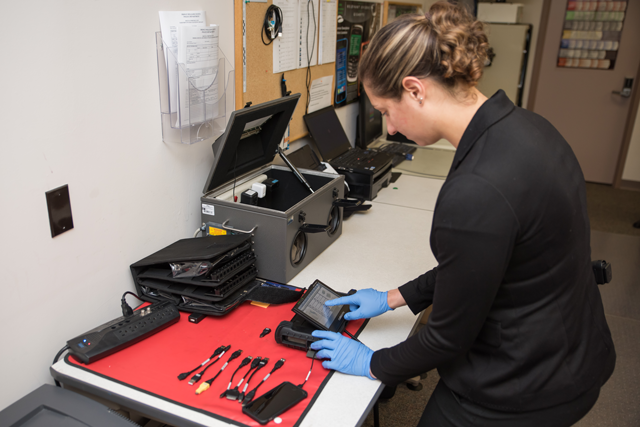 Detective Katherine Zaimis
Detective Zaimis is the newest examiner in the department, transferring to Digital Forensics in October of 2015. She majored in criminal justice in college, likes computers and is very hands on.
Like everyone else in the force, Zaimis worked as a patrol officer with Prince William County first. Six years later, she moved to the Digital Forensics Unit.
"I saw an opening in Digital Forensics, and I thought that would be a good fit for me," she said.
Like Kennedy, Zaimis works with multiple devices, including computers, cell phones, department electronics, and obtaining footage from surveillance systems. When examining the device and its hard drive, Zaimis makes a virtual copy of the data to study so that the actual equipment can be preserved.
The team finds every day to be different, Zaimis noted. The team is careful with any equipment, as digital evidence requires special handling to avoid damage. Some of this special handling may need to be done on site because potential evidence may be lost if the device is shut down or moved.
Zaimis had some advice about advancement in the department as well.
"You really need to love police work in order to join," said Zaimis.
She advised new recruits that there are many interesting careers in police work, and being a good patrol officer is where you must start. "It's important to want to do the first job." Then, when it comes to forensics, "It's about having an aptitude and interest."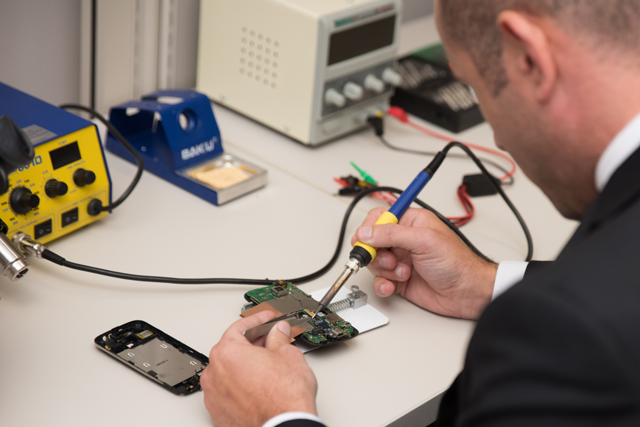 Detective Josh Peters
A lifelong resident of Prince William County, Detective Josh Peters became a police officer twelve years ago. "I feel I should give back to the community that has given me so much," he said.
After eight years of patrol and three years working with children as a school resource officer, Peters interned for a summer in forensics and never left.
"Our office is unique," Peters said – unique and popular since most other police departments must send out their evidence to be examined.
Peters' day depends on what the department needs.  Peters used cell phone recovery as an example. Damage to the hardware may include a bullet hole or a soaking in water. Peters works to recover information off the memory chips left in cells, as well as other electronic equipment.
"If you used one of those devices, we're going to find the information on there," he said, noting that the team is working on almost every case seen in the media. In some way, some sort of electronics is involved.
Peters also discussed ongoing educational challenges.
"We're constantly training. We have to try to stay one step above."  Peters said federal training in forensics with the FBI and Secret Service is a must. This is specialized training that cannot be offered through traditional college courses.
As the caseload grows, so does the unit. Peters estimates 20 applications coming from the unit, which is currently hiring. "This is a position that's going to set you up for life. You don't necessarily have to have a degree."
"For me, this is the best fit," Peters said about the unit and his co-workers. "The police department has always taken care of me. There's a sense of family."
For more information on a career in law enforcement with Prince William County, visit their career page.
Read more from our series
Prince William County Police detectives chosen to work for a higher cause
Prince William on patrol: 'This Job is About Integrity'
How a love for animals and a vet degree spawned a career as a Prince William County Police officer
Post Your Email Notices, Press Releases, Event Fliers, and Photos
Subscribe to the weekday Breakfast Links email FREE!
Get
updates straight to your inbox.