Prince William on patrol: 'This Job is About Integrity'
Sponsored by the Prince William County Police Department, this is the second of six stories in our series that will examine the unique assignments within the Prince William County Police Department.
It's morning, and in various stations across Prince William County, police officers sit in roll call, waiting for their daily assignments.
The morning roll call is important for patrol officers like Kimberly Walton and Borys Vargas heading out to the streets. Roll call is a chance to catch up on incidents from the previous shift.
Roll call might tell them what they could encounter throughout the day. Roll call, though, can't possibly prepare them for the various challenges that get thrown their way.
Vargas gives examples of a busy day. The list includes everything from animal-related calls like getting bats out of a building to investigating bank robberies. The first call could be a parent requesting an officer talk to the kids about not wanting to go to school, and the next call may be about a murder suspect on the west end of the county.
The next shift may include property crimes, traffic stops, and arrests. The officers must take extreme caution and practice safety during arrests. They do encounter gangs in the area. The Police Department even has a special gang unit.
"Every day is unpredictable," said Vargas. "But It's always good that when something happens like a bank robbery, you can make a difference."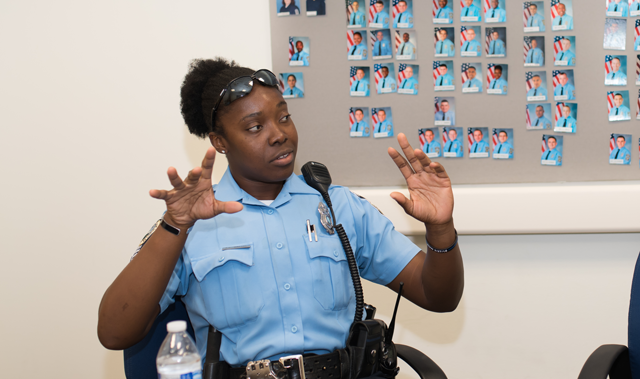 Walton's area includes Leesylvania, Hoadly, Triangle, Dumfries and Cardinal Drive to the Stafford County line. Walton and other officers may be called to work in other areas if they are having a busy day.
Walton says the feel from the communities she serves is positive. "They love us," she says. "They come up, shake our hands." She believes this is partly due to the respect and courtesy she and other officers show the public. "You don't have to be a social butterfly, but you have to have tact and be respectful," she says.
Walton says that as a kid, she always felt a positive connection with the police, and it was these types of interactions that helped her decide in high school that she wanted to make a difference as a police officer.
Walton enjoys working high priority cases and doing her job with integrity. She also likes the fact she is having fun.
With a laugh, Walton adds another reason why the job is still a blast: "using the sirens."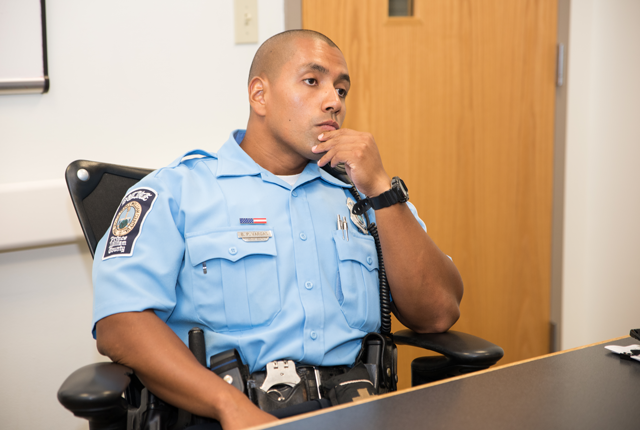 Vargas' motivation was a bit different. Vargas felt going into police work was the best way to use the skills he learned in the military. He says the application process is demanding, but worth it.
Vargas appreciates the schedule. He works 10-hour shifts that consists of five days on, four days off, five days on, four days off, five days on, five days off, giving a nice stretch of time off to decompress.
He also finds reward in doing the best he can as a representative of the county every shift. "When you put on this uniform, you represent the whole county," he says. "You have to take that very seriously."
The Road to Becoming an Officer
For those interested in joining the force, the easiest part of the application process, Vargas says, is the ability to apply online. He tells potential applicants to be thorough and honest. "You don't want people to think you're trying to hide anything," he says. "This job is about integrity."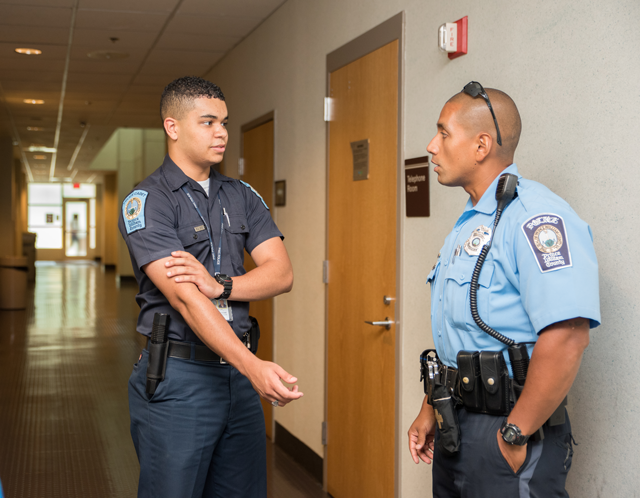 Vargas also says to follow up with phone calls. "If you do that, it looks like you're interested."
After the initial application, there is a stringent background check going back 10 years. There are written tests, physical tests, medical and psychological tests. Patience is not just a virtue in this case. It's a necessity.
It can take up to six months to get hired. If the applicant is in the military, it could take longer because the applicant might have moved frequently prior to applying.
Vargas explains that the background check includes an investigator talking to the applicant's former neighbors. Frequent moves means more neighbors to interview, possibly around the country.
Applicants must be 21 years old upon graduation of the academy. A college degree can increase salary. But, Vargas says, a degree is not necessary. Many officers come in with just a high school diploma.
The department is always looking for bilingual applicants.
Women are also encouraged to apply. "You can't discriminate," Vargas says, regarding female officers. "They go in and respond to the call just like anyone else."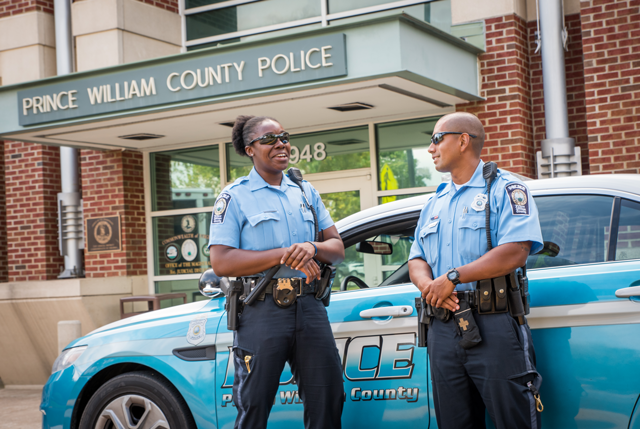 Applicants making it through the process can look forward to six months of academy training with pay and benefits. Then it's time to hit the streets.
Walton's advice to new recruits? "Learn from your mistakes. Don't be afraid to ask questions. If you're not 100% sure, ask. And always try to do your best."
Vargas has some advice as well. "If you think you can make a difference, apply."
For more information on careers with the Prince William County Police Department, visit the career pages on their website.
Read more from our series
Prince William County Police detectives chosen to work for a higher cause
Prince William County Police Digital Forensics team puts heart, soul, and mind into solving cases
How a love for animals and a vet degree spawned a career as a Prince William County Police officer
Post Your Email Notices, Press Releases, Event Fliers, and Photos
Subscribe to the weekday Breakfast Links email FREE!
Get
updates straight to your inbox.