Stewart Fears Crime on Rise, Calls for More Police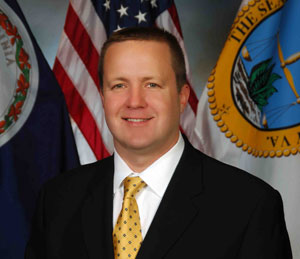 WOODBRIDGE, Va. — Two violent crimes in Woodbridge sparked reaction from Prince William County's top leader Corey Stewart on Tuesday, who says the rate of violent crime in the county is going up.
A large fight broke out in the food court at Potomac Mills mall on Feb. 15 and two teenagers were charged. While the fight broke out when the mall was full of people, false information claiming that a shooting also happened during the fight went viral. No shots were ever fired.
A gun was used in the violent murder of 21-year-old Glenda Marisol Coca-Romero who was shot and killed while inside a small convenience grocer in Woodbridge on Feb. 21. The victim's father last week pleaded for information from the public that would lead to his daughter's killer.
"The murder, which looks like an execution, possibly gang related in Woodbridge, has citizens very concerned," said Prince William Board of Supervisors Chairman At-large Corey Stewart.
Rise in violent crime?
Stewart today called a press conference in his office in Woodbridge and called for answers from the county's police department on what's causing what he called an "uptick" in local crime. No law enforcement members were present at the meeting when Stewart announced he wants Police Chief Stephan Hudson look for trends, or possible commonalities on what's behind a recent rash of violent crime. Recent incidents like a rape, sexual assault, and a bank robbery in Nokesville were also cited as part of a rise in crime.
"It's too early to know if there is an underlying cause, or if this is a beginning of a trend, but crime did go up substantially in 2012 and I think it's going to go up again when the final numbers are ready for calendar 2013, as well," said Stewart.
He's basing his concerns on anecdotal information given to him, he told reporters. 
Official police statistics for 2013 are due out later this spring. The Prince William County Police Department during their investigation in the in the Coca-Romero case, as well as many others, has developed a reputation of working with the community to solve crimes.
"Even though we have received tips in the case, we continue to ask for the public's help with any information thy can provide. We have always valued our relationship with the public and their assistance in deterring crime in the community," said department spokesman Jonathan Perok.
More police officers
Curbing crime in the community will take more police officers – something Prince William County is short on, said Stewart. At the county's current population Prince William should have 870 police officers on the beat, but the department is 200 short of that number.
County Executive Melissa Peacor's proposed budget for FY2015 calls for hiring five new police officers next year. That number is half of the number that was hired in previous years, and 80 percent lower than an original staffing plan that called for hiring 25 officers each year.
The staffing plan was scaled back during the recession.
The Board of Supervisors is expected to pass a new budget in April to take effect July 1.
Overall crime in Prince William County remains low, said Perok, who provided the following statistics:
— Crime decreased to 17.04 per 1,000 in 2012. This drop has been steady over the past several years. in 2012, the number of

— Reported property crimes fell by 2% in 2012

— Total number of reported violent crimes increased by 9% in 2012; however, violent crime accounts for only 6% of all crime in Prince William County

— 4% of 2012's increase in violent crime is attributed to prior year incidents
Jail expansion
Soon, county officials will have to decide if they will spend more than $40 million on a jail expansion at the Prince William / Manassas Regional Adult Detention Center in Manassas. The overcrowded jail needs a renovation of the second and third floors of the jailhouse originally built in 1982, as well as the construction of Phase II of the jail's central building. Phase I opened in 2008.
Jail officials said they're 143% overcrowded and have made due by outsourcing, or farming out, inmates from the Prince William jails to other facilities in the state and region.
Stewart said he's "taking the county staff's word" on the need for the new jail.
"After you build the jail there are massive ongoing operational costs for the jail, but it's one of those things – building a jail is not an exciting project, it's not one of those things you go and brag about, but at the end of the day it's one of those necessary functions of government," he said.
Post Your Email Notices, Press Releases, Event Fliers, and Photos
Subscribe to the weekday Breakfast Links email FREE!
Get
updates straight to your inbox.