$11,000 Reward Offered in Coca-Romero Murder, Father Calls Victim 'Humble'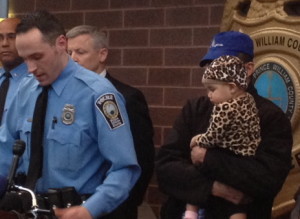 MANASSAS, Va. — On February 21 shortly before 9 p.m., Irene Coca's life changed forever when three armed men entered Platanillos Grocery and Jewelry in Woodbridge and shot Coca's daughter, killing her.
Glenda Marisol Coca-Romero had only been in the U.S. for a year and a half, according to her father. She was a nice girl who loved to talk to customers at the store where she worked.
Today, the FBI in conjunction with the Prince William County Police Department reached offered an $11,000 rewaard for information in Coco-Romero'a slaying. Initially a reward of $1,000 was offered by the Prince William County Crime Solvers, but the FBI had added an additional $10,000 for information leading to the arrest and conviction of the men involved in the crime.
"We want to thank the FBI for helping us on this case," said Major Steve Thompson Assistant Chief in charge of the Criminal Investigations Division of the Prince William police. "We value the community and are calling on community members for help in solving this case."
During the press conference, Irene Coca held his granddaughter, 10-month-old Britteni, as he spoke via a police translator. Coca said he will keep his granddaughter safe and asked the community to please help find the men responsible.
"I don't have any idea how this could happen," Coca said. "[Glenda] was a humble girl who worked. She didn't party and she loved her baby."
Thompson said the motive for the crime is still unknown at this point. No robbery occurred and the entire episode lasted only nine seconds. A second shooting victim of the attack, a 42-year-old female store employee, is still in the hospital recovering from her injuries. And other witnesses to the crime had nothing more to add.
"Glenda was a good person," Coca said quietly. "She just wanted to work and have a family. She came here wanting the American Dream."
To give information regarding the Coca-Romero case call Crime Solvers at: 703-670-3700 or 1-866-411-TIPS. Callers may remain anonymous.
The Coco-Romero murder has also sparked outrage from at least one county leader, Prince William Board of County Supervisors At-large Chairman Corey Stewart, who says the shooting death is one of many "disturbing" events to grip county residents.
"These crimes have occurred despite the diligence of our police department and several years of reduced violent crime in Prince William. Since 2007, violent crime has come down nearly 50%. Last year, however, violent crime went up. I want to make sure that the rise in violent crime last year, and the series of disturbing crimes this year, are not the beginning of a trend," said Stewart.
Prior to the shooting, a violent gang fight broke out in the food court at the busy Potomac Mills mall in Woodbridge. Three teenagers were charged in brawl.
Stewart added he will direct county staff to "investigate the problem" of rising crime in the area and seek recommendations on how to curb the violence.
Post Your Email Notices, Press Releases, Event Fliers, and Photos
The FREE email packed with local news
The FREE email packed with local news
The FREE email packed with local news
Sign Up