Moser: Why Don't More People Care About the Grave Situation at Prince William's High School Site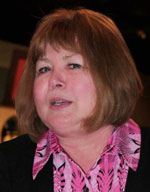 Wednesday night I attended the Prince William Committee of 100 forum. The program, titled, "Can You Rest in Peace in Prince William County?" was in direct response to recent events involving the discovery of burial sites at the proposed location of Prince William County's 12th high school near the intersection of Va. 234 and Hoadly Road.
I have been interested in this topic since the flurry of activity that began (for me) in early November and wrote about it once, then again when I recapped the information that led to this point in a previous post.
Since then, I became friends with Carolyn Lynn on Facebook. I was finally able to see her face to face, when we arranged to meet at the C-100 forum. She's a charming woman, well-spoken and knowledgeable in local history and genealogy.
We got better acquainted over dinner and were fortunate to share the table with Julie Langan, Acting Director and State Historic Preservation Officer, Virginia Department
of Historic Resources. Carolyn was able to ask Langan some questions that had been a point of concern and Carolyn and I were both pleased to learn Langan is not the enemy. Both Langan and Joanna Wilson Green, Archaeology Stewardship and Easements, Office of Preservation Incentives, Virginia Department of Historic Resources are sincere and concerned about the way this saga evolved. Yes, the permit to disinter was issued from their department, but they were simply doing their job as designated by state law.
I tried to put myself in Carolyn's shoes and imagine what it must feel like to know your ancestors had been uprooted and removed from what was surely considered a final resting place at the time of interment.
One of the things we discussed was the comments people made on insidenova.com or the Washington Post. Carolyn said she tried not to read those comments because many were so negative. A feeling we definitely shared is why don't more people care? The answer to that is probably very simple. The Lynn family is not your family.
I tried to imagine how it feels to be lost from your family and then re-discovered in such a public fashion. I thought about how little we know about the people who come and go from this world. So few of us are actually remembered for long. We are here, we live our lives and we are gone. A few generations pass, and it is entirely possible we are forgotten completely unless you have become famous or notorious.
People like Don Wilson, Director of RELIC and Bill Olson, President, Historic Prince William are joined by devoted volunteers like Robert Moser who spend an incredible amount of time ensuring our past is not forgotten. Folks like Carolyn Lynn and Bill Golden create blogs not only for family history, but to connect the past to the present and help others do the same.
We are an evolving county, with vastly different citizens than twenty years ago. It's important not to lose track of our past while we continue to build our future.
You can read the recap of the Prince William Committee of 100 meeting here.
Post Your Email Notices, Press Releases, Event Fliers, and Photos
Subscribe to the weekday Breakfast Links email FREE!
Get
updates straight to your inbox.