Congressmen Hear Testimony from Prince William Voters who Waited in Long Lines on Election Day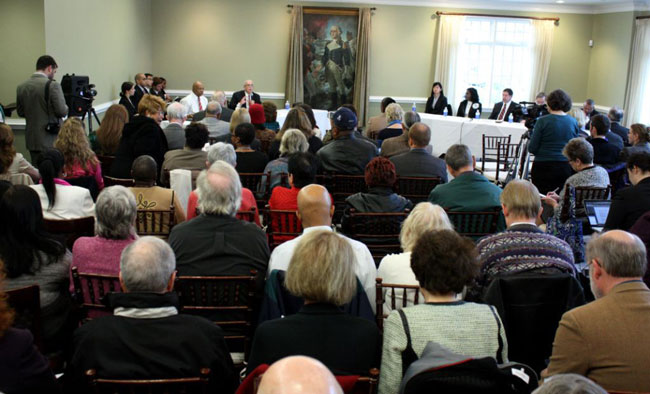 By URIAH KISER
WOODBRIDGE, Va. — Elections officials testified before members of congress Monday at a packed meeting in Woodbridge recalling voting problems at Prince William County's River Oaks Voting Precinct.
The special hearing with Virginia Congressman Gerry E. Connolly and Maryland Congressman Elijah E. Cummings comes after long lines formed on Election Day at Potomac Middle School in Woodbridge, where the last vote was recorded at 10:46 p.m., a report distributed by Prince William Democratic Chairman Harry Wiggins stated.
Connolly used Monday's meeting as an opportunity to tout new legislation called the Fair, Accurate, Secure, and Timely (FAST) Voting Act of 2012 – a bill that encourages states to change voter registration laws to allow more early voting, and it puts in measures to reduce wait times at polling stations.
"The FAST Act is not a cure-all bill to instantly repair our voting system, nor is it intended to be. From defeating the poll tax and eliminating literacy tests, to the adoption of vote-by-mail in some western states, perfecting our voting system has always been an evolutionary endeavor. If enacted, the FAST Voting Act would be a decisive step forward, fostering the improvements that are needed to prevent repeating the dysfunction of November 6 and to guarantee that every American is able to exercise his or her fundamental right to vote," said Connolly.
Not all precincts in Prince William County and in the rest of the Potomac Communities experienced the problems seen at the River Oaks Precinct, where lines of people waiting to cast their vote filled school hallways and snaked outside the building for at least three hours. Some who testified Monday said pregnant women were forced to stand for hours while children lay asleep on the floor inside the school. Others said residents shouldn't be forced to take a day off work to vote.
Prince William County Electoral Board Chairman Keith Scarborough said several factors led to the long lines at Potomac Middle School, noting that this was the first election since the decennial redistricting process and many voters unintentionally came to the wrong polling place and had to be assisted by poll workers. The county did not have enough voting machines on hand to meet demand, said Scarborough.
Though lines were long in 2008, no voter in Prince William County had to wait as long to cast their ballot as they did in 2012.
"Last year's election was the best of times and it was the worst of times. As a partisan Democrat, I was happy with the results of the election but was not happy with the election process," said Scarborough.
He said more voting machines, more poll workers, and the option to also use paper ballots when the electronic system is overwhelmed are all necessary fixes that need to be implemented. No new voting machines are expected in Prince William until at least the next Presidential Election in 2016, but election turnout is expected to be lighter during elections until then.
Other possible solution discussed Monday is to urge Richmond not to include constitutional questions on the ballot during busy Presidential Election years. Officials said this delayed the voting process as voters thoroughly read each of the two lengthy questions asked of them on the ballot.
A new Bi-Partisan Committee on Election Process in Prince William County met for the first time Friday. The 18-member panel, which currently has three vacancies, is expected to provide recommendations on improvements to the voting process by June 1.
Post Your Email Notices, Press Releases, Event Fliers, and Photos
Subscribe to the weekday Breakfast Links email FREE!
Get
updates straight to your inbox.