Long Lines Draw Ire from Voters, Officials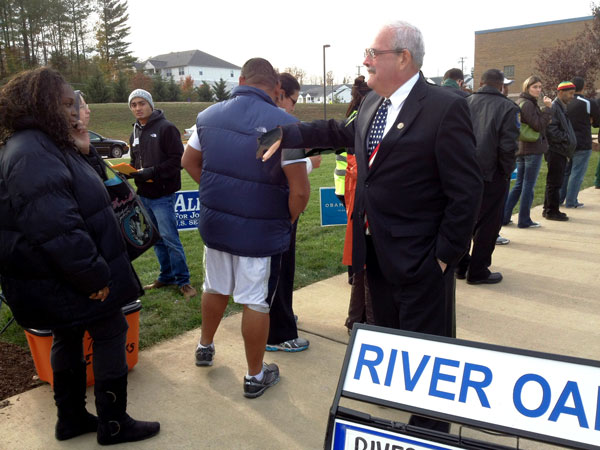 By URIAH KISER
WOODBRIDGE, Va. — There are accusations of voter suppression tonight  at the River Oaks voting precinct in Woodbridge.
Hundreds of people stood lined up to cast their ballot at Potomac Middle School just after 4 p.m. The line of voters was moved entirely inside of the school just before 5 p.m., but the line winds through each and every hallway until voters reach a multi-purpose room where voting machines are located.
Woodbridge District Supervisor Frank Principi said those six machines are not enough to process the vote here, and at this rate people will be standing in line until at least 2 a.m. to vote.
Request denied?
The elected official said a $350,000 budget request for additional voting machines made last year was denied by Prince William County Executive Melissa Peacor.
County officials, or Prince William County Voter Registrar Betty Wiemer, who we're told made the funding request, could not immediately be reached for comment.
The voting machines in use inside the school date back to 2004, said Principi. Some in Prince William have been taken out of service today due to faulty screens. Others have had problems loading the correct ballot and have needed individual assistance from poll workers.
Record turnout
While the lines for early voting were long, no one could have anticipated what will surely be record voter turnout.
More than 1,400 people have cast their ballot at Potomac Middle School today. Poll workers inside are doing their best to accommodate voters by opening up additional tables were poll workers ask for personal identification, and then send them over to a machine.
Long lines and two-hour waits have been commonplace at polling stations across eastern Prince William County today. But sources today told PotomacLocal.com a request from elected officials to Prince William election officials for funds for additional voting machines was denied.
Prince William County Democratic Committee Chief Harry Wiggins said lines will only get longer once more voters get off work. Wiggins said voters's right to cast their ballots is being suppressed.
Staffers for Congressman Gerald E. "Gerry" Connolly, who is running for re-election, was said to have come to this polling location to urge voters to stay in line.
The message from Principi and other officials to voters in line is to be patient, wait, and cast your vote.
Prince William officials all day long have reminded residents that if they are in line at their correct polling place by 7 p.m. they will be allowed to cast their ballot.
Woodbridge District Supervisor Frank Principi is expected to address the media on this issue. We'll bring you his comments once we have them.
Post Your Email Notices, Press Releases, Event Fliers, and Photos
Subscribe to the weekday Breakfast Links email FREE!
Get
updates straight to your inbox.