Potomac Nationals Stadium Plans Unveiled Amid Traffic Woes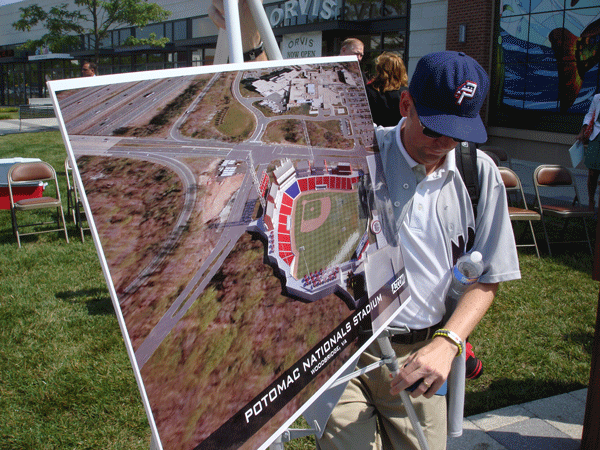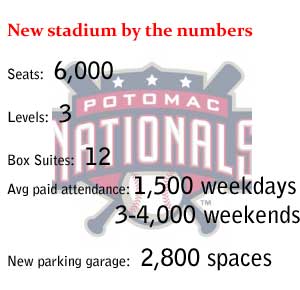 By URIAH KISER
WOODBRIDGE, Va. — Residents got an earful Thursday about a new baseball stadium for the Potomac Nationals and the traffic it could bring.
Prince William County officials call the newly proposed 6,000-seat minor league stadium a dream project that will attract even more business to Stonebridge at Potomac Town Center in Woodbridge. The stadium would sit along busy Interstate 95 across from Sentara Northern Virginia Medical Center and near a popular Wegmans grocery, which anchors the Stonebridge shopping center.
Residents asked why an area already filled with shops and commuter traffic would be picked as a new home for the P-Nats. They also wanted to know why the team can't simply rebuild next to their current home at G. Richard Pfitzner Stadium on Prince William Parkway.
The Prince William County Parks and Recreation Department owns the facility which has been called antiquated and, deemed by the P-Nat's Major League Baseball affiliates the Washington Nationals, unplayable by 2014.
As more cars on the roads is a large concern with residents, Virginia Department of Transportation spokeswoman Maria Sinner said a traffic analysis report will be completed as part of the proposal to build.
Potomac Nationals Team Owner Art Silber assured residents that his games start at 7:05 p.m., 6:35 p.m. Saturdays, and 1 p.m. Sundays to minimize the traffic impacts. He also said a new stadium would have easy access to Interstate 95.
"We believe that while no additional traffic is ever something somebody wants or is something anybody looks forward to, we believe the overall benefits we're going to provide to the community outweigh what might be a minor inconvenience," said Silber.
Stadium site has visibility
Silber says his minor league baseball team is affordable family entertainment that attracts an average paid attendance of 3,000 people – about 1,500 on weekdays and 3 to 4,000 people on weekends. A new stadium would be seen by hundreds of thousands of people who drive on the east coast's busiest highway.
"Forget my love of baseball, I am a business man and if I'm going to invest $30 million I want a return on my investment. This site along I-95 has 170,000 people driving past it every day, and no other site we looked at had this king of visibility," said Silber.
Silber for years has been looking for a new site to house the team. He nearly pulled up stakes in Woodbridge – which has been home to the P-Nats since 1984 when they moved here as the Alexandria Dukes – and nearly moved it to Loudoun County. Later, another deal that fell flat had the team moving to Fairfax County's Dunn Loring neighborhood near Vienna where a new stadium would have been built on Metros' Orange line, along with an 800-unit condominium complex, Silber said.
After looking at sites in western Prince William County along I-66, it was announced in July the owners of Stonebridge would apply for a special use permit to add a new baseball stadium at their burgeoning Woodbridge town center, which will include a host of new retail stores and restaurants including PF Changs and Toby Keith's I Love This Bar and Grill.
Stadium open 365 days a year
The new three-level ballpark will be paid for by in  full by Silber and will feature a clubhouse level that will be open all-year-round. Fans will enter the stadium concourse at street level and see a host of food vendors. From there, they'll be able to walk down into their seats that will be arranged in a bowl surrounding the field. A beer garden, a shack for steamed crabs, and the team's offices will also be located on the first level.
The second level will feature a clubhouse that will seat 300 people, and a chef who will prepare dinner each night for guests. Silber's collection of signed baseballs, which he said is the largest outside of the Baseball Hall of Fame, will be prominently displayed on the walls.
The top of the stadium will have 12 suites seating 10 people each. The suites will have a view of the Potomac River and access to them will be sold to businesses or organizations who want to entertain guests or clients.
"Minor league ballparks today are mini major league ballparks. The facility that we're in today, at the moment, we have a waiver to continue playing in it until 2014 because it's so far out of date and so far out of compliance with Major League Baseball's requirements. It isn't a question of us wanting to move – we have to move," said Silber.
Commuter parking
A portion of the stadium's parking lot – a planned 2,800-space covered parking garage — will be paid for with state funds. Virginia Department of Transportation spokeswoman Maria Sinner said the state will spend $15 million on the parking garage which commuters will be able to use on weekdays prior to games. The garage will be served by public transit and could become home to new commuter Slug lines, said Sinner.
As many commuters stagger the times they leave work, it's expected the majority of the parking garage will be empty of commuters by 5 p.m.
Silber also expects fans will carpool to the game, as cars that come to Pftizner Stadium usually have three people per car on weekdays, four on weekends.
Construction of the new garage will be a public-private partnership costing about half of what it would if the state footed the entire construction cost, she added. The new commuter parking spaces would come as new High Occupancy Toll Lanes are being built on I-95, and after Potomac Mills mall reduced commuter parking in their lots by 75 percent to make room for new stores and restaurants.
The review process
In order to get the stadium built, Stonebridge developers Roadside Development must submit a special use permit application to the Prince William County Planning Office. Director Chris Price said his office will ask how the new stadium will impact the community and what will Roadside Development do to offset the impacts, which include traffic, noise, and lighting.
Price called the review process an open one and encouraged residents to keep up with the project by signing up for electronic notifications from his office.
After the Planning Office has reviewed the project impacts, the staff will make a recommendation on how to move forward with the stadium. That recommendation will later go before public hearings at the county's Planning Commission and later to the Board of County Supervisors.
The stadium must win the votes of five of the eight members of the Board of County Supervisors if it is to be built. 
Post Your Email Notices, Press Releases, Event Fliers, and Photos
Subscribe to the weekday Breakfast Links email FREE!
Get
updates straight to your inbox.