New Baseball Stadium Will Be Haven for Commuters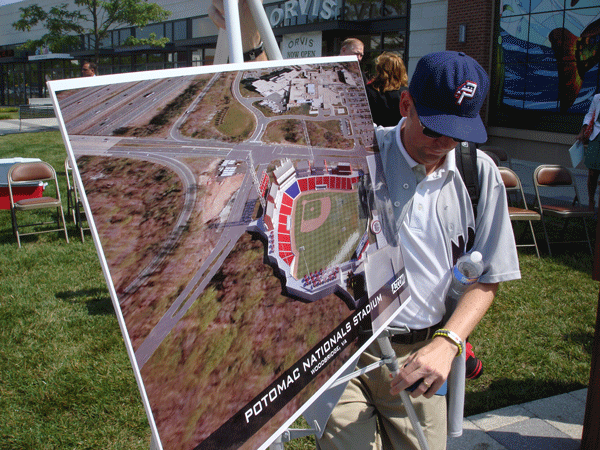 By URIAH KISER
WOODBRIDGE, Va. — For the Potomac Nationals, a new $25 million stadium in the heart of Woodbridge's developing business and residential district is a chance to bring in new fans and offer an entertainment destination for those living along Interstate 95.
For commuters, a new stadium would offer 1,000 new covered parking spaces for use during the week, adding capacity to an already strained commuter parking network.
And for state taxpayers, a new public-private partnership between the county, state, and the minor league baseball team could mean paying for those covered parking spaces at a cost as high as the new stadium itself.
Potomac Nationals and Prince William County officials Tuesday announced the area's minor league baseball team will stay in Woodbridge and could have a new home behind Wegmans grocery store by 2014. Officials worked for months on coming up with a plan for the new stadium, which will be capable of holding up to 7,000 fans, is slated to be built at Stonebridge at Potomac Town Center behind Wegmans, and will join new homes, office buildings, retail stores, and restaurants like "Toby Keith's I Love This Bar and Grill."
In recent years, team owner Art Silber had explored moving the team to nearby Fairfax or Loudoun counties, and always maintained he wanted a new stadium if the team was to stay in Prince William County.
NEW COMMUTER STADIUM PARKING
A covered parking lot at the planned stadium is the linchpin of the entire deal. The stadium and the retail center needs new parking areas, and so do commuters after nearby Potomac Mills mall reduced commuter parking in their lot by 75 percent.
With an initial price tag of $15 million, Virginia Transportation Secretary Sean Connaughton said the garage may end up costing as much as the stadium, and would be ideal for Slugs, vanpoolers, and would serve as a transit hub for the area because of its optimal access to I-95.
Also slated to open in 2014 is 95 Express Lanes, which will convert HOV lanes to toll lanes on I-95. No new entry or exit points will be added to the 95 Express Lanes project to accommodate stadium traffic, said Connaughton.
To get the stadium site and to the overall Stonebridge development, drivers must use already congested Dale or Optiz boulevards that border the center to the north and south. The busy Sentara Northern Virginia Medical Center also sits near the new stadium site.
Officials said a new traffic study would be implemented to determine what, if any, road improvements need to be implemented on the local road network. Woodbridge Supervisor Frank Principi said the imminent widening of U.S. 1 will also alleviate crowding on the roads.
A MIXED-USE STADIUM
At their current stadium behind the Prince William County Government Center in Woodbridge, the Potomac Nationals already draw in a loyal fan base. Saturday night firework displays are always a crowd pleaser.
A new stadium for the Potomac Nationals – who are affiliated with the Washington Nationals — would bring with it the opportunity for the team to sell skybox seats, expand on corporate sponsorships, and offer fans an overall better experience.
"Not many teams sit just 25 miles from their major league affiliation, and because of the relationship we have with them and many of the rehab starts that we've been able to do, we continue to build our fan base and attendance," said Potomac Nationals General Manager Josh Olerud.
But this new stadium will bring with it more than just baseball. It'll be a place for outdoor movies, concerts, and shows.
"We play 140-game schedule, and that means we have 70 home games. There's 365 days a year, so you've got 295 days that are not baseball games, and the opportunity for us and for the community as to how best utilize the facility and expand its usage for any number of things – as long as it doesn't damage our field – is huge," said Potomac Nationals Team Owner Art Silber.
Supervisor Principi said he will hold a series of citizen meetings where he'll listen to the concerns and ideas about the new stadium, and noted the meetings will be held from "now up until first pitch."
The Potomac Nationals since 1984 have played at Pftizner Stadium, which is the property of the county's parks and recreation department. The parks department will decide what will happen to Pfitzner Stadium once the team moves out, officials said.
Post Your Email Notices, Press Releases, Event Fliers, and Photos
Subscribe to the weekday Breakfast Links email FREE!
Get
updates straight to your inbox.