News

Stafford's Advertised Tax Rate Would Mean 2.8% Increase on Average Bill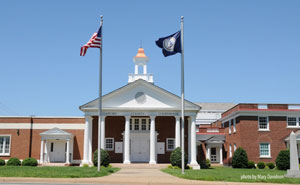 STAFFORD, Va. — The idea of collecting $1.4 million next year to manage storm water ponds didn't sit well with Stafford County leaders, so they proposed to collect half as much and sort out the details later.
The Stafford County Board of Supervisors set an advertised tax rate of $1.019 for every $100 of assessed property value. Those property taxes on homes largely fund Stafford's $261.4 million budget for fiscal year 2015 that takes effect July 1. 
There would be no change, however, in local schools as the division would still receive $139.4 million transferred to it as part of the budget, to cover operating and debt service costs.  The rate is .007 cents higher than the original rate presented by County Administrator Anthony Romanello in his proposed budget to the Board of Supervisors in March.
The new tax rate would generate an average residential property tax bill of $2,731, creating a 2.8% tax increase overall.
Now that the advertised rate has been set for the coming year it cannot be raised, and a public hearing on the tax rate is set for 7 p.m. April 15 at the county's government center. Final adoption of the new budget is expected on April 29.
Storm water funding problem looms
Storm water ponds have been a coming issue over the past five years as state and federal put more pressure on local jurisdictions to curb the amount of pollutants in creeks and rivers that ultimately flow into the Chesapeake Bay. County officials originally wanted a county-wide storm water management district at a cost of a penny on the tax rate, which would net $1.4 million a year for the next 15 years to oversee pollution reduction. The money would only have been used for storm water management.
The district will still be created under the advertised tax rate, but officials thought the original $1.4 million price tag to be too high.
"I don't think it's been reviewed enough," said Rockhill District Supervisor Cord Sterling. "You're creating a new tax that just gets dedicated to that purpose. Even if in the future you learn you had too much money there and 'we don't need to use it for that purpose,' you couldn't use it for schools, fire and rescue, or anywhere else."
Many homeowners associations agree with Sterling, as some of those neighborhoods already pay to have their storm water pounds properly maintained. Those HOAs see the mandate as a double tax.
County leaders who have been tackling the problem say it's an unavoidable, unfunded state mandate. Leaders also still have the option of creating the district but setting the tax rate at $0, effectively rendering it useless.
"There is nothing in the coming years that is going to change so drastically that we are not going to have to spend millions of dollars on storm water management," said Aquia District Supervisor Paul Milde.
Without the full rate, a plan to hire new engineers to come up with a plan to manage the county's storm water could be in jeopardy.
"We're setting county up with having to deal with this problem next year. It's poor financial management," said Garrisonville District Supervisor Laura Sellers.
No new positions
Six new county positions proposed for next year also found their way onto a chopping block. Two county parks employees slated to work at the new Embrey Mill park will not be hired, and a position in the public works department will go unfilled. Three other positions – two the planning department that would process building permits, and another Best Practices Officer – all of which would have been funded by user fees – will also go unfunded.
With those cuts, an additional $440,000 will go into the county's general fund.
Supervisors wrangled over an advertised tax rate before settling on the $1.019 rate in a motion made by Widewater Supervisor and Board Chairman Jack Cavalier. Additionally, Cavalier's motion proposes cutting the personal property rate 28 cents to $6.61 per every $100 of assessed value. Milde, Sterling, and Sellers voted against the motion.
Send news and photos to Potomac Local
Subscribe Now for Free!
Get
updates straight to your inbox.
A word from our sponsors...