Stafford's Proposed Budget Increases Tax Bills 1%, Funds Storm Water Management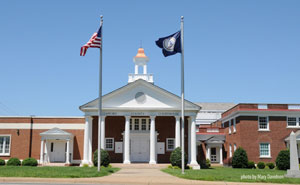 STAFFORD, Va. — Stafford residents got their first look at the County Administrator's proposed $261 million budget for FY2015 Tuesday night.
The plan calls for increased funding for road construction projects, park improvements, and a the installation of a new computer-aided 911 dispatch system to be used by the sheriff's office and fire and rescue department.
The proposed budget also calls for hiring six new government employees, none of which are needed public safety employees as outlined by a plan developed by the county's sheriff's office.
In education, Stafford County Public Schools would receive $140 million of the budget transferred to them automatically. And, of the $6.4 million in new taxes and fees to be generated next year, the school division would receive 60% of it, amounting to $2.9 million.
Developed by County Administrator Anthony Romanello, the proposed budget is built on a lower property tax rate of $1.002 per every $100 of assessed value. The rate is seven cents lower than the current tax rate, and would generate an average residential tax bill of $2,685, an increase of 1% over the previous year.
The increase is based on rising property values. Over the past year, residential property values rose 8% while commercial properties rose 2%. 
Romanello built his proposed budget on the "equalized" rate of $1.002 which would generate the same amount of taxes as the year prior. County leaders also asked him to develop a budget around an "effective" rate of $1.012, which is 1% higher than the equalized rate.
The Board of Supervisors is scheduled to hold a work session March 18 to choose which rate they like best. A public hearing will be held April 1 for the proposed budget, and officials are set to adopt the new budget no later than April. 15.
The new FY2015 budget will take effect on July 1.
New positions
A total of six new county government positions are funded in the proposed budget. Three of the employees would work in the planning and public works departments. Two others would be maintenance workers at the new Embrey Mill Park.
A new, "experimental" position titled Best Practices Officer would effectively "sing for their supper" and work to find savings with county government operations, as well as to help identify fiscal inefficiencies in shared county government services with the school division, said Romanello. The employee would not be a auditor.
The Best Practices position would receive the same county benefits as any other county employees, but there was concern from the Board of Supervisors that county staff would have a difficult time attracting quality talent to fill the job.
"I see this as a temporary position… you are going to get to a point where there is nothing else to innovate and no more efficiencies to find. You're not going to have a long-term employee and, knowing that, you're not going to be able to recruit anyone who is very good," said Hartwood District Supervisor Gary Snellings.
The total number of non-public safety county government employees is at its lowest point in a decade, down from 401  in 2009 to 335  budgeted in FY2015. All six of the new positions will be paid for with county user fees and not with tax dollars collected from residents.
Storm water levy
Residents would pay more for storm water management in this proposed budget as a county-wide storm water management district would be established to reduce pollutants that flow from Stafford's rivers and streams into the Chesapeake Bay. A new tax levy of 1 cent – which nets $1.4 million in revenue annually– would be used to fund the $42.1 million, 15-year storm water management plan.
All counties in Virginia east of Charlottesville, as well as counties in Maryland, and Washington, D.C., are required to implement a storm water management plan, said Romanello.
Rockhill District Supervisor Cord Sterling fears the levy would negatively impact home owners associations who already pay to maintain their own ponds and lakes, essentially making them pay twice to help maintain waters in non HOA neighborhoods.
"It is far from a perfect funding source," said Romanello.
Stafford officials explored the option of creating a county-wide water service utility that would focus solely on storm water management, but the costs of implementing the utility were deemed to be too high.
No new hires negates sheriff's 5-year plan
The lack of hiring any new public safety personnel is a far cry from what is called for in a proposed 5-year-plan that would bring additional resources to the county's sheriff's office. Starting in FY2015, the plan, developed by the sheriff's office, called for adding positions like six new deputies to the streets, two new detectives, and four new emergency 911 operators.
Overall in FY2105, the plan called for 18 full-time positions and one part-time position to be implemented at a cost of $2.1 million, with additional 65 positions added to the department through 2019.
Officials at the department are quick to point out the level of service provided by sheriff's office will be unchanged despite the lack of new hires.
Post Your Email Notices, Press Releases, Event Fliers, and Photos
Subscribe to the weekday Breakfast Links email FREE!
Get
updates straight to your inbox.