Subscribe Now for Free!
Get
updates straight to your inbox.
The Latest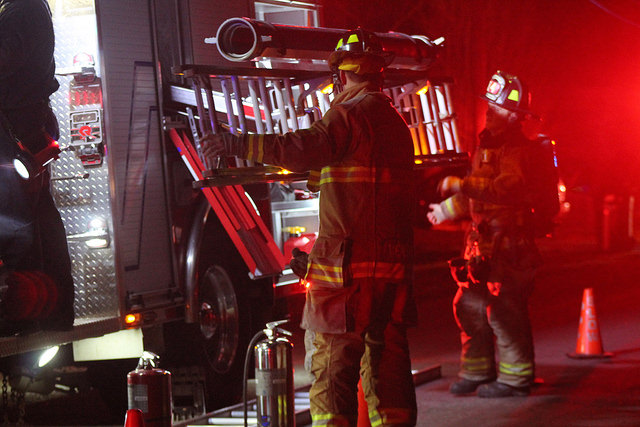 STAFFORD — Black smoke billowed over the horizon on Saturday while fire crews worked a blaze on Marlborough Point Road.
The blaze broke out at 285 Marlborough Point Road, a 2-story, single-family home.
From Stafford Fire and Rescue Department:
Stafford County Fire and Rescue units were dispatched to the 300 block of Marlborough Point Road on Saturday, September 23 at 2:43 pm for an unknown type fire.

The Emergency Communications Center received multiple calls about the fire and the call was upgraded to a residential structure fire. The first arriving unit from the Brooke station found a two-story single family residence, reported to be abandoned, fully involved in fire. Additional crews assisted in establishing a water supply as there are no hydrants in the area.

There were several structural collapses due to the heavy fire volume. The fire was extinguished at 4:08 pm and crews worked for an additional four hours performing overhaul.

The home had been abandoned for many years and was determined to be a total loss. The cause of the fire is currently under investigation by the Fire Marshal's Office.
If you shot photos of this fire, please share them with to our email , on Facebook, or Twitter.
Keeping Reading...
Governor Terry McAuliffe announced 12 Virginia companies were selected to participate in the Virginia Economic Gardening Pilot Program (VEGPP). The VEGPP, administered by the Virginia Economic Development Partnership (VEDP), targets second-stage companies. These businesses are growth-oriented and have moved beyond the startup phase by demonstrating a notable increase in revenue or employment. By addressing strategic growth issues, such as identifying new markets and industry trends, refining business models, raising online visibility, and offering access to competitive intelligence, the VEGPP enables high-growth companies to achieve the next level of success.
"Second stage companies are a key driver of local job creation and revenue generation. I am pleased three companies from Manassas were chosen to participate, the most of any locality across the Commonwealth and the only ones in Northern VA. I believe this underscores the tremendous talent base we have here in the City," said Mayor Hal Parrish. Economic Development staff worked very closely with VEGPP to identify companies meeting the eligibility requirements for the Pilot and are poised to provide a continuing stream of qualified Manassas businesses should the program continue.

Hepburn and Sons LLC specializes in providing maritime engineering consulting to the Department of Defense and industry in technology transition initiatives and technical advisory services. With a focus on topics in electrical engineering, material science, cybersecurity, and Navy Fleet requirements, they are committed to providing their customers with technical competence and strong character with a proven track record.
R&K Cyber Solutions LLC (R&K) is a leading and award winning provider of Computer Network Defense (CND) Services, Enterprise Information Technology (IT) Management, and Application Development. They provide Intrusion Detection, Incident Response, Malware Reverse Engineering, and Information Assurance (IA) services, as well as Certified Security processes to the U.S. Federal Government (Civilian, Department of Defense (DoD), and Intelligence Community (IC)) and to customers in selected commercial markets.

Risk and Strategic Management, Corp. (RSM) is a full service risk and business continuity consulting, management services, training and capacity building organization. They bring together their knowledge, skills, products and global reach to create integrated solutions that are sustainable over the long term. Their world-class team supports organizations at home and abroad, creating the resilience necessary to survive and thrive in a dynamic world.
To view the Governor's Press Release in full, please click here.
Keeping Reading...