The FREE email packed with local news
The FREE email packed with local news
The FREE email packed with local news
Sign Up
The Latest
Now that school is almost out of session, it is time to start making plans for you and your family this summer. Many families have plans to travel, but for those of us staying in good old Virginia this summer, we must find good ways of making our summer a fun one. While Northern Virginia has plenty of attractions to visit, sometimes going out to a local park is an easier, more relaxing way to spend some nice summer days. Warm weather is finally here, and it brings with it the grand opening of the Signal Bay Waterpark!
This Memorial Day weekend, we will be welcoming guests in for an entire weekend of fun in the sun.
During springtime, we here at Parks and Recreation have been working hard to make sure the waterpark was ready for our grand opening. Even now, just as the grand opening rapidly approaches, we are still finalizing the small details. The entire waterpark has been deep-cleaned, painted, and has a brand-new feel to it. Don't take our word for it though, feel free to see for yourself!
The Signal Bay Waterpark is a 27,000 sqft facility within Signal Hill Park, and it features a zero depth entry leisure pool with water cannons, slides, and a lazy river. It comes equipped with tables and a shaded structure to allow our guests to bring in some snacks while enjoying a nice day out with friends and family. Showers are also available for convenience.
The waterpark opens on Memorial Day weekend and will be open every weekend until Manassas Park City Schools are out for the summer. Once schools are closed for summer vacation, the waterpark will be open daily.
Also, Signal Bay Waterpark features birthday party packages for kids. All packages include food, drink, and all day access to guests. It certainly helps busy parents relieve some stress! All you have to do is reserve your date, which can be done at Signal Bay Waterpark or at the Manassas Park Community Center, and we will handle the rest!
So now that summer is here, why not take a well-deserved break and join us on Memorial Day Weekend? We hope to see you there!
The Manassas Park Community Center is located at 99 Adams Street in Manassas Park, VA. Managed by the City of Manassas Park Department of Parks and Recreation, the facility offers group exercise classes, basketball courts, a swimming pool, wellness areas, and recreational programs. For more information, visit us at ManassasParkCommunityCenter.com or call at 703-335-8872.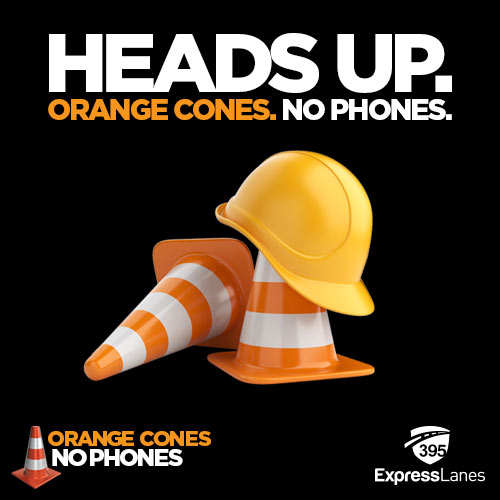 Transurban and Virginia Department of Transportation launch 2018 "Orange Cones. No Phones." campaign to reduce distracted driving in 395 Express Lanes work zone
A survey of more than 1,000 Washington, D.C., area drivers who travel the Interstate 395 corridor shows that motorists self-report engaging in a number of distractions while behind the wheel. Following the survey findings, Transurban, operator of the 495 and 95 Express Lanes, and the Virginia Department of Transportation announced today the launch of a 2018 "Orange Cones. No Phones." campaign to reduce distracted driving within the 395 Express Lanes work zone.
"We focus on safety on the Express Lanes and in the 395 Express Lanes work zone every day," said Jennifer Aument, president, North America, Transurban. "We need the help of drivers to create a safer work zone to ensure on-road construction crews and other travelers are getting where they need to go safely."
The top three cellphone distractions reported among D.C. area motorists were using a phone to talk, checking GPS or travel planning, and reading a text message. Despite growing research that finds holding a conversation on a cellphone is still dangerously distracting*, more than half of area drivers report feeling unconcerned about using their phones to talk while behind the wheel. The "Orange Cones. No Phones." campaign aims to improve safety by reducing distracted driving within the 395 Express Lanes work zone.
"In 2017, distracted driving accounted for almost 25 percent of traffic fatalities," said Shannon Valentine, Virginia Secretary of Transportation. "In work zones alone, VDOT recorded 2,666 crashes resulting in 1,329 injuries and 12 fatalities. The lives lost were completely preventable. We must continue to engage the public about the dangers of distracted driving. The 'Orange Cones. No Phones.' campaign is an important component to help deliver safety on our roads and reduce incidents."
The survey** conducted in March 2018 finds:
• Nine out of 10 drivers say they have used a cellphone while driving.
• One in five drivers who have had an accident or near accident claim it was due to cellphone use.
• Nearly three out of four drivers say they keep their phone close when driving, and one in six have it in their hand.
• Fifty-four percent of drivers admit to using a cellphone at least occasionally while driving.
• One-third of drivers in the survey said the last time they used their phone while driving was "today."
• One-third of drivers feel "it's OK" to use a cellphone while stopped at a red light, a stop sign or in traffic.
• Compared to a similar survey of area drivers in 2014***, hands-free talking while driving increased by 14 percent, with 53 percent of drivers in March 2018 now admitting to doing it.
• One in four people admits that using a cellphone for activities other than conversations while driving is "frightening."
• Seven out of 10 drivers say they stop cellphone use while driving after seeing a sign advising them to do so.
• Seeing a police officer causes 78 percent of drivers to stop cell phone use while on the roads.
"As the first responders to many of these crashes, we understand the serious consequences of distracted driving," said Colonel Gary T. Settle, Virginia State Police superintendent. "Safety is our number one concern, and we are pleased to support this program to educate and increase awareness with drivers across the region to help cut down on distracted driving."

"With so many drivers on the roads around the Washington area admitting they are distracted while driving, there is a huge safety concern for everyone on the roads," said John Townsend, spokesperson for AAA Mid-Atlantic. "Holding a conversation is still a distraction, and our hope is that this program will help drivers become more aware of the dangers of distracted driving, especially around work zones on our highways, and take active steps to make better choices."
Checking a cellphone or sending a text using voice commands at seemingly safe moments such as when there is a lull in traffic or the car is stopped at an intersection also has been found to be dangerous behavior. According to a Study from the AAA Foundation for Traffic Safety, these types of potentially unsafe mental distractions can affect motorists' attention for as long as 27 seconds, which is equivalent to traveling the length of nearly three football fields at a speed of 25 miles per hour.
As part of the "Orange Cones. No Phones." campaign, the partners are implementing a number of tactics supported by the study's findings, industry data and best practices to improve safety for all drivers:
• "Orange Cones. No Phones." signs will be visible throughout the 395 Express Lanes construction corridor.
• The Virginia State Police presence will be increased in the 395 corridor.
• Advertisements will remind drivers to travel safely and not to drive while distracted.
• Press throughout the region will be engaged to help increase awareness with drivers around this important safety message.
The 395 Express Lanes are scheduled to open in fall 2019. The Lanes will extend the 95 Express Lanes eight miles north to the D.C. line and help get people moving in the I-395 corridor. The Lanes will increase capacity by adding another HOV lane, creating three reversible lanes on I-395. As part of this project, Transurban will provide $15 million in transit funding per year to enable multimodal solutions in the corridor.
* https://www.acsh.org/news/2018/03/07/cell-phones-and-talking-passengers-both-lead-distracted-driving-12663
** The online survey of 1,003 Washington, D.C., area drivers who travel I-395 at least monthly was conducted by international market research firm YouGov between March 21 and March 28, 2018.
*** Online survey of 1,023 frequent I-95 drivers who live in Northern Virginia.
About the Express Lanes
The 495 and 95 Express Lanes operate on I-495 and I-95, providing drivers with faster and more predictable travel options in Northern Virginia. Together, the 495 and 95 Express Lanes create a region-wide network of free-flowing lanes for over 40 miles from the Dulles Toll Road to Stafford County. Delivered through a public-private partnership between the Virginia Department of Transportation and Transurban, the Express Lanes give drivers reliable travel choices on two of Northern Virginia's most congested roadways. For more information, please visit ExpressLanes.com.
About Transurban
For over twenty years, Transurban has improved the quality of life for customers by providing innovative solutions for their transportation needs. Transurban is a pioneer of the public-private partnership (P3) managed lanes concept in the United States. The North American business was among the first to implement major transportation infrastructures in the Virginia region. Our Express Lanes network features industry-leading tolling and traffic management systems on more than 40 miles of managed lanes across the 495 and 95 Express Lanes. Transurban was one of the first to use a number of innovative financing and technology strategies in the development of major toll road projects.