Back to school tips: 'It is a different time…Trust your gut, you know your children better than anyone'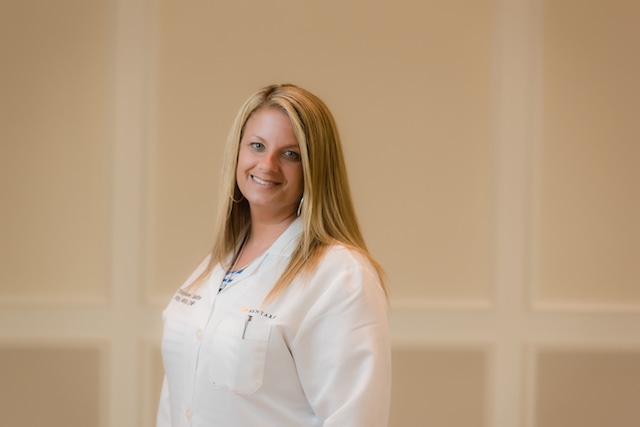 As students around Prince William County head back to class, we chat with Sentara Nurse Practitioner Stephanie Schutter RN, MSN, CFNP on some tips you & your family might want to consider for the new school year.
SB: How long have you been with Sentara?
SS: I've been with Sentara for 7 years.
SB: What does a typical day entail?
SS: My typical day consists of many different types of visits: sick visits, well-child visits, physicals and office visits for management of diabetes, hyperlipidemia, hypertension, asthma, allergies, thyroid disease, etc.
SB: What's your favorite part of your job?
SS: My favorite part is taking care of families. I tried specialty medicine, but this is my true love, family practice. Knowing whole families of the infants, to teens, to parents and grandparents. There is nothing more rewarding, watching my kids grow and my adults move through different phases of their lives. I get to be there going through it with them, they are all like family to me.
SB: As parents get their children ready for back to school, what would you like them to know?
SS: As kids prepare for back to school stay positive for them, there is so much negativity and fear out there your kids need your positive support, the stressors they deal with are more than we had growing up. It is a different time, know your kids' friends, know their families, always know where they are, be vigilant- trust your gut, you know your children better than anyone. Keep them involved, keep them busy, but allow time for fun too. Too many clubs, too many sports sometimes can be a challenge, find the balance so that they are getting just as much time to spend with their friends and have fun. Monitor their phones, their computer usage, and the apps they are using, stay informed!
SB: What are some of the biggest things you see that get forgotten as kids head back to class?
SS: Make sure prior to school that immunizations are up to date, make sure if your child plays sports they have an up to date sports physical and concussion training as the schools now require this prior to tryouts. Try to get back to sleep routine, the first weeks back are hard enough, sleep is so important for our kids. Reestablish routines to get them into their good organization and study habits, have a place in the house that is theirs to get work done. Parents have childcare back up plans in case of emergency or illness, working parents always need a backup. After school routines- keep them reading always, keep attitudes positive- if you stay positive, their year will be the best one, and they will go in with a positive attitude!
SB: In recent years, we've heard a lot about ADHD, bullying and other issues in the classroom. What advice do you give parents who are concerned about something that is affecting their child?
SS: For my parents concerned about things affecting your children, it's best to discuss it with them, help them to come up with solutions on their own and with you to deal with stressful situations at school, especially if there is no imminent danger. Learning how to deal with bullies or conflicts will be something they need to learn in the future. If this isn't possible, and you are worried for safety or concerned about the severity of an issue, as parents you have to step in, communicate with the teacher see if there is anything they can do in the classroom to assist the situation and if this still isn't working, go higher and make sure your kids are safe, that's most important. As for concerns with ADHD and learning disabilities- bring it up with your provider. If testing is needed, they'll get you to the right places or to the correct specialists.
SB: What do you want to stress to parents going into this new school year?
SS: The most important message to my parents is: TALK to your children, and take time to LISTEN. We only get them for physicals once a year if they are healthy and we try to cover everything and educate, but they need to hear it from you, too. Talk to them about drugs, depression, anxiety, smoking, alcohol, a plan for safety if they are in a situation they are not comfortable in, etc. They need to hear the truth from their providers, their parents, and their teachers. If we aren't talking about it with them, someone else is, and you want to make sure the information they're receiving is accurate. My kids love to pretend they are ignoring me, but I know even if they only hear one thing each time they will get a little of all of it in the end!
If you're looking for a primary care provider, call 1-800-Sentara or visit Sentara.com.
Post Your Email Notices, Press Releases, Event Fliers, and Photos
The FREE email packed with local news
The FREE email packed with local news
The FREE email packed with local news
Sign Up