Heavy equipment moves in at sinkhole: 'crews to use a vacuum truck to remove sediment'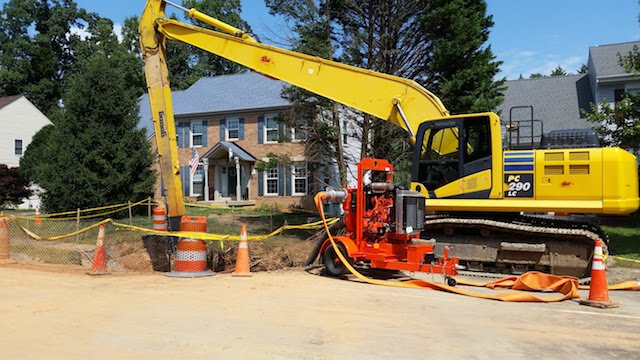 NORTH STAFFORD — The heavy equipment is now in place in Park Ridge, the North Stafford neighborhood where a massive sinkhole formed last week. 
As of Sunday, water had been drained from the base of the hole located at the intersection of Eustace Road and Legal Court. 
More in a press release: 
Virginia Department of Transportation (VDOT) and contractor crews used heavy equipment Friday to continue repairs to a sinkhole located adjacent to Eustace Road in Stafford County, and crews will continue to work through the weekend.

Eustace Road is closed to through traffic between Northampton Boulevard and Legal Court. The road was closed to traffic on Thursday for motorist safety. VDOT and Stafford County Public Works are coordinating to investigate and determine the cause of the sinkhole, assess the damage and repair or replace a 42-inch drainage pipe underneath Eustace Road.

Access to driveways on Eustace Road are being maintained for residents who live in this section of the road.

On Friday, crews excavated soil and worked to install a trench box in the sinkhole that will allow crews to use a vacuum truck to remove sediment from the blocked drainage pipe. Once the sediment is removed, crews can assess the pipe's condition and determine if it needs to be repaired or replaced.

VDOT will continue to monitor weather reports for additional rain over the weekend. Pumps have been staged at the work site to assist with drainage.

Signs are posted along the detour route, which is approximately less than one mile:

Route 1615 (Christopher Way)
Route 1617 (Queens Mill Court)
Route 1482 (Northampton Boulevard)

Eustace Road carries an average of 5,800 vehicles a day, according to a 2017 VDOT traffic count.
Post Your Email Notices, Press Releases, Event Fliers, and Photos
The FREE email packed with local news
The FREE email packed with local news
The FREE email packed with local news
Sign Up