Potomac Local Parent of the Month: Kristina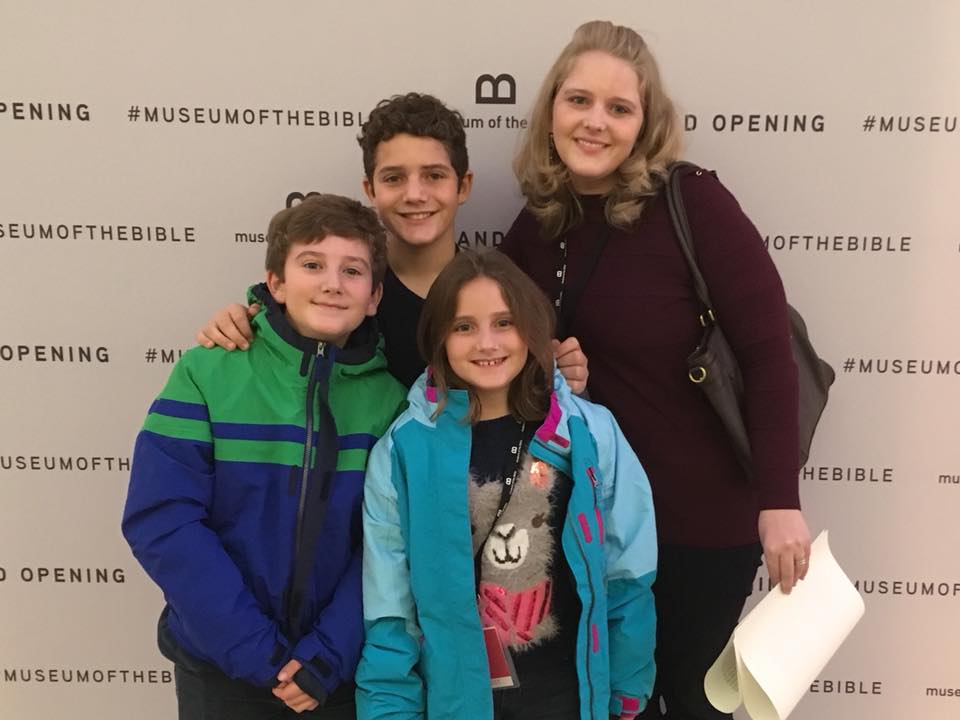 Potomac Parent is a monthly column that looks at life through the eyes of real parents. This month, we interview Kristina.
1. What time you do wake up?
I'm still on chemotherapy treatments until around August, so getting out of bed is not my favorite. I'm usually up around 7,

7:30

, but not functionally out of bed until 8 or so.

2. What are your children's names and ages?
Riley is 14, Logan is 12 and Savannah is 10.
3. What's the most difficult part about your morning routine?
Our mornings usually work pretty well, actually. Each of my kids has a laminated sheet with their morning list on it, so they do their chores, eat breakfast and get ready for the day on their own. It's a perk of having older kids. We homeschool, so as long as they're ready to start devotions by

9 a.m.

, they're good to go.

4. What is your morning beauty or grooming routine?
I tend to shower at night so that I have time to do my hair, so in the mornings I keep it pretty basic — just brushing, moisturizing, and clothes, although if I'm going out I'll do my makeup. I am trying to be better about that now that I'm in my mid-thirties. I've definitely noticed that people react better to my face when it's made up, and they ask me if I'm feeling okay if it's not. That's definitely a sign I need a little help!

5. Are you a coffee or tea person?
Yes. I enjoy a nice cappuccino or hazelnut latte, but at home I usually go for tea. Iced Lipton with lemon (no sugar), or Numi Organic Chai with half and half and honey, or Tazo Lemon Cake are some of my favorites.

6. What do you do once the kids are in school?
My kids are homeschooled, so when they're in school, I'm in school. Balancing their coursework with my own responsibilities can seem like a lot, but for the most part, we've got it down to a science. I write, run my website and plan my lessons for classes I teach outside our home in the "between times" when everyone is working independently.
7. What kind of work do you do outside the home?
Until January, I was Delegate Rich Anderson's community outreach coordinator, and I run PwcMoms.com. I also teach classes at Capital Baptist Coop, and I volunteer in our community and through our church. However, I think that my work inside our home raising our kids is the most important thing that I do, and I think that it's okay to think that. For a lot of moms that choose to stay home, it can feel like people are looking down on your decision, so I just want to validate that it's a legitimate choice.
8. What is the biggest challenge of trying to get work done – any work – with your schedule and responsibilities?
I think that as moms, prioritizing our time is really hard because we're all kind of stuck in that "If You Give a Mouse a Cookie" mode where you start one thing and then notice another that needs to get done. It's really easy to walk downstairs with a basket of laundry and notice the kitchen needs cleaning and then realize you haven't started dinner and then you get a phone call for work — it just kind of snowballs. I try to take time to plan the deliberate parts of my day — phone calls scheduled during certain times, to-do list items that must get done, and then I can always go back to my list to feel like I've accomplished something that day when I see the completed tasks.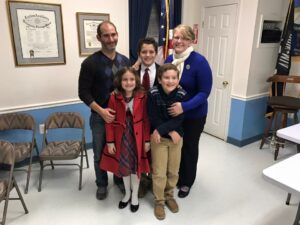 9. What do you wear during the work week?
If it's winter, I'm probably in jeans and a sweater, wishing I lived in Southern California. If it's not winter, I'm a big fan of dresses and skirts. Since I generally work from home, it would be really easy for me to stay in pajamas or sweats all day, but I did the Fly Lady system for a long time, which requires you to get up and get dressed and take your day seriously, and that really stuck with me.

10. What's the craziest thing that happened to you so far this week?
I'm teaching a Biography in Writing class at our homeschool coop this year, and that can get really dicey when people cancel at the last minute — so probably having to ad-hoc a class around watching a YouTube video interview of Colonel Sanders from KFC fame.

11. Do you have pets?
We do not. We have had bunnies in the past, but right now we are pet-free, which is, honestly, kind of nice. I still want a dog though, but that would require my husband completely abandoning all of his moral principles, so it's probably not gonna happen.

12. How do you get through the hard times?
Without sounding preachy, I am a big believer in relying on God. My Christian faith helps me to keep things in perspective, and to know that there is someone bigger than me that I can lean on when things are overwhelming. It also provides me with other women to look to as mentors, and friends who will pray for me and help me during the really hard times. Having been through two cancer diagnoses, my definition of "hard" is also a lot different now than it was before. Crying kids and burning dinner pale in comparison with facing your own mortality at 29, so I keep things in a lot better perspective because of that. There's a tradition in Judaism (my degree is in comparative religion) where you break off a piece of bread dough and burn it as an offering to God before you make the loaves, and I love that, because the idea is that you're giving your sacrifice before you know how it turns out and God honors your effort, not the outcome. As moms, we're working every day on these little people and we're not really able to see the outcome yet, but I believe that God accepts our efforts in much the same way. We're all just trying our best.

13. What's you favorite color?
Grey. And glitter.
14. What kind of car do you drive?
A Dodge Grand Caravan. If you would have told me that a minivan would become my dream car, I probably would've jumped off the Empire State Building in my junior year of high school, but I really do love it. I wish it had the automatic sliding doors, though, because my children's friends are super confused by the fact that they have to shut the doors themselves.

15. If you could be any animal, what would you be and why?
This question legitimately seems like something you got from my children to torture me with. They love asking me random, frequently ridiculous, hypothetical questions. I refuse this question on principle.
Post Your Email Notices, Press Releases, Event Fliers, and Photos
The FREE email packed with local news
The FREE email packed with local news
The FREE email packed with local news
Sign Up