Here's how to use OmniRide to get the region's airports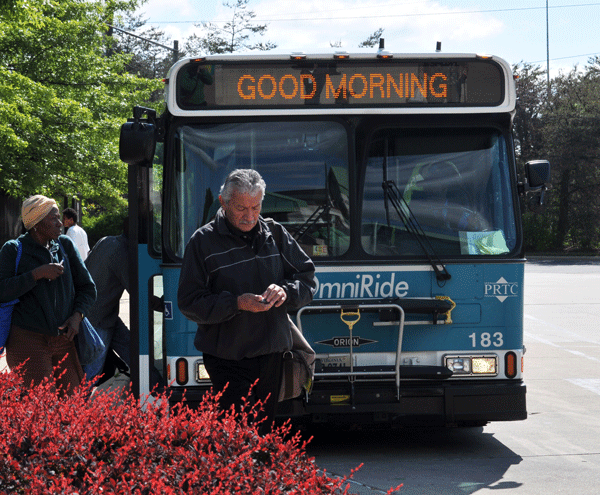 We told you this week that tickets for Virginia's new passenger bus service "The Breeze" between Virginia Tech, Dulles Airport, and other parts of Northern Virginia sold out.
One of the commenters asked why OmniRide couldn't also provide direct service to Dulles Airport.
So we asked, and spokeswoman Christine Rodrigo responded:
The Breeze is a great addition to the communities it serves, and PRTC is happy to see that it's having a positive impact on ridesharing!

While PRTC does not currently offer direct trips to area airports, our Metro Direct routes do provide airport connections.

The Prince William Metro Direct route links eastern Prince William County with the Franconia-Springfield Metro Station, where passengers can catch a Metro train to Reagan National Airport.
The Manassas Metro Direct and Linton Hall Metro Direct routes link Manassas and Gainesville, respectively, with the Tysons Corner Metro Station. There, passengers can ride a Metro train to the Wiehle-Reston station and then hop on a connecting bus service to Washington Dulles airport.

While we do not currently have plans to add direct trips to the airports, PRTC has begun work on its Transit Development Plan (TDP) which will include a consideration of potential new services. With the Express Lanes being built on I-66 and congestion issues on Route 28, service in those corridors will be an area of focus for the TDP.
Post Your Email Notices, Press Releases, Event Fliers, and Photos
The FREE email packed with local news
The FREE email packed with local news
The FREE email packed with local news
Sign Up