Teaching the DAGPAW: Martial Arts and concepts for Life at Manassas Park Community Center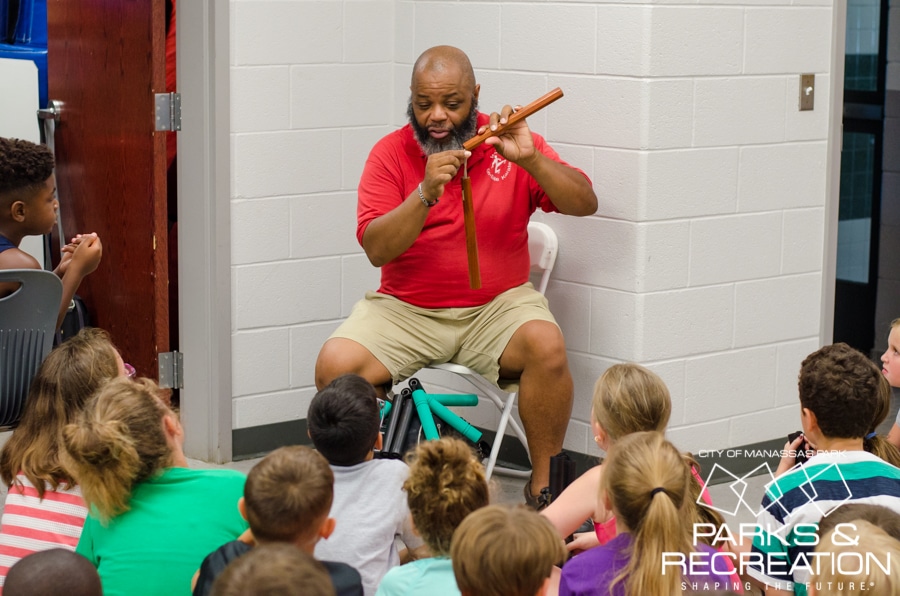 The Manassas Park Community Center offers a variety of martial arts programs for kids of all ages. Master Geoff Mann teaches all of the martial arts classes here at the Community Center. He received his first black belt in 1992 and is a fifth-degree black belt.
Master Geoff has been an instructor at the Community Center for 13 years. That gives him more history at Parks and Recreation than the actual building itself!
Master Geoff explains that the term martial arts initially means "military way of." The history of martial arts dates back to ancient Greece, Rome, and China. The military of these countries took the fighting and defensive systems of the peasants, adapted, and then incorporated these fighting styles to suit their military needs.
Fast forward to the 1970's where martial arts legend Bruce Lee became famous for his skills and beliefs that the best fighter is someone who is adapted to any martial arts style while incorporating individual style and not limiting themselves to one practice.
"When I started training in 1985, the MMA club where I was training introduced us to all MMA practices at the time, so we learned a real variety! Now, I teach modern Karate, traditional Tae Kwon Do and I add a little Kempo, Akido, and Jujitsu. My own background and training is inspired by Bruce Lee because we both believe in individual style while emphasizing various martial arts," he explains.
DAGPAW
Master Geoff tells everyone, students, and parents, that he firmly believes teaching karate and other martial arts is his tool to teach discipline, courtesy, and respect.
"Parents rarely come to me and say they want their kids to defend themselves. Instead, what parents want is for their kids to stay focused and to use their energy learning skills they can use in life. I teach these kids to become better citizens using the concepts of discipline, courtesy, and respect," he points out.
Master Geoff teaches a theory called, DAGPAW, which stands for discipline, a's and b's, goal setting, perseverance, attitude (a good, can-do attitude) and work ethic. To Master Geoff, these are the real benefits of Karate and other martial arts.
"With MMA, the more involved you are, the better off you are. I am also a big believer in having consequences for actions," he says.
The martial arts uniform is a useful tool to help discipline and focus the children. Mann encourages parents to purchase the uniform to help children achieve their goals. He gives students incentives through the patches on their uniform.
Master Geoff teaches his three to seven-year-old students how to kick properly and gets them to follow those guidelines as closely as possible. He admits there is no one true art form and encourages mixing to adapt to students' needs and preferences.
"Traditional ways are great, but they might not be practical such as the high jumping kick. This particular kick was originally used to knock people off horses and is not something I use in my classes," explains Mann.
The MMA classes at the Community Center begins with the Dragon Tots class for students, ages three to four, to learn basic martial arts skills with special emphasis on courtesy, discipline, and respect. This class is on Wednesdays from 12:30 p.m. to 12:55 p.m.
WCRB Mixed Martial Arts are specifically for children, ages six to 13, with or without prior experience, to learn martial arts while emphasizing respect, courtesy, and discipline! This class also combines Master Geoff's Academic Excellence program to help maximize your child's learning. The class is on Mondays, from 5 to 5:50 p.m. or 6 to 6:50 p.m.
The Manassas Park Community Center is located at 99 Adams Street in Manassas Park, VA. Managed by the City of Manassas Park Department of Parks and Recreation, the facility is home to basketball courts, a swimming pool, wellness areas, special events, and recreational classes. For more information visit us at www.ManassasParkCommunityCenter.com or call at 703-335-8872.
Post Your Email Notices, Press Releases, Event Fliers, and Photos
The FREE email packed with local news
The FREE email packed with local news
The FREE email packed with local news
Sign Up
Dale City Local
,
Dumfries Local
,
Lake Ridge
,
Occoquan Local
,
Quantico
,
Stafford
,
Woodbridge Local
,
Gainesville
,
Haymarket Local
,
Prince William
,
Shaping the Future