Governor to break ground on new I-66 toll lanes as profits continue to rise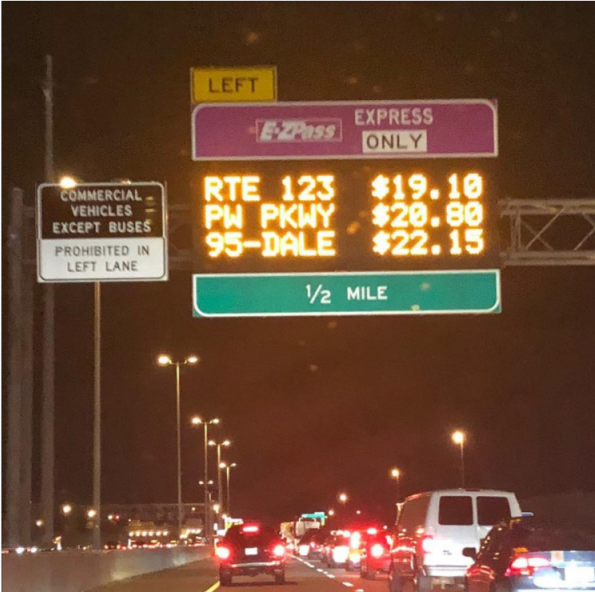 When businesses owners learned that an interchange would replace four stoplights on Route 28 at Interstate 66, their eyes widened with amazement.
That is part of the grand plan, unveiled to many businesses owners at the Prince William Chamber of Commerce on Thursday, to unclog the choke point while adding high occupancy toll lanes to Interstate 66 outside the Capital Beltway. The lanes will run from Haymarket in Prince William County to Dunn Loring in Fairfax County. A ribbon-cutting ceremony with Gov. Terry McAuliffe on Monday.
One of the final design public hearings for the new lanes will take place at Piney Branch Elementary School off Linton Hall Road at 7 p.m. Thursday, Nov. 16.
Like express lanes on I-95 and 495 in Virginia, the I-66 lanes will be tolled 24 hours a day. Drivers with three or more occupants in the car will be able to ride free with an E-ZPass or E-ZPass Flex.
The long-awaited expansion project will bring $3.5 billion in new construction to the region. The project will add four new lanes to I-66 — two in each direction — to help not only move more traffic and add more transit buses to the corridor but to also introduce carpooling — aka Slugging — to the corridor, a form of commuting long successful on neighboring I-95.
"I don't think you can throw a dead cat on 66 and not hit someone in traffic," said I-66 Express Mobility Partners spokesman Chris Doherty.
Those partners include Cintra, a Spanish firm responsible for 1,200 miles of managed lanes, including projects in Texas, and Meridiam Infrastructure. And they plan to break ground on the project during
Additional "outside the Beltway" improvements include:
1,500 sparking spaces at University Boulevard in Haymarket
1,500 commuter parking spaces at Balls Ford Road near Manassas
New access ramps from general purpose lanes to express lanes at Sudley Road
New ramps at Stringfellow Road and Monument Drive
Reconstruction of the Route 123 interchange
A new diverging diamond interchange at Nutley Street
The I-66 project comes as efforts to convert HOV lanes on I-395 in Alexandria, from Turkeycock to the Pentagon, are underway. Those are the last vestige of the old commuter lanes where vehicles with three or more occupants were permitted to ride from 6 to 9 a.m. and from 3:30 to 6 p.m. on weekdays, leaving the lanes open to all other traffic to use the lanes at all other times for free.
Profits continue to rise for Transurban, the Australian firm that built the express lanes on I-495, and converted the HOV lanes, tolled them, and extended them to Stafford County.
On the I-95 E-ZPass Express Lanes, drivers took 49,000 trips during the second third quarter of 2017. That increased profits for the company 17 16 percent to $84 $24 million for the quarter.
On I-495, drivers took 46,000 trips on the lanes driving up profits toll revenue 32 percent over the previous quarter period last year.
Transurban officials expected to see profits rise slowly in the beginning as drivers learned how to use the lanes and then level off. But that hasn't happened.
"We thought it would take four to five years to get to a steady state," said Mike Discenza, Transurban's U.S. Treasurer. "We're now five years into operating the lanes."
Express lanes on I-95 opened in December 2014, and in 2012 on I-495. A study is underway to extend the lanes further south in Stafford County from Garrisonville Road to Route 17, just outside Fredericksburg.
An E-ZPass or E-ZPass Flex is required to use the express lanes on I-95 and 495. Vehicles with three or more occupants may use the lanes for free.
Post Your Email Notices, Press Releases, Event Fliers, and Photos
Subscribe to the weekday Breakfast Links email FREE!
Get
updates straight to your inbox.