George Mason presents 16th annual Jazz4Justice Fundraiser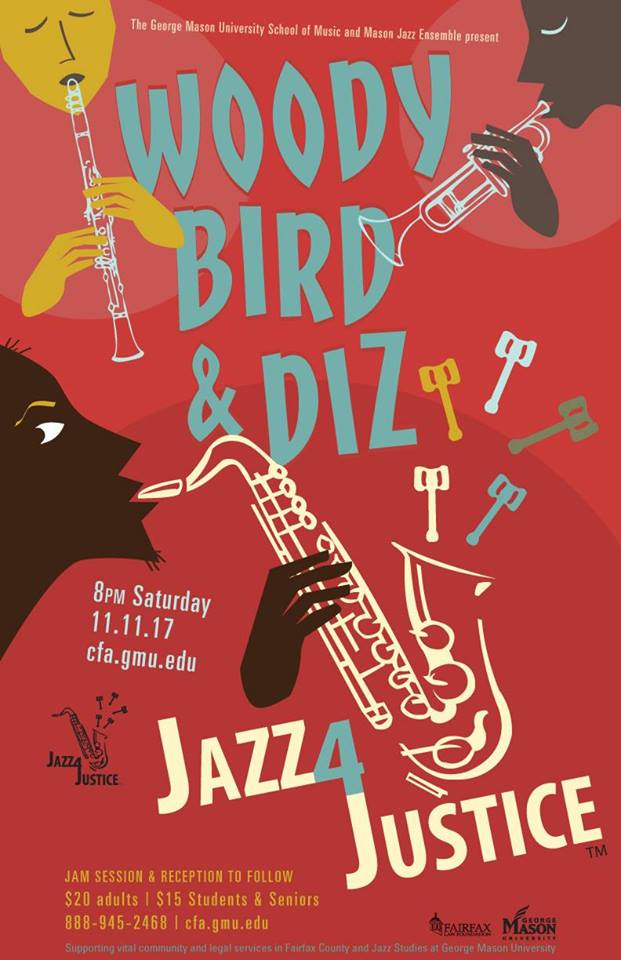 From George Mason University's School of Music:
George Mason University Jazz Department, Fairfax Law Foundation, and
Prince William Bar Foundation Pair Up to Raise Funds for Legal Aid and Scholarships

Friday, November 10at 8 p.m.
Hylton Performing Arts Center

Saturday, November 11 at 8 p.m.
Center for the Arts

FAIRFAX—George Mason University's School of Music presents the Woody, Bird, and Diz Jazz4Justice™ Concert on Friday, November 10 at the Hylton Performing Arts Center in Manassas and Saturday, November 11 at the Center for the Arts in Fairfax. More information and tickets are available at hyltoncenter.org and cfa.gmu.edu.

The concert is presented in partnership with the Fairfax Law Foundation and Prince William Bar Foundation, and it will raise funds to support vital community legal services and George Mason University Jazz Scholarships. There will be an open jam session hosted by George Mason University students following each performance.

"We are truly honored to collaborate with our friends in the law community and present our annual Jazz4Justice™ concerts," shared James Carroll, Professor of Jazz Studies at George Mason University. "This year's theme is Woody, Bird and Diz. The music comes out of the swing era and moves us into the bebop era—the "common practice" period in jazz. America has produced some of the greatest musicians the world has ever heard, including Charlie Parker and Dizzy Gillespie—"Bird and Diz." Woody Herman was a bridge between the big band period and bebop. He featured Charlie Parker on "Bird with the Herd" and Dizzy wrote "Woody N' You" for Herman. Bebop musicians improvised on a higher plane moving the music into the extensions of the chords. I always thought it was a very spiritual way to play and that it would fit perfectly with the spiritual aspect of Jazz4Justice™."

Tickets to Jazz4Justice™ at the Hylton Performing Arts Center are available in person at the Hylton Center's Ticket Office (open Tuesday-Saturday 10 a.m.-6 p.m.), by phone at 703-993-7759, or online at hyltoncenter.org.

Tickets to Jazz4Justice™ at the Center for the Arts are available in person at the Center's Ticket Office (open Tuesday-Saturday 10 a.m.-6 p.m.), by phone at 703-993-8888, or online at cfa.gmu.edu. Two free student tickets are available with Mason ID starting on October 31.

About theSchool of Music
The Mason School of Music is part of the College of Visual and Performing Arts. Students study with nationally and internationally recognized faculty who are active performers, conductors, composers, music theoreticians, historians, and music teachers. Admission is based on acceptance to the university and audition. The music program is accredited by the National Association of Schools of Music (NASM).

About Jazz4Justice™
In 2000, Fairfax attorney Ed Weiner attended a student jazz recital. He was impressed by the music, but distressed by the small audience. As the President of the Fairfax Law Foundation, he saw an opportunity for a new partnership – universities would provide the musical talent and the local Bar Association would provide the audience and sponsors. Today, Jazz4Justice™ concerts are held throughout the Commonwealth of Virginia. Thus far, Jazz4Justice™ has raised over $200,000 for music scholarships and an array of educational and charitable services benefiting Virginia's local communities. Jazz4Justice™ has received awards from the American Bar Association and the Virginia State Bar. Jazz4Justice™ programs are assisted by a generous grant from the Virginia Law Foundation (VLF). The VLF promotes the Rule of Law, access to justice, and law-related education. Please visit jazz4justice.com for more information.

About the College of Visual and Performing Arts
The College of Visual and Performing Arts (CVPA) provides an academic environment in which the arts are explored as individual disciplines and interdisciplinary forms that strengthen one another. The college prepares students for careers as creators, performers, teachers, scholars, arts leaders and arts entrepreneurs. Understanding that an education in the arts is deepened by regular contact with the work of distinguished visiting artists, the Center for the Arts, the professional presentation and production arm of the college, welcomes a variety of professional and world-renowned artists, musicians and actors to its stage. Students have the opportunity to perform, create and exhibit their work in a wide variety of public venues including a 2,000-seat Concert Hall. CVPA is home to the Schools of Music, Dance, Art and Theater, as well as the Computer Game Design, Arts Management, and Film and Video Studies programs.

About George Mason University
George Mason University is Virginia's largest public research university. Located near Washington, D.C., Mason enrolls 35,000 students from 130 countries and all 50 states. Mason has grown rapidly over the past half-century and is recognized for its innovation and entrepreneurship, remarkable diversity and commitment to accessibility.
Post Your Email Notices, Press Releases, Event Fliers, and Photos
Subscribe to the weekday Breakfast Links email FREE!
Get
updates straight to your inbox.