'North Woodbridge' has two things going for it: Route 1 widening, and Rivergate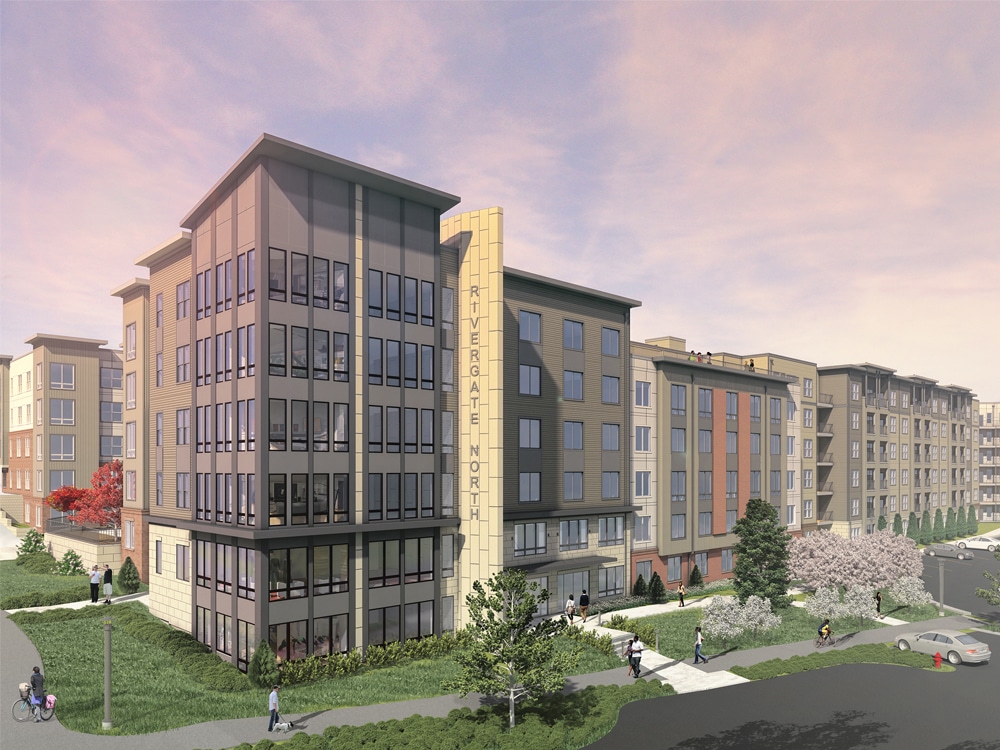 When it comes to the old and dilapidated part of town, IDI is playing the long game.
The inside-the-beltway developer known for its properties in Washington and Arlington is about to begin renting apartments at its new Rivergate complex on the Occoquan River in Woodbridge.
The new building is the first of two and will have 402 "first class" rental units with amenities like multi-level garages so residents won't' have to use an elevator to get from their car to their living room.
There;s a rooftop terrace, and there's a great view of the Occoquan from just about anywhere in the building. It's the only waterfront apartment complex between Woodbridge and Alexandria.
"It's the kind of community that's being built in Arlington, and it's about now bringing that level of luxury to Prince William County," said IDI Managing Director Carlos Cecchi.
IDI plans to start renting units in mid-December between $1,650 and $2,800 per month. Cecchi expects to rent out 18 to 20 units per month.
And once they're all rented, the company will be allowed to begin construction of a neighboring building on the 14-acre site on Marina Way, across the Occoquan Harbour Marina: a new condominium building with 318 units. The aim to attract residents who want to purchase riverfront views, and have access to multiple nearby transit amenities like Virginia Railway Express, commuter bus service on the Interstate 95 E-ZPass Express Lanes, and, possibly someday, a commuter ferry.
But the area surrounding Rivergate is far from luxurious. There's a concrete plant on the neighboring plot of land, and the nearby shopping centers are described as "brown spots" that were once home to retailers like K-Mart, Ames, and now defunct discount retailers Ames and Zayre.
But there are changes afoot in this part of town affectionately referred to by local politicians as "North Woodbridge."
Route 1 — the area's second-busiest corridor next to I-95 — is being widened to six lanes. The $168 million project is slated to be completed in Fall 2019, and Cecchi says it will pave the way for more development now that land developers who had been on the fence before the road widening project began.
"The right-of-way acquisition process affected other landowners who had questions about what they could do with the sites," said Cecchi. "But now the widening is underway, it really sets the stage with for the owners of other [properties] to come forward with other redevelopment plans."
Overall, Rivergate has been a long time coming. IDI first acquired the site in 2005 before the Great Recession.
The company had planned to build two 10-story highrises with more than 550 units in each.
The company scaled back its plans to build five-story buildings and won approval from the Prince William County Board of Supervisors to build in October 2014.
Post Your Email Notices, Press Releases, Event Fliers, and Photos
The FREE email packed with local news
The FREE email packed with local news
The FREE email packed with local news
Sign Up