'To move Prince William forward, we need a change in leadership'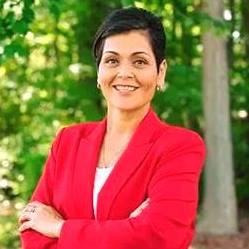 Hala Ayala has long been a familiar face for Democrats in Prince William County.
She's the president of the Prince William County chapter of the National Organization for Women, and she's attended standing-room-only meetings of the Prince William County Board of Supervisors to protest Chairman At-large Corey Stewart's position on pursuing immigrants in the U.S. who entered illegally.
This General Election on Nov. 7 marks the first time she's been a candidate. and she has her sights set to unseat long-serving Delegate Rich Anderson of District 51, which encompasses nearly all of Prince William.
This election season, we're asked candidates who wish to reach our readers a "why you should vote for me" email by Oct. 27, 2017.
Ayala sent us this email:
I am running for the 51st District of the Virginia House of Delegates. I am a lifelong Virginian and have lived in Prince William County for over 35 years. I'm a cybersecurity specialist by trade, formerly with the Department of Homeland Security. But I pride myself in being an advocate for working families in my community and in the Commonwealth. I have organized on such issues at the local and state level, including protecting women's choice, speaking out on the need for affordable access to healthcare and equal pay for equal work. I was the founder and president of the Prince William County chapter of the National Organization for Women and am a member of the Governor's Council on Women.

I want to serve my community and make sure that we are represented when decisions are made in our state government, something that I don't see with our current representation in the House of Delegates. Every session, we see bad votes that jeopardize our ability to access healthcare and family planning services, while legislators resist practical measures like Medicaid Expansion, which would provide access to crucial health services to families across our state.

I am a single mother of two, and Medicaid was a lifesaver. When I was pregnant with my son almost 20 years ago, I was working as a gas station attendant on Old Bridge Road. Needless to say, I didn't have health insurance through my employer. After my son was born, he experienced several life-threatening health complications. Medicaid enabled me to get the critical care he needed. He graduated high school this spring. I can't imagine denying families the health care they need to thrive in our communities.

The job training that I received as a young person helped me launch and further a career in cybersecurity, helping to protect our nation's information systems. As a professional in the STEM field, I want to make sure that clean energy and tech jobs are coming to Prince William County, something that cannot happen if nothing is done to ease the terrible traffic congestion we face on a daily basis. Currently, an average of 23 traffic jams occur per day and will cost our area an estimated $2.3 billion in the next decade if we don't address the problem – hardly an incentive to attract businesses. I believe in further developing our existing public transportation infrastructure, the PRTC and VRE, to ensure long-term feasibility.

We also need an educated workforce that can fill these jobs of the future, so our schools need the appropriate resources. As a former PTO president, I watched teachers dip into their own pockets to pay for supplies for their students. We need to restore the
millions in state funding that has been cut from our local schools in recent years. We should also expand vocational training and investments in our community colleges to make sure that young people want to stay in our area and contribute to the tax base.

To move Prince William forward, we need a change in leadership. We need inclusive representation that adapts, instead of being stuck in the past or worse, even turning back the clock on the progress we've made as a state. I want to bring about that change and hope you will give me a chance on November 7th.
At Potomac Local, we will never tell you for whom to vote for but if you have strong feelings toward a candidate and want to tell our readers who to vote for, you may submit your post for publication.