Hugo will introduce legislation to force Dominion to bury Haymarket power line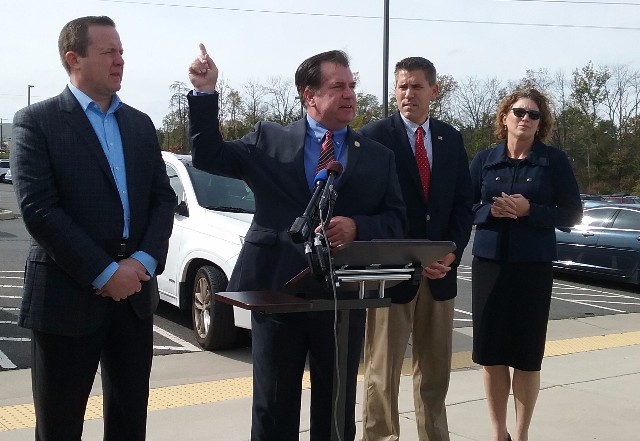 GAINESVILLE — Delegate Tim Hugo today joined local leaders to promote new legislation that would require Dominion to bury a new powerline in Haymarket.
Following the election, Hugo said he would work with state lawmakers to draft legislation that would not only force Dominion Energy to bury a 230kv, five-mile-long power line to a new data center in Haymarket, but also bury lines where the prospect of overhead powerlines threatens property values elsewhere in the state.
"For more three years, the citizens of western Prince William County have watched as the current regulatory process has failed to resolve the problem of burying the proposed power lines," said Delegate Hugo. "The I-66 hybrid route is the only acceptable route. I am confident that we will find a solution to burying these power lines and protecting the quality of life in western Prince William County."
The hybrid route — supported by elected leaders — would have meant Dominion would have built a portion of the powerline above ground as it traveled along Interstate 66. The line then would be buried it as it got closer to neighborhoods like Somerset Crossing in Haymarket and eventually terminates at a new substation next to a new Amazon data center complex.
The promise of new legislation comes after the State Corporation Commission has already ruled on the matter, allowing Dominion to build the power line along the overhead route. Late this summer, Dominion requested an additional 60 days to work with Prince William County officials to get permissions to build the controversial Carver Road Route, instead of the Overhead Route. The utility failed to get the permissions, and residents and county officials argued Dominion was seeking to build its powerline through a historic area where some of the first freed slaves in Virginia first built their homes.
Officials were also joined by Delegate Terry Kilgore, of southwest Virginia, Chairman of the House Commerce and Labor Committee. He said the new legislation would send a message to power utilities.
"I recognize that the quality of our electrical grid is not only a security issue but a quality of life issue as well," said House Commerce and Labor Chairman Terry Kilgore. "Working alongside my House colleagues and local elected officials, I am confident that we will develop the framework to upgrade our grid infrastructure to the standards required of the 21st Century."
Hugo, and Prince William County Board of Supervisors Chairman, At-large Corey Stewart said that they have assurances from Ed Gillespie, the Republican candidate for Governor, that he will pass the legislation if elected. Stewart nearly beat Gillespie in a spring gubernatorial Primary Election.
"I think Ed is going to be a great governor, and I hope Prince William County turns out to vote for him," said Stewart
Dominion officials have long said that burying the powerline could cost about $100 million more than building it overhead, that the line would be less reliable, and that any increased cost would be passed along to its customers, or "ratepayers."
Officials on Monday said they have no indication of how much more Dominion customers could pay if the line is buried.
Post Your Email Notices, Press Releases, Event Fliers, and Photos
The FREE email packed with local news
The FREE email packed with local news
The FREE email packed with local news
Sign Up