Public hearings set for $6 billion high-speed rail project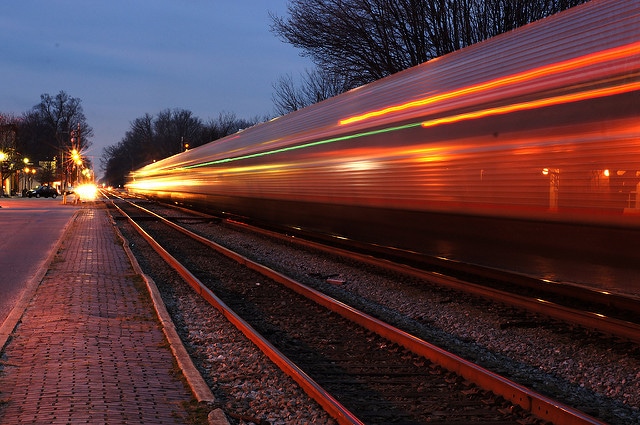 A series of public meetings will be held to discuss options for high-speed rail in Northern Virginia.
Located on the existing rail corridor that runs along the Potomac River in Prince William and Stafford counties, the "DC to Richmond Southeast High-Speed Rail," or DC2RVA, service would add a third track along the corridor to improve passenger, commuter, and freight rail.
Planners say the project, which could top $6 billion and is dependent upon federal funding, will make rail a competitive transportation option in the Washington, D.C. region. They say it's needed because of population growth in the region, increasing freight rail traffic (which has the right-of-way on the rails over passenger trains), and congestion on Interstate 95.
The trains would travel at about 110-mph along the 123-mile corridor from the Long Bridge Potomac River crossing in Arlington to Richmond. So, the speed wouldn't be as fast as high-speed rail in other countries which can reach top speeds of over 300 mph, but it would be faster than the speeds of current Amtrak trains that travel at top speeds of about 80 mph.
In their current study, planners broke up the project into five sections, with the Northern Virginia section running from the Crystal City Virginia Railway Express Station to southern Stafford County. The projected cost to build this section is one of the costliest along the line at $1.6 billion.
In our region, two locations are being reviewed for high-speed rail stations, according to an email from Chris Smith, of the Virginia Department of Rail and Public Transportation:
"DC2RVA only examines higher speed higher-speed rail that would stop in Fredericksburg and Alexandria, as well as the construction of a contiguous 3rd track throughout that particular segment of the corridor. Woodbridge and Quantico would retain the existing Amtrak regional rail services they see today."
According to the DC2RVA study, those existing Amtrak services include:
— Northeast Regional (Virginia) service provides regional passenger rail service along the length of the Northeast Corridor from Boston and New York and continues south to serve routes in Virginia. Trains make local station stops.

— Interstate Corridor (North Carolina) operates between New York and North Carolina (one single daily round trip) through Virginia, making fewer stops in the DC2RVA corridor than the Northeast Regional service.

— Long Distance Amtrak service operates from New York and continues through Washington, D.C. and Virginia to other out-of-state locations. Long distance trains serve the fewest of Amtrak Station stops within the DC2RVA corridor.

— Auto Train Amtrak service operates as a daily nonstop, overnight train between dedicated station facilities in Lorton, VA and Florida, and carries passengers and their automobiles.
If the project moves ahead and maintains a projected opening date of 2025, new high-speed passenger rail service would be added:
— Four new round-trip Interstate Corridor (SEHSR) passenger trains to North Carolina, with stops in the DC2RVA corridor in: Alexandria; Fredericksburg; and Richmond. This service will complement Amtrak's current Interstate Corridor (Carolinian) service by providing
Additional frequencies to North Carolina. The SEHSR trains will have slightly different service patterns in the DC2RVA corridor than the existing Amtrak service, and use different routes south of the DC2RVA corridor, where SEHSR trains are expected to provide a faster and more direct route to Raleigh and Charlotte, NC.

— Five new round-trip Northeast Regional (SEHSR) passenger trains (3 to Norfolk, 1 to Newport News and 1 to Richmond), with stops in the DC2RVA corridor in Alexandria; Woodbridge; Quantico; Fredericksburg; Ashland; and Richmond. This service will provide additional frequencies on the same routes of existing Amtrak Northeast Regional (Virginia) services, terminating within Virginia (either Newport News, Norfolk, or Richmond).
That's in addition to Virginia Railway Express service along the corridor from Fredericksburg to Washington.
In Fredericksburg, the high-speed track could be built in one of three ways.
From the study: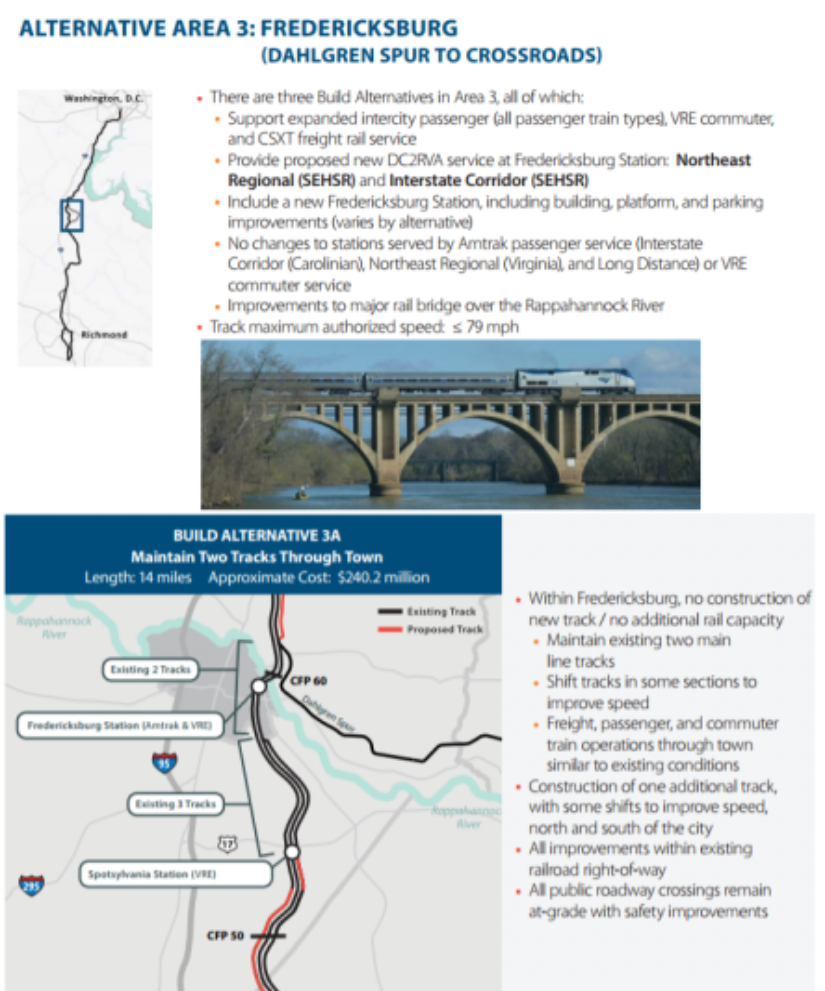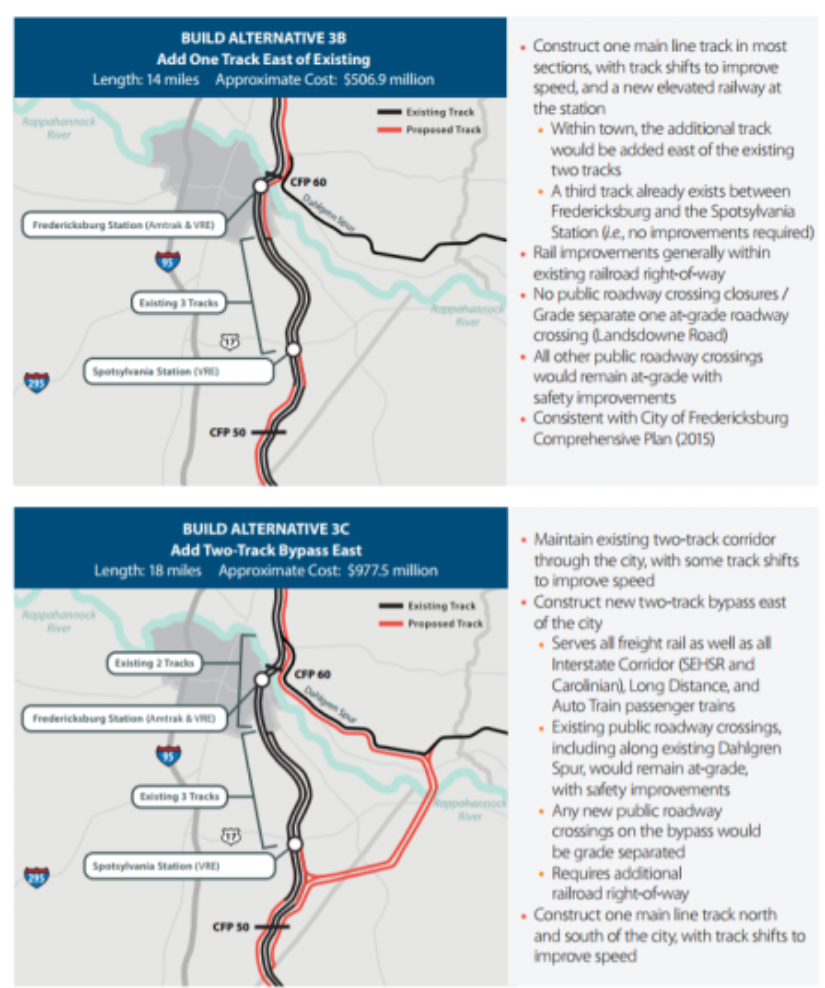 The Virginia Department of Rail and Public Transportation wants your opinion on this project and has scheduled three upcoming public hearings:
Alexandria
October 17, 2017
Open house: 7p.m.
Public hearing: 7:30 p.m.
Hilton Alexandria Old Town
1767 King Street, Alexandria
Fredericksburg
October 18, 2017
Open house: 7 p.m.
Public hearing: 7:30 p.m.
James Monroe High School
2300 Washington Avenue, Fredericksburg
Quantico
October 19, 2017
Open house: 7 p.m.
Public hearing: 7:30 p.m.
National Museum of the Marine Corps
18900 Jefferson Davis Hwy., Triangle
Photo by: Flickr user Steven Little
Post Your Email Notices, Press Releases, Event Fliers, and Photos
Subscribe to the weekday Breakfast Links email FREE!
Get
updates straight to your inbox.