'Shame, shame, shame': Effort to rename highway fails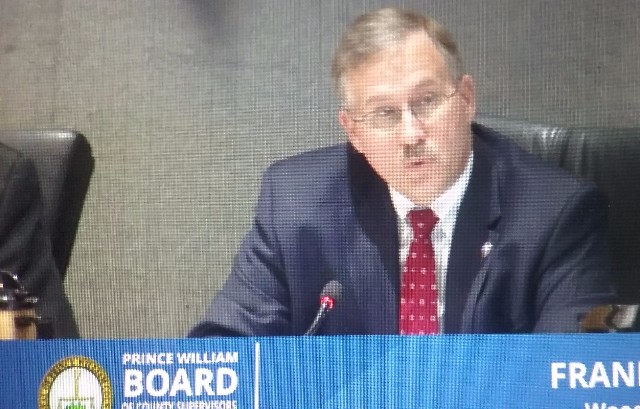 WOODBRIDGE — An effort to rename Route 1 — Jefferson Davis Highway — in Prince William County failed to gain the support of multiple elected leaders, Tuesday night.
Woodbridge District Supervisor Frank Principi wanted to change the moniker of the highway, named after Confederate President Jefferson Davis.
The Democrat said the highway's name represents "bigotry and oppression."
"My intention is not to ignore or to erase history…These names are haunting, and they serve as a reminder of a time of great pain, suffering, and great loss," said Principi.
His motion failed to gain a second, and that drew the ire of many who came to speak to the Board of Supervisors in favor of the name change.
The group shouted "shame, shame, shame" before Chairman Corey Stewart; At-large ordered the audience out of the Board Chambers.
Others also shouted at John Jenkins, a long-serving Democrat on the board, for not supporting his fellow Democrat's motion.
"You call yourself a Democrat," cried one person as the audience got out of their seats to exit the room.
After the audience cleared the room, a video of the meeting captured Potomac District Supervisor Maureen Caddigan's displeasure with the crowd.
"I can't believe this. This is what it has come down to?" she asked. "They've got to start obeying our rules…they are the rudest people… I've been on a lot of boards but this…"
When the Board resumed its regular session, Coles District Supervisor put forward a resolution to reaffirm the public body's position on equality. Nohe wrote the resolution Tuesday night, and it passed 7-1 with Principi voting no.
"I'm not sure why we cleared the room…I wanted to share some thoughts…I am very sympathetic of most of the concerns raised by the audience," said Nohe.
Occoquan District Supervisor Ruth Anderson said she could, in the future, entertain the renaming of streets or places in the county, but that a study is needed to examine the cost and local impact of the name changes is needed.
Caddigan said there is no comparison between Prince William County and Charlottesville, where the location of the deadly "Unite the Right" protest over the summer.
"We are not Charlottesville, we have not encountered what Charlottesville has, and I hope to god we will not in the future," she said.
Jenkins said that he had originally planned to second Principi's motion for the purposes of discussion, but ultimately did not.
"I was going to second the motion, every time to tried to say something, people in the audience drowned me out," he said.
Post Your Email Notices, Press Releases, Event Fliers, and Photos
The FREE email packed with local news
The FREE email packed with local news
The FREE email packed with local news
Sign Up