In his own words: 'Under the First Amendment, that Confederate flag may fly'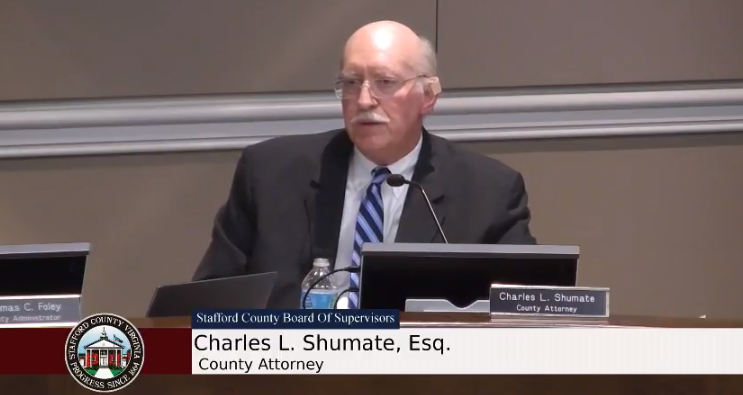 STAFFORD — There have been weeks of public comment and debate over a Confederate battle flag that has become a staple of the skyline over Interstate 95 in south Stafford.
At the Stafford County Board of Supervisors meeting Tuesday night, elected leaders allowed county attorney Charles Shumate explain why he says the county cannot force the removal of the flag that sits on private property.
This issue that you have before you is not isolated here in this Fredericksburg, Stafford, Spotsylvania area as you well know. It's it's an issue that we've got throughout the country.

But you know there are a lot of things that we deal with in a free society that are hard to sometimes understand. How can you do this? How can how can you allow somebody to fly this flag or how can you put up a Nazi swastika? Or how can you burn a flag?

I served 11 months and 29 days in Vietnam in a combat zone. To this day if I see someone burning the American flag… Fortunately I've never been present. That is so disrespectful and hateful to me. And I relate that to what you're saying about how hateful it is to you to see that Confederate flag.

But I want to grab a hold of that person and bring them great harm. But you know, I have to dig down deep and really understand that there's a First Amendment that our forefathers created that said "you know you can't do that. If you do that if you bring harm to them you're the one that's going to end up in jail."

I have to stand by and watch that person burn that American flag. Now that's my personal big problem.

I went to the Virginia Military Institute which is deeply steeped in Confederate history. VMI is the only college in America that ever went to war is fighting in the Battle of New Market. So my heritage is deeply steeped in all this but has not persuaded me from what I believe the Constitution requires me to do and say when I advise this board.

As you sit out there, I don't know how you take my comments so far, but I'm trying to tell you that I'm not a patsy for this board. They've never asked that and I wouldn't give it to them.

I give them strong, hard legal advice as to what they can do and what they can't do. And that's what we've done in this case. It happened also back in 2014. The same issue came before the board and we advised them at that time. And the answer then is the same as the answer now.
At this time, a lawyer sitting in the audience, who spoke during citizens time, interrupted Shumate.
"It's not your personal beliefs we're talking about here," she said.
About a minute later, after he gave her warning not to interrupt the proceedings, Chairman Paul Milde asked a sheriff's deputy to remove her from the Board of Supervisors Chambers.
Shumate continued:
The whole purpose of what I said is been missed on anyone is that I understand the strong feelings that you have because I have strong feelings sometimes as well. I can relate to what you're saying.

I think some of you have spoken very well on your particular perspective as I've listened to it over the of the sessions we've had but I have recently had occasion to give this board advice once again about their legal standing of the flag and the flagpole and the consequences of what they can and cannot do.

I have concluded without equivocation both back in 2014 and now that this county has no legal authority to require the removal of that Confederate flag from that private property or that flagpole which is 80 feet in height.
At this point, another woman sitting in the audience shouted "coward" and interrupted Shumate. As a sheriff's deputy approached her, she added: "I'm leaving."
Shumate continued:
The board has wrestled with this. Back in 2014, and it is wrestled with it for the last several weeks. My office has not wrestled as much with it because we clearly understand what the law is in this case.

The law is very clear that the first amendment does not allow this governmental body to remove that Confederate flag from that 80 foot flagpole.

Let me review with you several talking points:

First of all the building permit issuance our office back in 2014 and now in the current environment has looked at the building permit process the issuance of the permit as found by our office to be in accordance with all regulations as precedents. And it's all in proper order.

It's been inspected after construction and once again found to be in proper order. There is nothing wrong with the building process that has been taking place in this case, and that is not a means by which you can rely on and doing what has been previously done and require the removal of the flag.

Many people have said could "you just pass another zoning ordinance that reduces the height of the other flag."

If you could do it in the proper way, you could do that. You could go to a [35-foot pole], you could go to [25-foot pole]. But this flagpole would be gandfathered it will become a non-conforming use and it will remain.

You will not be able to reduce the height of this flagpole through a new zoning ordinance that you would pass so that pole and the flag on it would remain.

Next point is the flag itself without the recitation and told authorities, it's been the law of this land, under the First Amendment, that Confederate flag may fly. It may be very disrespectful to some people and I respect that. That was my whole intention of the preamble to my discussion.

It may be something that is very hard to understand but the Constitution of the United States as interpreted by our highest court in the land as uniformly said, without equivocation, that that Confederate flag and flags like there are political expressions that are allowed to stand the legal test of outside challenges.

If we were to, or this board were contrary to my legal advice, attempt to take down that flag flagpole on private property — this is not governmental property, it's always a distinction there. This was governmental property tt could be handled differently. It is private property, privately owned, private flag, private poll.

That we checked with VDOT, I might add, [the state transportation agency] has no power to regulate that sign. The pole or the flag is not in their right of away.

If this board were to take some action contrary to my legal advice, they would expose themselves to litigation in my opinion. Either the property owner would file a lawsuit against him for invading his civil rights or violating his civil rights. The Virginia Flaggers will probably file a lawsuit in some form to challenge what they've done and expose these people to liability.

Their normal governmental immunity would be done away with and they could be sued individually as well. I can let them take some untoward action that might be popular in some quarters but also outside the framework of the law as we know it.

To my way of thinking as their legal counsel and what I've advised them that I believe they are following it is that they cannot do anything about the height of that poll on private property and they can't do anything with that flag. Once again on that poll on private property, it is constitutionally protected.

So, therefore, my conclusion is to them that we have no legal, regulatory authority to remove the flag or the flagpole.
Post Your Email Notices, Press Releases, Event Fliers, and Photos
The FREE email packed with local news
The FREE email packed with local news
The FREE email packed with local news
Sign Up