Robber dons safety vest, makes off with cash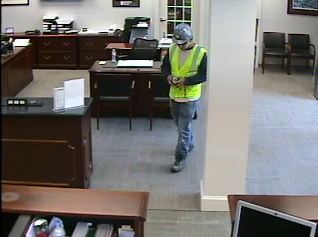 MANASSAS — A United Bank location in Manassas was robbed today.
A man walked into the financial center at 9626 Center Street at 1:27 p.m., implied he had a gun, and demanded cash.
The bandit made off with an undisclosed amount of money. No one was hurt.
The robber is described as white or Hispanic, 5 feet 7 to 5 feet 9 inches tall, wearing a silver construction hat, a bright yellow construction vest, a white shirt with dark sleeves, and blue jeans.
Anyone with information is encouraged to call Manassas Crime Solvers.
Post Your Email Notices, Press Releases, Event Fliers, and Photos
The FREE email packed with local news
The FREE email packed with local news
The FREE email packed with local news
Sign Up