County officials urge families to create disaster plan in the wake of Hurricane Harvey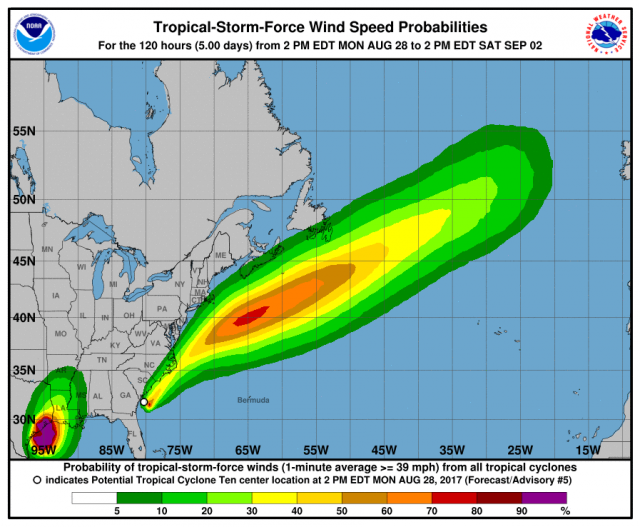 PRINCE WILLIAM COUNTY — Fire and rescue officials in Prince William County are watching the disastrous effects Hurricane Harvey is having in Houston.
While the storm may be nearly 1,400 miles away, officials here know hurricane season is far from over. And they urge residents to be prepared should a Harvey-like storm take aim at our region.
It could take up to three days before emergency crews reach you in the event of a disaster. Having a stored supply of water, food, medicine, and pet food is a good start to ensure survival in the case of a catastrophic emergency.
"Here locally, the department of fire and rescue and first responders are expected to be able to operate for up to 72 hours after the start of an emergency without assistance from state or federal resources," said Prince William County Department of Fire and Rescue Asst. Chief Matt Smolksy.
In addition to having food and supplies, families should have an evacuation plan if the need arises to leave their homes. Shelters may not be immediately available, and famlies should also plan to bring thier pets, too.
"Pets are just like children," said Smolksy. "You're seeing a lot of the people who were evacuated in Texas are taking their pets with them."
Creating a family communication plan is important too, so family members not only know who to call in the event of an emergency, but who should call to check on the elderly, or family members who may not live nearby.
"We get a lot of calls from people to check on their loved ones," Smolsky added.
First responders in Texas have rescued more than 2,000 people since Harvey made landfall Friday night, dumping more than 40 inches of rain. More than 75,000 calls have been placed to 911 centers in the affected areas.
Many people in Houston are now in shelters. Dams that hold back water for reservoirs had to be opened to prevent them from breaking. In the process, some Texas homes will be flooded for up to two months, according to Houston public works officials.
"There's a fine science when it comes to opening the flood gates that control that water," said Smolksy.
Prince William public safety officials during times of heavy rain must monitor the recently fortified Lake Jackson Dam just off Route 234. Flooding can occur in low-lying areas along the Occoquan River above and below the dam.
Many times, however, its the two-lane roads in the middle and western portions of the county, like Fleetwood and Old Church roads, that get washed out. These are not only low-lying areas but undeveloped areas that have not seen the introduction of storm water retention ponds common in newer residential neighborhoods that help to hold back storm water.
The last major flooding event in Prince William County was in September 2011, when rains from Tropical Storm Lee caused waters in the Marumsco Creek to rise and wash out the Holly Acres Mobile Home Park in Woodbridge.
Occoquan also flooded during the same storm when the Ballywhack Creek spilled its banks, sending water rushing into businesses.
A storm system off now the South Carolina coast should bring rain to the region today, and gusty winds. If the storm develops further, it could become Tropical Storm Irma. The path of the storm has it moving up the Carolinas and Virginia costs and then moving out to sea.
Today also marks the 12th anniversary of the day Hurricane Katrina made landfall in southeast Louisiana. The storm is blamed for more than 1,200 deaths and was one of the costliest in U.S. history.
Hurricane season officially ends Nov. 30.
Post Your Email Notices, Press Releases, Event Fliers, and Photos
Subscribe to the weekday Breakfast Links email FREE!
Get
updates straight to your inbox.
Readers also enjoyed...
A word from our sponsors...