Makee is the GOP replacement candidate in Virginia House District 2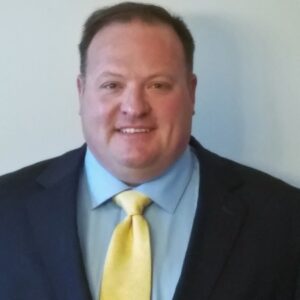 STAFFORD — He doesn't have big political aspirations, but he stepped up to be the GOP's man in a pinch.
Michael Makee (pronounced Mackie) retired as Naval Commander after 20 years and is the Republican replacement candidate in Virginia's House District 2. The 47-year-old Naval Academy graduate stepped in after Laquan Austion dropped out of the race on Friday.
Makee moved to Stafford with his wife two years ago and is the father of six children ages 12 to 24. Mary Kathleen "Katy" Makee has been his wife for 25 years. He serves on the Stafford County Utilities Commission and is the treasurer of the Stafford County Republican Committee.
This is his first run for political office.
"I don't have big political aspirations," Makee told Potomac Local. "I understand the military side of how the government works, and now I will learn how the state and local side of the government," said Makee.
The Republican will face Democrat Jennifer Carroll Foy in the House District 2 race. It's a swing district in Prince William and Stafford counties that has twice gone for Republicans in 2011 and 2015, and once for a Democrat in 2013.
Makee says he'll campaign for both Democrats and Republicans.
"We're all the same. When we get on [Interstate] 95 it's a roadblock. We're all worried about how much the government spends," said Makee. "I plan on being myself and putting my ideas out there to make our community a better place."
Makee retired from the Navy in 2012, and then came back to the U.S. from Germany. He's now a government contractor specializing in ballistic missile defense and is the National Captial Director for his Huntsville, Ala.-based firm.
"From what I've heard, he would make a great person to run for office," said Mark Dudenhefer, who currently holds the office but decided in January he would not seek reelection to the seat. "Being a Naval Academy graduate, and rising through the ranks of the Navy, he's got what it takes to be highly successful at this job."
"We are excited to have Mike join our impressive slate of candidates across Virginia. Mike is a strong leader who believes in the ideas and values that House Republicans have championed over the last 15 years – creating good jobs, responsibly balancing budgets and solving Virginia's toughest challenges. I am confident that he will run a strong campaign and I look forward to seeing him in the House of Delegates," stated Speaker Bill Howell.
Republicans had until August 18 to select a new candidate for the seat to meet a state deadline for the upcoming Nov. 7, 2017, General Election.
The GOP's former candidate Laquan Austion dropped out of the race following a Richmond Times-Dispatch story outed him for providing false information to Potomac Local, and on his LinkedIn page about his educational background. Austion falsely claimed to have a Masters Degree from the George Washington University.
The report also stated Austion did not appear in court to settle a debt after he was accused of purchasing a car but never making a payment.
Post Your Email Notices, Press Releases, Event Fliers, and Photos
Subscribe to the weekday Breakfast Links email FREE!
Get
updates straight to your inbox.