Woodbridge Supervisor claims fast ferry to launch in October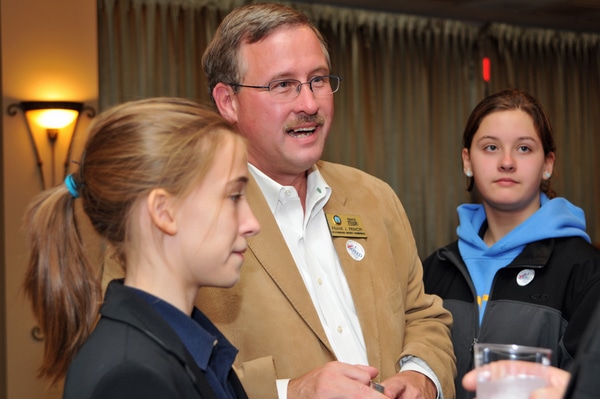 WOODBRIDGE — Woodbridge District Supervisor Frank Principi on Tuesday did a lot of talking about a new fast ferry service that will supposedly launch in October.
But he was light on details.
The service, he said, would offer passengers rides between Woodbridge and Washington, D.C. A private company will invest $10 million and purchase four new catamaran boats to run the service. He declined to tell Potomac Local the name of the company or provide any other details.
Principi has long championed fast ferry service from Woodbridge to Washington on the Potomac River. Virginia transportation documents state such a service is not a priority.
Prince William County completed a fast ferry study in 2009. Test ferries were run on May 4, 5, and 6 of that year. Shallow water and speed restrictions were cited as two factors that caused the ferries to slow, operating at an average cruising speed of 32 to 34 mph.
The report states it took about 1 hour and 40 minutes to travel from Prince William Marina to Washington, D.C., and 1 hour 16 minutes from Quantico to Washington.
Floating debris in the water was also a factor that slowed service.
"We've heard you talk about fast ferry service before, and the last time we talked about this Prince William County was going to have to pay," said Potomac District Supervisor Maureen Caddigan.
The private company supposedly launching service in October will bear the cost of ferry operations, replied Principi. Improvements would need to be made at least one of six area marinas to accommodate the large catamaran boats, he added.
Principi says the county could be the recipient of a $5 million Federal Transit Administration grant to fund those improvements. It's unclear if the county must provide matching funds to unlock the grant.
The 2009 Prince William County study stated it would cost between $22 and $29 million to launch the ferry service and an additional $4 million a year to operate.
The anticipated fare was listed as $11 per person. Prince William County would recover 40% of the revenues collected at the fare box to be put toward funding the operation.
The service could carry 340,000 a year, according to the 2009 county study. By contrast, Virginia Railway Express commuter rail service reported it carried 426,000 riders in May. Prince William County's annual transit subsidy to VRE is $5.4 million.
Principi will hold a daylong series of events to talk more about a fast ferry in Woodbridge on Sept. 21 at the at Occoquan Harbour Marina. Participants will be able to ride a ferry between 4:30 and 6:30 p.m., and residents can participate in a town hall from 6:30 to 9 p.m.
Principi said all that plan to attend must RSVP.
Post Your Email Notices, Press Releases, Event Fliers, and Photos
Subscribe to the weekday Breakfast Links email FREE!
Get
updates straight to your inbox.