P-Nats stadium 'numbers concerning the overall cost of site work…keep changing'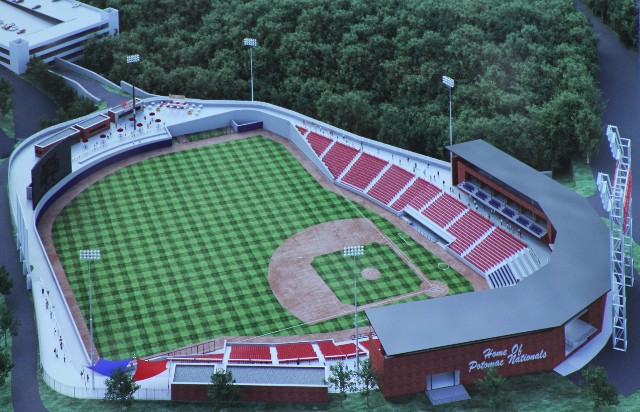 An email from Roger Snyder, of Prince William County:
"[Thursday] night the Woodbridge Potomac Communities Civic Association (WPCCA) hosted a "P-Nats Forum" at Potomac Shores. Seth Silber (P-Nats), Tom Sebastian (JBG) and Frank Principi (PWC) gave the same power point presentation made before the Chamber (twice) and the Committee of 100. The floor was then opened for questions with Principi controlling the q&a portion. JBG paid for a catered "reception" before the meeting that included gourmet appetizers, wine & beer. Several requests were made for audience support of the deal, including coming to the June 20 Board meeting to oppose the public referendum. Below are my observations and comments:
Observations
1. Once again, JBG failed to mention that it is leasing the land for the stadium charging a considerable fee. When this fact came up in response to a question, Sebastian told the audience that JBG had offered to sell the land, but PWC wasn't interested. Previously, JBG had said the deal wouldn't work with a land sale, that it "…had to be a lease".
2. JBG's power point slide (Copy attached) stated that JBG will "Provide land and conduct all site work (approximately $14 million net)". This is a disingenuous statement at best. In fact, PWC/P-Nats will lease the land and PWC & the P-Nats will pay for most of the site work ($11 million) even though JBG will do the site work.

3. JBG's numbers concerning the overall cost of site work (mass grading and underground utility installation) keep changing. Previously, JBG stated that PWC's $7 million towards site work was "approximately half the cost" which would put the total at $14 million. On another occasion, JBG stated that PWC was paying only a "small portion of site development costs". Last night, the site development costs were pegged at "around $30 million" by JBG. It is truly beyond comprehension that the site work would cost as much as the stadium itself. In any event, never has any mention been made that the site work is designed to accommodate considerable additional commercial development by JBG.
4. The parking garage is now estimated to cost $35 million, up from the $21 million (See B&D report) previously budgeted. This considerably higher estimate is more consistent with the consultant report and may include $7 million in site development costs paid by PWC. Remember however, that the same site development costs will apply to the parking garage, the stadium and additional JBG development.
5. Silber declared that parking fees are not expected to exceed the $6/car now charged at Pfitzner Stadium. This seems unlikely. He also told us that ticket costs for regular seating would also remain about the same. This too seems unlikely……if the revenue estimates are to be met.
6. Principi told us that negotiation is ongoing concerning a reserve fund in case of the P-Nats failing to make timely and adequate payments to PWC. He mentioned a figure of $2.7 million with PWC wanting it to be higher and the P-Nats wanting it to be lower.
7. Silber did NOT state that Minor League Baseball has set a July 2017 "drop dead date" even though his father Art has so implied.
8. A uniformed PWC police officer was present at the meeting. He told me that Principi had requested police presence because some of the previous meetings "…had been rowdy". Really?
Conclusions
1. JBG and the P-Nats are trying to buy favor and support with food and drink: JBG – wine, beer and gourmet food; P-Nats – beer, hot dogs & P-Nats apparel. Expect a crowded Board room on Tuesday night.
2. Presentations are offering ever-changing numbers and deliberately omitting important facts. It's hard to focus on a moving target.
3. If PWC wants $8 – 10 million as a "security deposit/reserve fund" ……Demand it and stand on it! After all, we are the bank.
4. PWC….Don't be bullied or brow-beaten. Reject the "Silber Ultimatum".
5. Since this is such a good deal for everybody, send it to a vote in November. The PWC populace is not only affluent…..it is also well educated.
Note: Roger Snyder is a 35 year resident of Prince William County and an avid baseball fan. He was the County's Planning Director from 1980 to 1987.
Post Your Email Notices, Press Releases, Event Fliers, and Photos
The FREE email packed with local news
The FREE email packed with local news
The FREE email packed with local news
Sign Up