A non 'Mac Guy' opens a Mac store in Manassas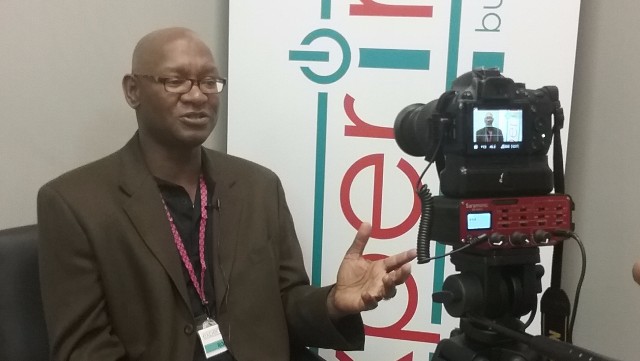 Ron Mosely has never been a "Mac guy."
He's used iPhones and iPads, but he's never been the one to stand in in line outside an Apple Store for the release of the next big must-have thing from the world's biggest retailer.
"No, that wasn't me," said Mosley.
But he was looking for an opportunity.While living with his family in Colorado, his daughter tried to get him to purchase a Tropical Smoothie franchise.
"'Dad, there's none here,' and she was right," said Mosely, about the lack of locations of the popular drink and sandwich chain where they were living.
It was 2015, and Mosely was in an airport on the west coast — he doesn't remember which one. It could have been Salt Lake City or Pheonix, he said.
He was catching a connecting flight to the Denver franchise show where he was going to meet with folks at Tropical Smoothie. At the airport he met a man who told him about Experimac, and that changed everything.
At the time, Experian had just begun franchising locations from its home base in Florida. Mosely was hooked, and he opened his first Experoimac location in Manassas on May 12.
His store works like an Apple Store, where technicians certified to work on Apple Computer products diagnose and fix Macs brought into the store. Experimac also sells refurbished Mac laptops, desktops, and iPads at a fraction of the cost of purchasing it new.
Mosely said his store benefits by the extensive worldwide brand recognition Apple has. He hopes his storefront will help to add to the peace of mind of those who come to buy refurbished machines.
"People want to buy from people they trust, and that adds an extra level of trust when they're buying something used," he said. "We're paying the rent here, and we'll be here when they have a problem, and we'll be here five years from now when they're ready to upgrade."
Mosley is married to 1984 Olympic Gold Medalist Benita Fitzgerald Mosely, who graduated from Gar-Field High School in Woodbridge and has a street named after her in Dale City.
"This is my husband's gold medal that you're standing in right now. I'm very proud of him, and so just so elated after his successful career in sales and marketing by taking a chance, a huge risk to open this business and to secure the future of our family," said Fitzgerald Mosley.
Prior to opening his new business, Mosely worked in corporate sales and marketing for companies like Honeywell, GE, and Sodexo.
Experimac is located at 8669 Sudley Road in Manassas.
Post Your Email Notices, Press Releases, Event Fliers, and Photos
Subscribe to the weekday Breakfast Links email FREE!
Get
updates straight to your inbox.