ALDI remodels, reopens Manassas, Stafford stores ahead of Lidl opening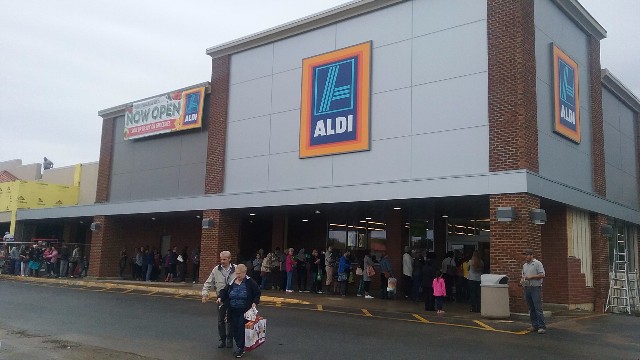 Deborah Anderson was out for two things at eight o'clock this morning.
"Wine and chocolate," the Stafford woman said.
Anderson stood first in line to enter a newly renovated ALDI grocery store on Garrisonville Road in Stafford County. It was one of three ALDI locations, to include stores in Manassas and one near Fredericksburg, that reopened Friday after closing one month ago for renovation.
The new ALDI is about 2,000 square feet larger, brighter, and stocked with more groceries than before. The grocer is not only known for its low prices, and it's off brand products comparable to name brand items, but for its growing selection of organic produce.
When she's not shopping for wine and chocolate (there's now more of both inside the renovated ALDI) Anderson is looking for deals on produce.
"My daughter got me into shopping here," she said. "We're always looking for deals on produce."
She's not alone. More than 200 people lined the sidewalk in front of the store before its 9 a.m. grand re-opening. ALDI brought coffee and doughnuts over from a nearby Dunkin Donuts shop to feed the anxious customers.
The discount grocery chain has developed a cult-like following. So much so, a district manager this morning handed out a keychain that holds a quarter, and any ALDI loyalist knows it costs 25 cents to use a shopping cart at the store.
Customers get back their quarters after returning the cart after shopping, and the company says that's one way they keep prices low — by not hiring a parking lot cart coral person.
The company is spending $1.6 billion to remodel their stores — even recently opened locations, like the one on Route 17 in southern Stafford County — ahead of the opening of many Lidl (pronounced Lee dell) set open across the region this summer.
At least five are planned in Prince William County, with the first nearing completion nearing the intersection of Sudley Manor Drive and Ashton Avenue near Manassas.
Lidl also offers discount groceries, it's own brand, and has a long history of competing with ALDI in Europe. Now that competition is expected to come to a head in the U.S., and customers are set to reap the rewards.
Anderson, who said low prices are the main reason why she shops ALDI, describes herself as an ALDI loyalist, and that she would never turn her head to buy somewhere else.
When asked "what if Lidl has better prices," she replied, "then I'll have to check prices between the two."
Post Your Email Notices, Press Releases, Event Fliers, and Photos
Subscribe to the weekday Breakfast Links email FREE!
Get
updates straight to your inbox.