Dumfries church celebrates 150 years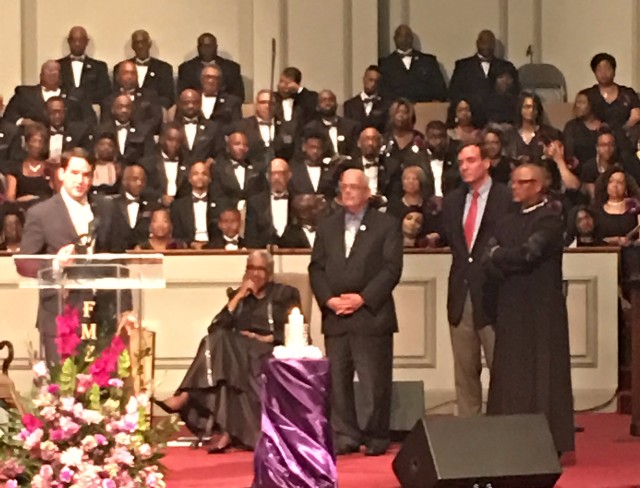 PRINCE WILLIAM COUNTY, Va. — First Mount Zion Baptiste Church celebrated their 150th anniversary.
The theme of the April 30 celebration, " A Journey of Gratitude, Joy and Faith," ushered in packed 10 a.m. service of both parishioners and political dignitaries. Pastor Dr. Luke E. Torian has served the congregation and community since 1995, where membership grew from 650 to over 4,300 members.
The 150th celebration at the church located at 16622 Dumfries Road just outside Dumfries marks the beginning of a church founded on the back of former slaves in 1867, two years after the Civil War. The founding 22 members first assembled in the Rock Hill Magisterial District of Stafford County to its current location. The congregation participated in a 150th Anniversary Challenge, which encouraged ministries and members to use the number 150 as a goal when participating in a ministry activity.
Torrian is also a Delegate to the Virginia General Assembly representing the 52nd district since 2009. The commemorative celebration booklet included over a dozen letters of recognition from other elected officials.
The front rows were full of elected political dignitaries, including Senator Mark Warner (D), Rep. Gerald Connolly (D-Fairfax, Prince William), Sen. Jeremy McPike (D-Manassas, Prince William), and Virginia Governor Terry McAuliffe.
"[Torian]…uses this church to bring all people of all faiths across Northern Virginia…Your pastor is a pastor of social justice," said McAuliffe.
He called first Mount Zion a "place of spiritual renewal and good fellowship."
A celebratory gathering followed the service with jazz musicians and soul food for the entire congregation.
"This was amazing history from 1867 to now. They are the fibers of our community, and truly an amazing inheritance from 30 people to 4,000 people. They do so much work, not just locally, but globally," said McPike.
Post Your Email Notices, Press Releases, Event Fliers, and Photos
The FREE email packed with local news
The FREE email packed with local news
The FREE email packed with local news
Sign Up