Children discover themselves at Manassas Park Community Center Summer Camps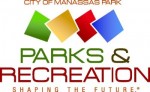 Manassas Park Community Center
Address: 99 Adams Street Manassas Park, Va. 20111
Phone: 703-335-8872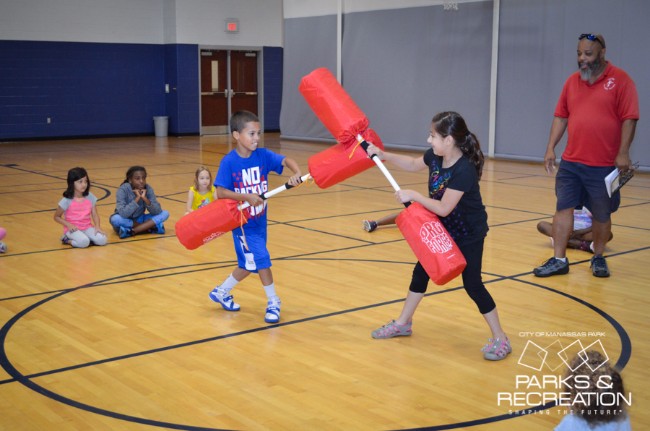 When you close your eyes and picture the perfect, idyllic summer day, does that day include the beach? On the other hand, you could be imagining a day at an amusement park or a lake. Is your perfect summer day a day where your only decision is when to reapply the sunscreen?
If you are a working parent with school-age or teenage children, the idea of summer vacation presents some unique challenges. School is out of session which means the kids are home all day. Many children become bored, and parents are looking for ways to keep kids busy and engaged–all while having a fabulous time and making new friends.
The summer camps offered at the Manassas Park Community Center are specially designed to keep your children involved and engaged. Each camp offers a different theme and encourages thinking, sharing, and socializing.
Tony Thomas, Recreation Services Supervisor, says he and his staff have developed the summer camps around a variety of interests.
"If you have a sports lover, we have sports camps. If you have science lovers, we have science camps. If you have art lovers, we have art camps," says Thomas. "We even have camps for children who imagine their name in neon lights on Broadway."
Kids, ages 3-5, can participate in weeklong playschool camps where they will learn about bugs, music, and space. They can also learn about the wonders of the ocean and go around the world in five days. Each camp has been designed to help preschoolers learn about their world and to have fun!
Picture this: your school age child's imagination soars as he or she is transported to Japan sometime in the 1800's where their emperor needs the campers help to defeat the enemy. The Emperor has put together an army of Samurai soldiers and only has one week to train his loyal farmers. They will need to build their own Samurai armor to protect them against the enemy forces. Campers will use Nerf archery, rubber foam Bo staff, and water artillery to defend the Emperor's nation in Samurai Warrior's Camp.
Maybe your school age child loves science! Experiments Galore Camp is a very popular camp that reviews science themes, and encourages daily science experiments using everyday items. This camp is perfect for children who aspire to be the next Bill Nye, the Science Guy!
Another science-themed camp is Forensic Files Camp where campers are encouraged to analyze fingerprints as they survey crime scene and develop their detective skills.
Messy Art Camp gets children excited about art. They will finger paint and even cover an entire table with shaving cream-anything for the sake of creating art! Just make sure your children wear clothes that you do not mind if they get a little dirt, and paint covered. If you have a child who is a budding sculptor, check out Clay Creations Camp. Each day the campers will make a new design using a different style of clay.
Sports loving kids will love the many sports-themed camps including Tennis Camp, Martial Arts Olympics Camp, Soccer Camp, and Basketball Camp.
Mike Arrington, a Recreation Specialist for Athletics, says he sees many of the same faces in sports camps year after year.
"Our sports camps help kids learn the basics of their favorite sports and focus on areas that they wish to improve. Every morning we review skills and tactics, and every afternoon the kids are put onto teams where they play tournament-style games," Arrington explained, "Then we take the kids to swim once per week either at the Signal Bay Waterpark or at the Community Center indoor pool, so the kids have fun and keep cool."
Teens have just as much variety available to them in the summer camps designed specifically for teenagers. In our Helping Hands Camp, teens learn how to give back to their community. Campers also get to explore different locations daily in Adventure Camp. Teens will go to Burke Lake Park and Vertical Rock Climbing Center in Manassas. There is also an All Sports Camp, Fashion Camp, and Cooking Camp.
Teen Camps are led by energetic camp counselors who encourage teens to talk about themselves and their feelings. Teens are also encouraged to participate in teen classes before the camps, and then to hang out at the teen center when camp is finished for the day.
Kids of all ages who participate in our summer camps will be active, healthy, and happy. That alone will ensure everyone will have his or her ideal summer by creating meaningful friendships and lasting memories. If you are looking for affordable, high-quality summer camps that cover a broad range of topics, Manassas Park Community Center delivers.
The Manassas Park Community Center is located at 99 Adams Street in Manassas Park, Va. Managed by the City of Manassas Park Department of Parks and Recreation, the facility is home to basketball courts, a swimming pool, and wellness areas as well as a variety of special events and programs. For more information visit us at ManassasParkCommunityCenter.com or call at 703-335-8872.
Post Your Email Notices, Press Releases, Event Fliers, and Photos
Subscribe to the weekday Breakfast Links email FREE!
Get
updates straight to your inbox.