Offending some may be worth the risk for Corey Stewart in run for governor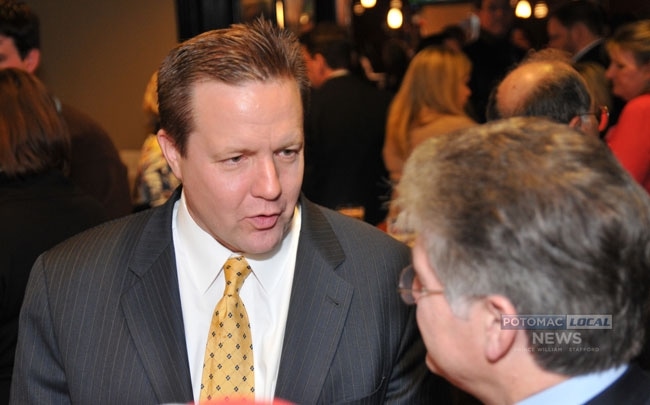 WOODBRIDGE, Va. — Few politicians in Prince William County have endorsed Corey Stewart for governor.
But that doesn't bother him.
"I haven't sought anybody's endorsement. That's old style politics where you go out and get endorsements from a bunch of politicians and thinking that people actually care. They don't," said Stewart, a Republican who's running a distant second to Ed Gillespie, a former Republican Party Committee Chairman and counselor to President George W. Bush, in the race for the Republican nomination for Virginia Governor.
Stewart holds the top elected job in Prince William County as Chairman of the Board of Supervisors. He's been on the Board for the past 10 years, and voters will head to the polls June 13 to decide if he is the Republican they want to face Democratic challengers current Lt. Gov. Ralph Northam or former congressman Tom Perrillo.
Now Willie Deutsch, the Coles District Representative on the Prince William County School Board, is calling for his resignation following Republican's use of the word "cuckservative" in a recent "Ask me Anything" post on Reddit, a forum that connects celebrities and politicians to web users in what's billed as an online press conference.
Depending on who you talk to, "cuckservative" is a word used by a younger generation of Republicans to describe someone who has abandoned the party's principals of conservative government. It can be interchanged with RINO, or "Republican in name only."
"The word has largely flown under the radar but it has become known in Republican circles recently after being used by alt-right, white supremacists to attack those who won't support their ideology," said Deutsch.

The word is used to attack Republicans for not only abandoning their conservative principals but also their white heritage, added Deutsch.
Stewart said he is unaware of any racial overtones associated with the word. He used it in the forum because the word is "something the younger crowd uses."
Gillespie leads the race for the GOP gubernatorial nomination, according to a recent Wason Center Public Policy poll. He also won a February straw poll at an annual Lincoln-Reagan Dinner held in Prince William County by 38 points, with Stewart placing second.
For eight years, before Milton Johns stepped down as the Prince William County School Board Chairman in 2015, he and Stewart worked to solve school funding issues, and how to find enough cash to reduce the average number of students per class in the county's public schools, which boasts the largest average class sizes in the Washington, D.C. region.
"Corey and I worked well together while I was on the School Board on most issues," said Johns. "We shared a common interest, but Corey's interests… I don't want to say has changed… but the campaign for governor seems to have changed his outlook on some things."
Stewart has always been outspoken on key issues close to him. He rode into office in 2006 on a mission to stop developers from building so many new homes in Prince William County, a problem that he attributed to the region's worsening traffic woes. Later, he took on the topic of illegal immigration and pushed the county's police department to stop and question anyone suspected of being the country illegally.
Before he won reelection to the Board of Supervisors for a third time in 2015, the then middle of the road candidate told an audience that it was time to "move on" from the illegal immigration debate and that he learned that over the years "throwing bombs" at issues was no way to get anything done.
But Stewart reignited that same fire this year in his gubernatorial campaign when in February he called for President Trump to release the names of some 7,500 illegal aliens charged with committing criminal offenses in Prince William who were turned over to federal customs officials by the county's police department, and to deport them. Protestors, mostly Democrats, lined up at a Prince William County Board of Supervisors meeting and lashed out calling the Republican "hateful."
And for developers exacerbating traffic congestion, a check of Stewart's top campaign donors are from land development firms like Buchannan Partners and the owner of the Rappaport Group, a shopping center developer. It's a far cry from 10 years ago when he railed against them.
Stewart bills himself as a staunch conservative, one that has cut taxes, identified county waste, and cut spending. He has argued on his Board of Supervisors to keep property tax bills flat and has boasted about how Prince William has the lowest average property tax bill in the region.
He's won four elections in Prince William County, a minority-majority locality, and prides himself on being the only serving Republican on a Board of Supervisors in Northern Virginia who is elected county-wide. Last year, he served as the Virginia Chairman of the Trump campaign for President, at the risk of alienating the same minority voters who put him into office.
"I'm not deliberately alienating anybody. If some people are offended by some of the positions I take, well, that's just unfortunate, but it might be a necessity," said Stewart.
Those positions have changed over the years.
"There is regularly a personality to Corey, and you don't know what you're dealing with," said Deutsch. "There's a term called "election year Corey. You know he's 'going to reinvent himself, the only question is how?"
When not calling for cutting spending, Stewart urged the county to spend. In 2015 while running for reelection to the Board, he advocated spending $12 million to build the the county's first public swimming pool to be located inside a public school, located inside Colgan High School which opened last year. At the time, Stewart said new amenities like school swimming pools are needed to attract more affluent residents buy houses in Prince William.
Opponents of the school pool said the money could have been better used to hire more teachers to reduce class size or to build additions to schools to reduce the system's reliance on exterior trailer classrooms.
Two years earlier, Stewart successfully lobbied to spend $3.1 million on sports fields, to improve the quality of the turf and, in some cases, install lights so teams could play at night. The county, he argued, was the nation's 7th wealthiest and needed to do more for those who wanted to participate in league sports.
For Deutsch, a first-term School Board member who is relatively new to politics, sending a message to the rest of Virginia that words like "cuckservative" don't resonate with Prince William County Republicans is more important than just opting to get along with a fellow local veteran politician.
"As Corey goes around the state, we have to lay down the marker as what it means to represent this county. And if he loses, and when he comes back, we have to see if he's ready to run his county the right way," he said.
Just who will run the county if Stewart wins the Governor's office, or in the unlikely event steps down as Deutsch has demanded, will be in question. Peter Candland, a conservative who has found himself at odds with Stewart about as many times as they have been in agreement on issues, has been floated as a possible Chairman replacement. Marty Nohe, a moderate Republican whose served on the Board for 13 years is also seen as a contender.
It will be easier for any candidate who might replace Stewart on the Board to run in a special election rather than running during a regular election year. Candidates, especially in local elections, find it easier to rally their base during a special election with fewer candidates, and when there is less political noise.
Whether he wins or loses his bid in becoming Virginia's next governor, it's may be that Stewart doesn't hold grudges but he does remember names.
"I'm not a vindictive person, but you have to remember there's only one person who asked me to step down, and that's Willie Deutsch," said Stewart.
Post Your Email Notices, Press Releases, Event Fliers, and Photos
Subscribe to the weekday Breakfast Links email FREE!
Get
updates straight to your inbox.