Protesters take message to Stewart: #NoHate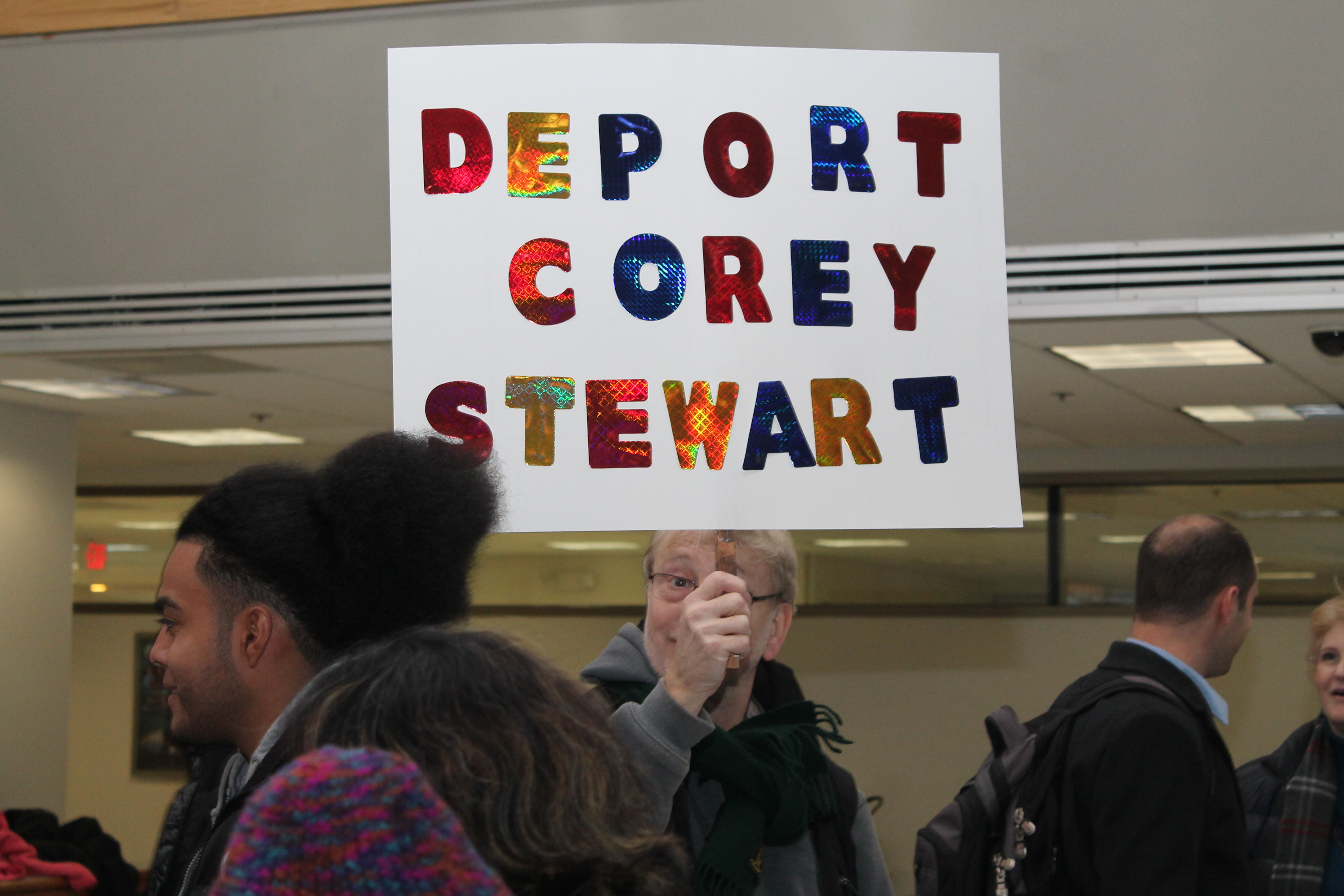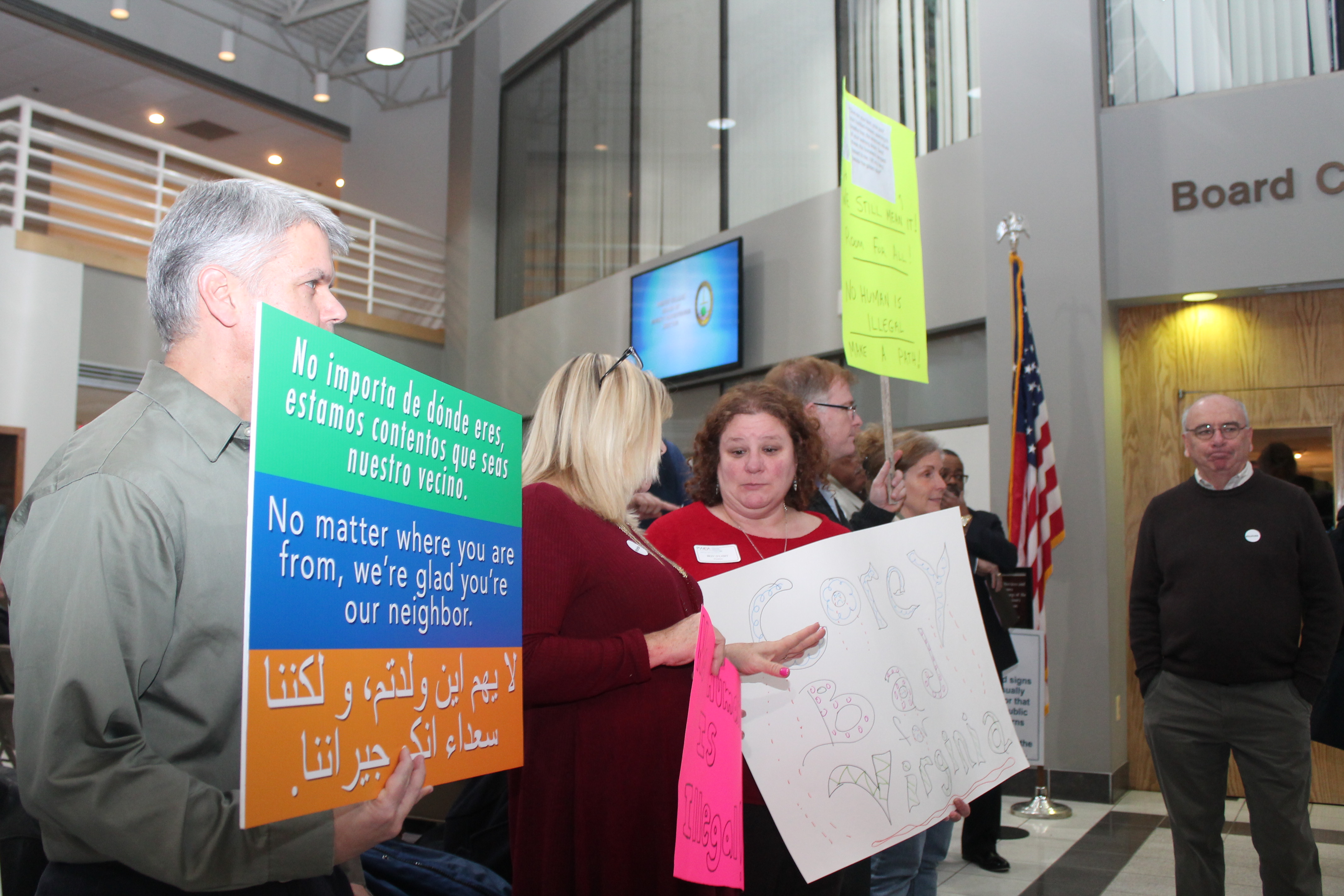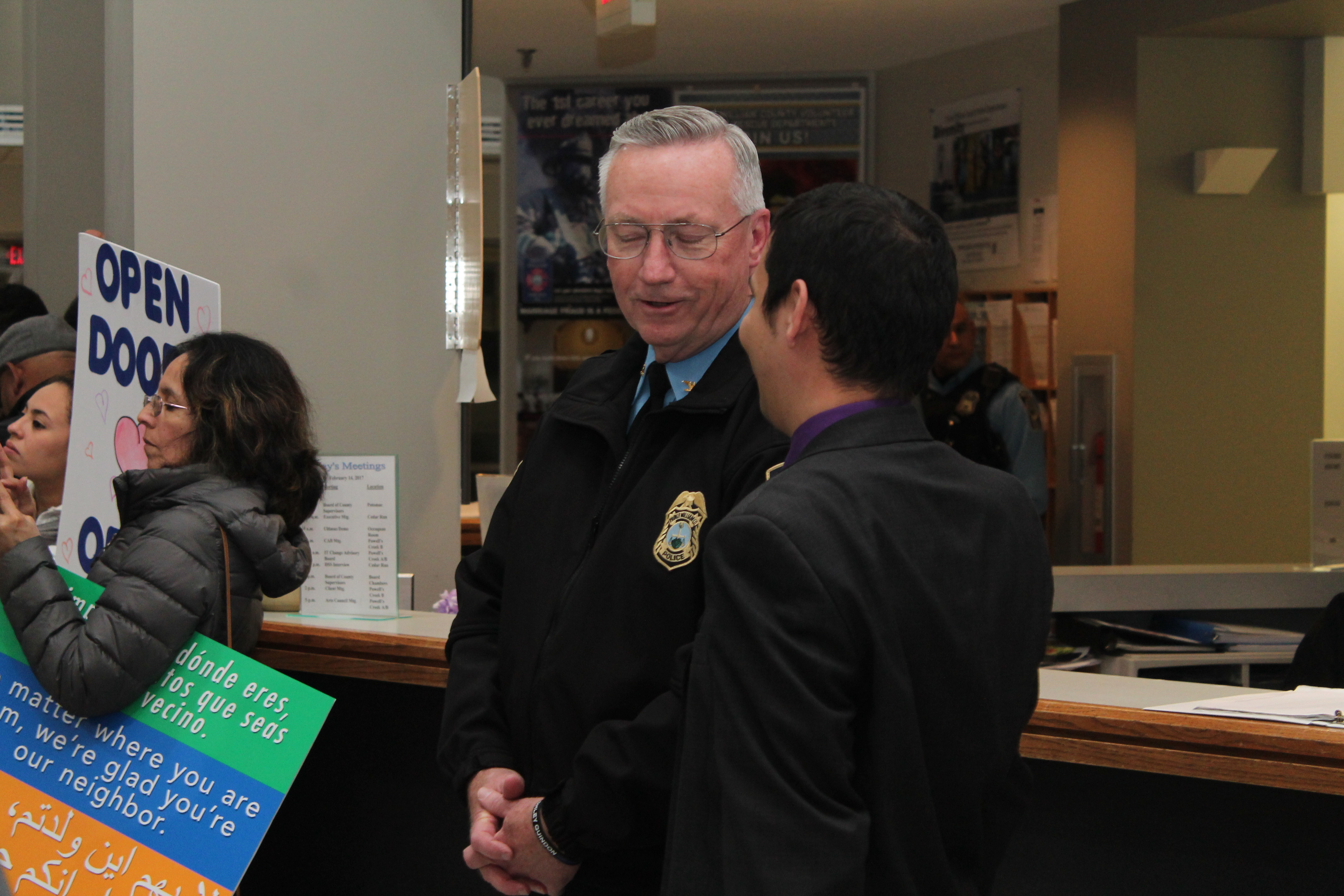 WOODBRIDGE, Va. — Five police cruisers sat outside the Prince William County Government Center Tuesday night.
Inside the building, more uniformed officers to include County Police Chief Barry Barnard were there to greet protesters who came to speak directly to Board of Supervisors Chairman At-large, and Virginia Gubernatorial Candidate Corey Stewart.
They held signs, chanted about democracy, and brought a message to Prince William County's top leader.
"I want him to see the immigrant community in a different perspective. I see him in s stereotype, known to commit violent acts when that is a small margin of the people. We also know that people born in the United States also commit crimes," said Manassas Park City Councilman Hector Cendejas, 28.
"[Stewart] wants to portray undocumented workers as criminals, but there are a lot of undocumented workers who are hard workers, who love this country, and they also want to assimilate to this country. They have their families here, they send their kids to school here, pledge allegiance to the flag,"
The councilman was one of more than 100 people who filled the atrium, and the Board Chambers at the government center about 7 p.m. to protest Stewart's call to the Trump administration to deport all criminal illegal aliens that had been arrested in Prince William County.
On Feb. 7, Stewart released this statement:
"I am asking on behalf of the Board of County Supervisors that the Trump Administration, the Department of Homeland Security (DHS), and Immigrations and Customs Enforcement (ICE) identify, detain, and remove the 7,500 criminal illegal aliens that we have handed over to ICE over the past 10 years. We are also asking the Trump Administration to release to the Prince William County Police Department and the officials at the County's Adult Detention Center the whereabouts of these individuals," Stewart stated during his speech.
"I can't emphasize enough that we are talking about criminal illegal aliens. People who are in the country illegally and have committed crimes and at the extent that they are still here, pose a public safety threat. We must work to remove them from our community."
Stewart six years ago demanded the Immigration and Customs Enforcement and the Obama Administration to release the names of the number of illegal immigrants arrested in Prince William County. It came after his 2007 effort to order county police to arrest anyone suspected of being in the U.S. illegally. That effort was scaled back, and those arrested were screened for legal status at the county jail under a federal 287g program.
"The Board of Supervisors has agreed to a legislative platform, which includes implementation of a 287g program, and that's not news. It becomes news when you look at it in the context of the new presidential executive order on sanctuary cities; the order redefines criminal illegal alien. The definition expands from arrested and charged to include a broad category of individuals." said Woodbridge District Supervisor Frank Principi.
The overall message of the evening from protesters: #NoHate.
"What you've really done, as evidenced by the turnout where tonight, is stoked the flames of equality that burn strong in the hearts of the citizens of this great county," said Prince William County NAACP President Rev. Cozy Bailey.
Post Your Email Notices, Press Releases, Event Fliers, and Photos
Subscribe to the weekday Breakfast Links email FREE!
Get
updates straight to your inbox.