Updated: New parkway elementary school site a threat to parkland, say conservationists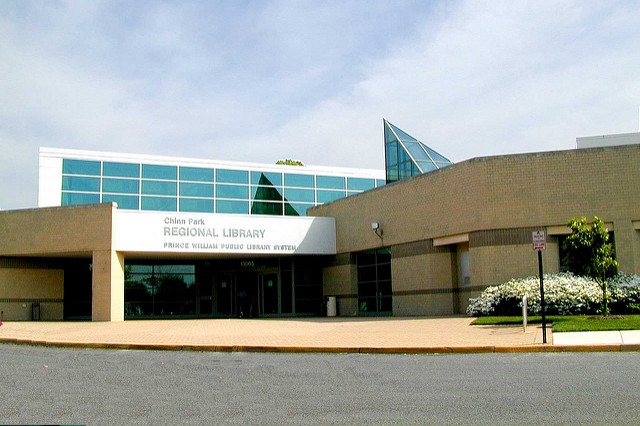 Photo by Flickr user Prince William Public Library
From Prince William Conservation Alliance:
Community Meeting
Tuesday, February 7, 4 to 6pm at Prince William Conservation Alliance, 2241F Tackett's Mill Drive, Woodbridge

Planning Commission Vote
Wednesday, February 15, 7pm at McCoart Government Center, Board Chambers

Originally proposed to replace part of Chinn Parkland, this school is now slated for a site adjacent to Chinn Park, along PW Parkway between Kenwood Drive and Trowbridge Drive.

While this new site is preferable, concerns about impacts to Chinn Parkland and the surrounding community remain.

As currently proposed, damages to the adjacent parkland would be noteworthy. Despite significant impervious surfaces and highly erodible soils, no on-site retention of stormwater is planned, creating a situation that would devastate the creek.

Serious watershed impacts would extend far beyond the borders of the development site.

The plan shows stormwater draining into a perennial stream and then traveling approximately 1,500 linear feet before reaching a stormwater pond. From there water flows into Lake Omisol and then to the Occoquan Reservoir.

Prince William County already has many hundreds of stream miles to restore, clean water standards to meet and a reservoir to protect.

Costs for stream restoration in Prince William are commonly $700 per linear foot but can reach $1,000 per linear foot. An ounce of prevention is environmentally and fiscally responsible.

To gain approval, a proposed public facility must be in conformance with Comp Plan, which states:

"County development and transportation projects shall lead by example, incorporating the highest environmental leadership standards and requiring plan review and erosion and sediment control inspection frequencies that meet or exceed state standards."

In addition, the neighboring community was promised a 120′ buffer along Trowbridge (documented) but the current plan shows a 50′ buffer that travels only partway up the property line. The school system should lead by example, rather than make false promises.

Questions? Attend our February 7 community meeting or contact us at alliance@pwconserve.org, 703-499-4954
Updated
Prince William Public Schools says they do have plans for storm retention on the site.
From Director of Facilities Services John J. Windley
"Planned on-site storm water retention should alleviate concerns with significant impervious surfaces and highly erodible soils, preventing damage to the creek and other waterways downstream."
Windley also says the school division plans a larger buffer than noted in the post above.
"The 50' HCOD buffer shown on PFR plan is undisturbed and that is all that is required. In addition to the 50', the School Division commits to leave as much of an additional buffer area of 70' undisturbed, only disturbing what is absolutely necessary to construct the rear service lane and curb. We have then committed to work with the Sycamore Ridge community to develop plans for re-planting the minimal area disturbed, increasing density and resulting in a nearly 120′ treed buffer."
From Prince William Conservation Alliance President Kim Hosen:
"I am glad to hear PWCS is planning on-site retention of stormwater. However, neither your letter of commitment or map include any reference to this, which is a problem.

The information…sent today did include a 120′ buffer along most of Trowbridge, which the previous version showed as a 50′. However, the limits of clearing still leave only approximately 50′ undisturbed, with no explanation as to why this is necessary. Re-planting commitments are vague and buffers along the parkland are minimal.

In the end, what is likely to happen is not relevant; what is written down, is. I agree that the most recent proposal is a step in the right direction. People want good schools with adequate classroom space. People also value green open space and forested parkland, which is in short supply in the Occoquan District. There's no reason we can't have both.
Post Your Email Notices, Press Releases, Event Fliers, and Photos
Subscribe to the weekday Breakfast Links email FREE!
Get
updates straight to your inbox.