Occoquan VFW Inducts Woodbridge Community Veterans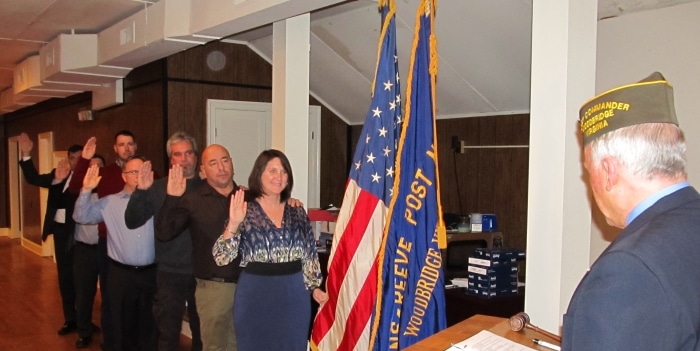 Occoquan VFW Post Inducts Woodbridge Community Veterans
On January 3 at the Post's General Membership Meeting in the Posts second floor Community Room, Tony Ahnn USMC (Ret), Janette Blea USN (Ret), Joel Blea USN (Ret) , Jim Caputo USAF (Ret), Tom Cox USAF (Ret), JD Gibson USA (Ret), and Kerry Kachejian USA (Ret) took their their membership oath in front of an enthusiastic crowd of members and their spouses.
The inspiring ceremony reflects over 117 years of VFW history, tradition and accomplishment. Post 7916 Commander Chuck Wilson administered the oath of the Veteran of Foreign Wars and then said:
"My comrades: You have been admitted to this great order because you have served our country in the face of hazard and danger. But our country deserves your highest devotion at all times, in peace as well as in war. In this organization you are now privileged to mingle with comrades who have gone to the far lands of the earth when duty called. They, better than anyone else, can understand your language as a veteran.
Henceforth you are privileged to wear this beautiful Cross of Malta which will distinguish you as a member of America's true knighthood, bound together by ties of comradeship formed through a century of campaigning in foreign lands and waters—the golden age of American chivalry.
Into this great fraternity we now welcome you. Here you will find true comradeship. And so, as you go about your daily duties, I admonish you to cherish the beautiful emblem you are now privileged to wear. Look upon it as an inspiration to noble citizenship. Treasure it as a symbol of all that is best in our national life, resting assured that if you will practice the principles for which it stands comrades will come to you in the hour of need even as you will go to them when duty calls.
We trust that what you have experienced here will not soon pass from your mind, but that its impression will remain with you through a long and prosperous life.
Comrades, ask not what your country can do for you, ask what you can do for your country.
May you find pleasure in the comradeship of this great order and help perpetuate the hallowed memories of service so dear to all of us. And now, with my best wishes for your future success, I commend you to your new comrades. Comrades, extend to our new comrade a hearty welcome."
In 1913 the VFW modeled its organization, terminology and ritual on the Grand Army of the Republic—an organization for veterans of all ranks who had served in the American Civil War. The VFW grew rapidly after the WW I with hundreds of thousands eligible veterans returning from the war. Between the two world wars the VFW focused on advocating for benefits for veterans. After the Second World War, millions more veterans were eligible to join the VFW. Membership steadily grew after the war peaking at about 2.5 million in 1993 with over 10,000 posts nationwide. During the turbulent 1960s era, the VFW supported the American involvement in the Vietnam War and condemned the counterculture trends of the era. For the last decade, the VFW has faced declining membership due to the aging of WWII, Korea, and Viet Nam veterans and the reduced enrollment from veterans of South West Asia conflicts. Also reflecting the precipitous reduction in serving U.S. military (.4% of Americans), today there are 1.7 million VFW members and 6,700 posts world wide.
Post Your Email Notices, Press Releases, Event Fliers, and Photos
The FREE email packed with local news
The FREE email packed with local news
The FREE email packed with local news
Sign Up