Occoquan VFW lays "Wreaths Across America" at Quantico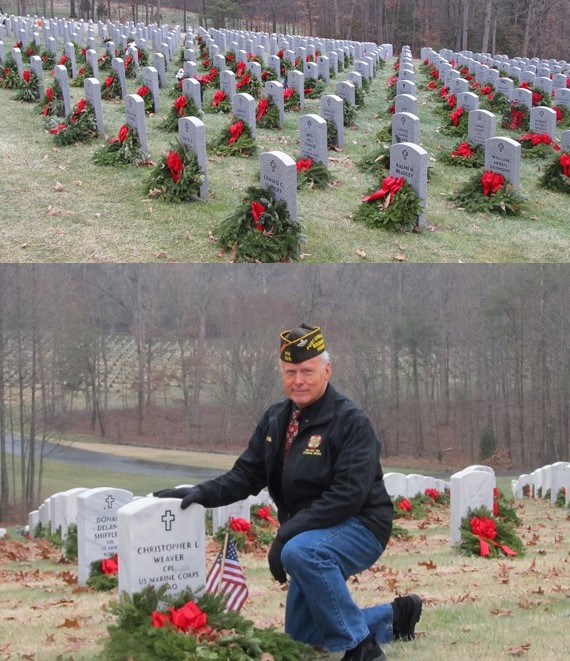 Submitted by Veterans of Foreign Wars Post 7916 in Occoquan:
On December 17, 2016, Quantico National Cemetery hosted "Wreaths Across America," a holiday wreath-laying ceremony to honor and remember our nation's Veterans. With the wreath laying scheduled to begin at 9:00 AM Saturday morning, a handful of veterans and patriots braved the cold, freezing rain to begin.

We have all seen, and have been awestruck by, the somber sight of hundreds or thousands of precisely aligned rows of stark headstones at one or another of our Veterans cemeteries. But seeing the awe-inspiring images of hundreds — thousands — of beautiful, red-ribbon-adorned, fresh, green wreaths gracing the graves of our fallen heroes is humbling.

Veterans of Foreign Wars Post 7916, from Occoquan, VA, led the way. One of the first to arrive at the cemetery VFW Post 7916 Commander, Chuck Wilson, Colonel, USAF, Ret, began laying wreaths at on some the headstones at Quantico National Cemetery. Wilson is also Chairman of the Potomac Region Veterans Council made up of 26 Veterans Service Organizations and represents as many as 15,000 veterans in Northern Virginia.

As the temperature slightly rose and road conditions improved, a steady stream of automobiles carrying carloads of veterans and patriots arrived at Quantico National Cemetery.

At approximately 12:00 PM, the memorial ceremony began. The Marine Color Guard posted the Colors. Representatives from the Army, Navy, Air Force, Marines, Coast Guard, and Merchant Marines laid wreaths to honor the fallen, as well as Prisoners of War and those still Missing in Action (POW/MIA).

An estimated 2,500 great Americans came for this event. The line of cars was backed up to I-95 to get in to the cemetery. Well over 8,000 wreaths were laid to honor our veterans at Quantico National Cemetery

"Wreaths Across America," began donating holiday wreaths in tribute to Veterans laid to rest at VA's national cemeteries and state Veterans cemeteries in 2006.
Post Your Email Notices, Press Releases, Event Fliers, and Photos
Subscribe to the weekday Breakfast Links email FREE!
Get
updates straight to your inbox.