Hope fades for VRE extension to Gainesville, Haymarket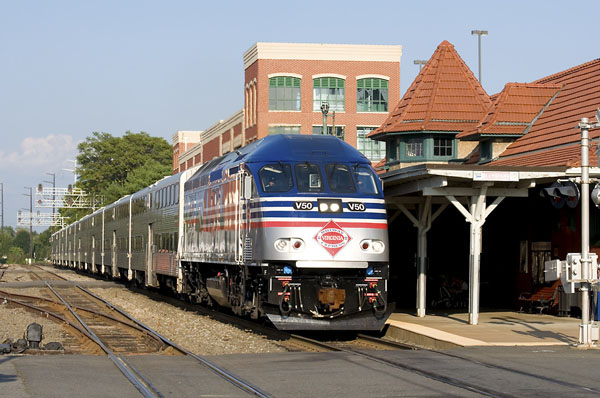 GAINESVILLE, Va. — It doesn't look good for commuters in Haymarket and Gainesville hoping to trade the highway for the rails.
The cost to extend Virginia Railway Express service 11 miles west from Manassas to Gainesville and Haymarket appears to outweigh the benefits. The price tag to build the extension to Haymarket is estimated to be as much as $660 million, with the project is expected to bring in a total of only 16,460 new riders by 2040.
Factoring in the combined capital and operating costs, the project would cost an estimated $16.61 per rider who would use the line and about $40,000 per each new rider gained by 2040. It would also cost $45 million annually to run.
"We were a little surprised," said VRE's Christine Hoeffner, who is leading the commuter railroad's Gainesville / Haymarket expansion study team. "We thought we would see an increase in the number of anticipated riders with an extension all the way to Haymarket."
The projected capital costs are lowered a bit if VRE were to choose not to extend the train to Haymarket. If VRE built only one station at Innovation Park, or one or two stations in Gainesville, down from the proposed four, Capital estimates for up to three stations on the line hover steadily between $570 and $630 million.
Limitations on development in Haymarket and Gainesville set by the Prince William County Board of Supervisors when it created the Rural Crescent in 1998 and similar policies in neighboring Fauquier County will limit the number of new homes to be built. The commuter railroad would rely on growth in these areas to attract new riders.
The proposed extension also comes at the same time the Virginia Department of Transportation next year will begin construction on a project to widen Interstate 66 and add E-ZPass Express Lanes. For the first time, commuters on I-66 will be able to pay a toll to get out of traffic, or carpool in the lanes for free while riding in vehicles of three or more occupants.
Like all transportation projects, the 11-mile VRE extension comes down to money. The project would be eligible to have 50% of its construction cost paid with federal funds. But VRE leaders are pessimistic due to the project's high cost and low return on the number of new riders.
"This is a competitive funding process, and with the extension, we don't believe it would be successful going through the federal funding process," said Hoeffner.
With a lack of federal funds, VRE would be ever more reliant on state and local sources of financing.
"Prince William County has the highest subsidy in VRE of any other jurisdiction," said Supervisor Jeanine Lawson. "We cannot pay for the extension because that $6 million additional tax dollars coming out. That's a hefty price to pay for such a short extension."
Moving the Broad Run Station
Instead of a VRE extension in Prince William, the option of relocating the Broad Run Station at the Manassas Airport about a mile and a half east closer to the city remains popular. The relocated station would sit on the Prince William County / Manassas City line, and it would serve Innovation Park in the county and the soon-to-be-developed Gateway project on Godwin Drive in the city.
A rail yard at Broad Run would be expanded after the station is moved to make room more locomotives and railcars, dubbed "rolling stock." VRE could then increase the number of trains that serve the Manassas line from 16t to 22 per day, clearing the way for a possible midday shuttle train service between Manassas and Alexandria. For the first time, VRE would act like a Metro train with bi-directional service during the day if the shuttle is offered.
"If you think about how transportation nodes, like metro, there at facilities where people can get on and off, they're important. That's why they're expanding the silver line to Dulles and out into Loudoun [County], said Manassas Mayor Hal Parrish. "VRE, though it's not metro, it does provide the opportunity for people to get into D.C."
With a mix of new townhomes, condos, office, retail, spaces, and a planned 125-room hotel slated to be built at Gateway, adding a VRE station to the mix could be a catalyst for more neighborhood growth. Residential and commercial development in the Lorton area of Fairfax County was spurred, in part, by the VRE station, Hoffner adds.
A groundbreaking ceremony for the Manassas Gateway project is scheduled for 2:30 p.m. Tuesday. The Prince William County Board of Supervisors will have their say on whether or not to endorse the VRE extension at a meeting at 2 p.m. the same day.
The VRE Operations Board will meet on December 16 to make their final recommendation how to proceed, with building the full extension or relocating the Broad Run station being options on the table. Hoeffner and her Gainesville / Haymarket Extension study team will continue working through 2017 to examine the alternatives selected by the VRE Operations Board members.
Post Your Email Notices, Press Releases, Event Fliers, and Photos
Subscribe to the weekday Breakfast Links email FREE!
Get
updates straight to your inbox.
Readers also enjoyed...
A word from our sponsors...