Mall walking keeps seniors fit, healthy (and humorous!)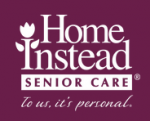 Home Instead Senior Care of Manassas
Address: 9817 Godwin Dr, Manassas, VA 20110
Phone: (703) 530-1360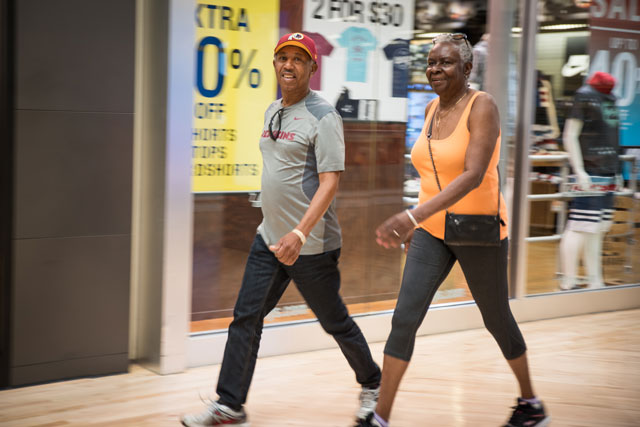 You can see them bright and early, at 8 o'clock most mornings — walking, talking and laughing in Manassas Mall, enjoying the new layout and the mall extension. They are the mall walkers, an informal group of retirees who are into staying active and getting some social time in, too.
This particular group of mall walkers met each other initially by good, old fashioned, in-person introduction, and before long they formed a strong bond. Members have been walking the mall anywhere from five years all the way up to 20 years. They range from ages 65 to 90 years old and tend to walk alongside those who have similar paces.
While they may not have discovered the fountain of youth, these seniors recognize a healthy habit when they see one. According to the Center for Disease Control (CDC), "The loss of strength and stamina attributed to aging is in part caused by reduced physical activity. Inactivity increases with age. By age 75, about one in three men and one in two women engage in no physical activity." These stats don't apply to the mall walkers.  
The benefits of walking are substantial. A study by University College London suggests that walking for an hour or two daily might lower the risk of stroke in both men and women by as much as one-third. Researchers at the Harvard School of Public Health in Boston say women who walk 30 minutes a day reduce their risk of stroke by 20 percent. If they engage in brisk walking, that benefit increases to 40 percent. And a study at the University of Colorado at Boulder found that post-menopausal women who walk up to two miles a day can lower their blood pressure by about 11 points in 24 weeks.
Walker Ruby Willbanks may or may not know about the stats, but she does know what advice to give. "Never give up," she says. "Just keep moving.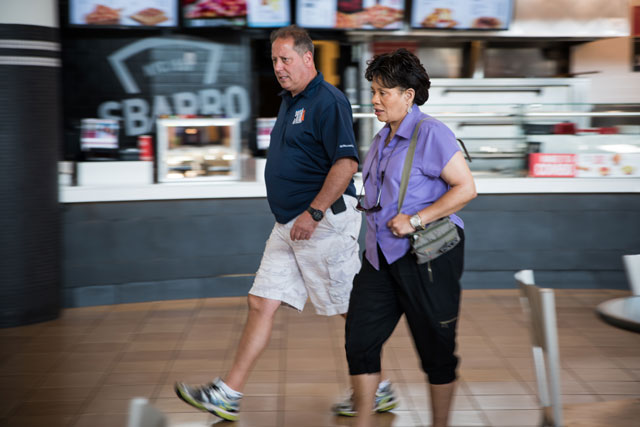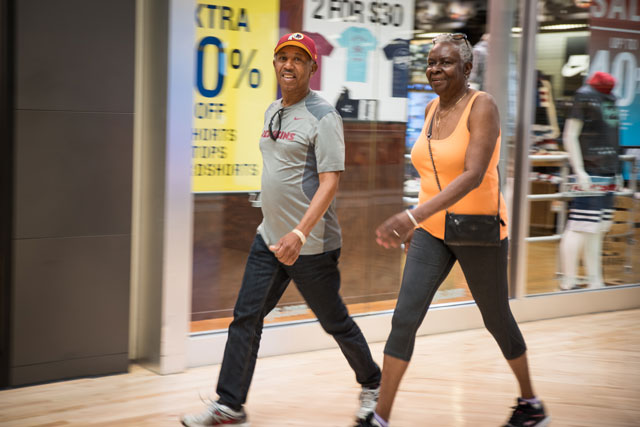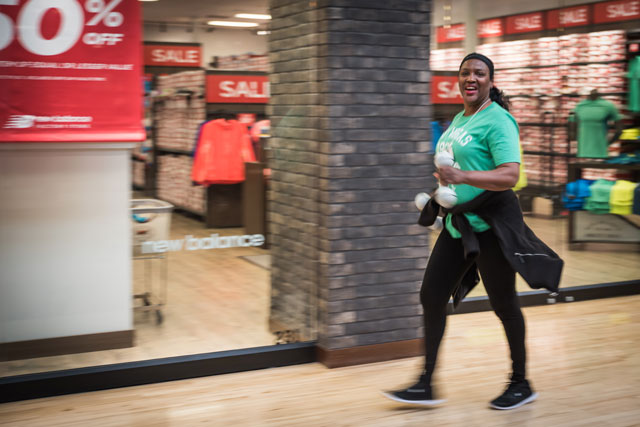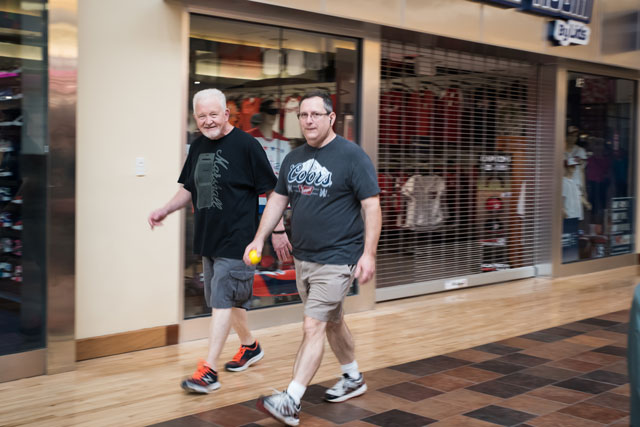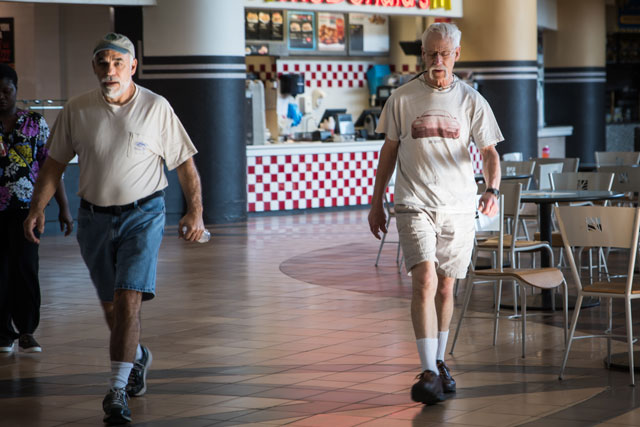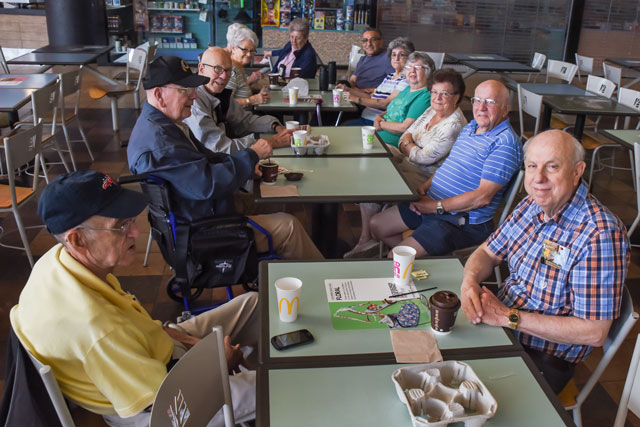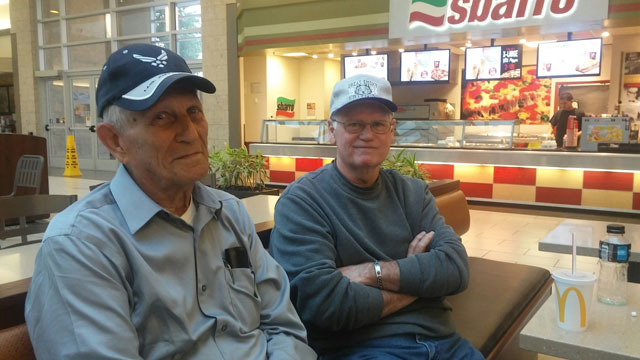 The Social Side
Charles Willbanks half-jokingly says he started walking because his wife Ruby told him to. But he is evidence of what the CDC reports on seniors staying fit: "Social support from family and friends has been consistently and positively related to regular physical activity."
"I come to the mall because I know where it is," jokes Richard Perry, who also belongs to a gym. On a more serious note, he adds, "This is social. I don't know anyone at the gym."
Mary Griffith, who says she has seen a lot of changes in the mall over the years, has been a faithful mall walker for two decades. Twice a week she also goes to the Manassas Senior Center to take a class called "Stand Tall and Don't Fall." She meets her walking friends at the food court for coffee and conversation after their brisk walks.
Most of the group grew up in the area, but there are people from all over the world and from different backgrounds.
Jacob Mathai is from India. He has been walking the mall for about four years. Sporting an iPhone he uses to track his miles, he says, "We come here for exercise, networking and fun. We're here for each other. The people who come just feel better about life."
"Every day is a good day," says Ruby Willbanks.
Rev. Ralph Benson, Pastor of Brentsville Presbyterian, joins the group. He is former military and a former Pentagon chaplain. When asked what the group talks about, he says frankly, "politics and religion."
The walkers also go on what they call field trips. On the last Friday of each month, they eat at IHOP in the mall. They visit museums together, like the Air and Space Museum, the Marine Corps museum in Quantico and others. They carpool together. Fridays are "hat days" when everyone wears different hats.
The quote they chose for their particular little group?  "Everyone makes us happy — some when they come, some when they leave."
But, Charles Willbanks adds more seriously, "Everyone is welcome."
Post Your Email Notices, Press Releases, Event Fliers, and Photos
Subscribe to the weekday Breakfast Links email FREE!
Get
updates straight to your inbox.