Manassas homeowner first in city to install solar panels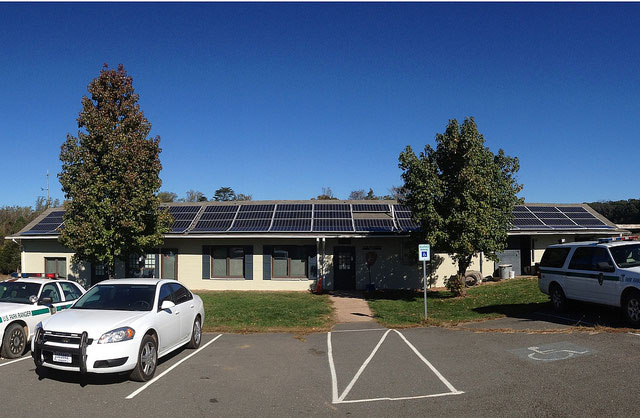 Mike Freeland made history last year. In August, he became the first Manassas resident to install solar panels on his home.
This was something Freeland had always wanted to do. But he repeatedly got sidetracked and kept putting the eco–friendly initiative on the back burner.
One day, while perusing his church's website, he saw a post about Interfaith Power and Light, a co-op devoted to green initiatives. Freeland decided to join the co-op for various reasons.
"I wanted to decrease my carbon footprint, and also the price was affordable," Freeland said. "I also get a 30 percent tax credit for solar panels."
Interfaith Power and Light was started in 2000 in San Francisco. Its mission is to respond to global warming by promoting energy conservation, energy efficiency and renewable energy. The co-op has helped inform thousands of congregations nationwide about these issues.
Through the co-op, Freeland contacted Edge Energy, a green government contractor that operates in Virginia, Maryland and Washington, D.C., to install solar panels on his home. "The installers were good at what they did, and they were also friendly," Freeland said. "I would definitely recommend them to relatives and friends."
Freeland had a total of 16 panels installed on his home. The 4,300 4.3-kilowatt electric meter on the side of his house monitors how much energy is needed and how much energy the panels generate.
Despite the eco–friendly benefits of the solar panels, Freeland ran into a dilemma during his first winter with the panels. Due to the shorter days and longer nights, the panels weren't able to harness enough energy to power his home. On average, the panels produced about 250 kilowatts per hour each month during the fall and winter. So far this spring, they are producing about 350 kilowatts per hour.
Fortunately, Freeland is connected to the city's power grid, which made up for the energy deficit. He can thank good timing that the power grid is his backup energy supplier. Before March 2015, the city had not implemented a net metering policy. Essentially, alternative power users had no access to the city's power grid if their own alternative power sources did not generate enough sustainable energy.
"If this net metering policy wasn't in place, I would have wasted the energy that I generated and I probably wouldn't have wanted to go through with this [system]," Freeland said.
Freeland is not the only one in Manassas pursuing eco–friendly initiatives. Just down the road, the Manassas National Battlefield Park is doing much of the same – on a far larger scale.
It's part of a $29 million project launched by the National Park Service in October 2014. The Energy Saving Performance Project promises to reduce the carbon footprint and the energy and water expenditures of 13 national parks in the Washington, D.C. area. Officials say the project will pay for itself – by reducing energy and water bills.
Siemens, a world leader in engineering and technology automation, was contracted for the project. Officials say the project will reduce carbon dioxide emissions by more than 4,000 tons, water usage by 74 million gallons and energy usage by nearly 6 million kilowatt-hours over 23 years, the length of the contract. Besides solar panels, energy-efficient light bulbs and water sprinklers will be installed in the Washington region's national parks.
As part of the Energy Saving Performance Project, solar panels are being installed at the Manassas National Battlefield Park. The panels are located on top of two of the park's buildings – its headquarters and ranger's office. The panels are projected to generate more than 35,000 kilowatt-hours of electricity per year.
To put that in context, that is approximately the energy consumed by three homes annually. The panels are projected to produce 65 percent of the electricity for the two buildings. In the process, the park will save more than $3,500 in electricity costs.
Freeland is excited about the growing interest in eco-friendly initiatives in Manassas and beyond. He has persuaded several family members and friends to go greener.
"I encourage everyone to join a co-op to get better pricing for things like solar panel installation. I want to continue do anything to educate the public on ways to be green," Freeland said.
Post Your Email Notices, Press Releases, Event Fliers, and Photos
The FREE email packed with local news
The FREE email packed with local news
The FREE email packed with local news
Sign Up