Lines form for Bar-J reopening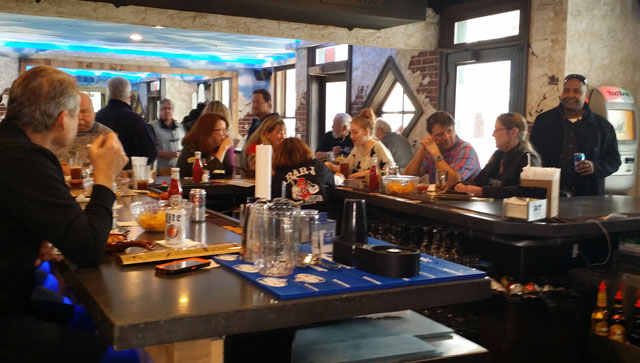 A woman walked into the new Bar-J restaurant in Occoquan and quickly came right back outside.
"Do you have a takeout menu?" she asked, opting to get her lunch to go due to the scores of people inside.
The storied chili parlor and restaurant's return to the area brought out big crowds for its opening day in Occoquan. The restaurant is a 30-year-old tradition in the area, as the business once had locations in Lorton and at Gordon Plaza on Route 123 in Woodbridge, which closed in 2004.
"It's just the same as it's always been. It's the Bar-J," said Jeff Grooms, who drove from Fredericksburg to eat Texas chili mac.
Kathy Anderson runs the place. She's the daughter of Bar-J founder John Anderson. She wanted to reopen Bar-J because she couldn't get cooking out of her system after she retired from the joint more than 10 years ago.
On Monday, which is a typically quiet day in Occoquan as few town retail shops open their doors, a line formed outside the door for lunch and dinner.
The restaurant credits Facebook with helping it to get out the word of the restaurant's reopening.
"[The Facebook post about reopening] got up to 35,000 interactions, and it reset. Now it's up to another 21,000," said Kevin F. Seiger-Cottoms, with Bar-J.
Bar-J held two successful chilli tastings last fall which also helped to build buzz among old fans. The restaurant hopes to bring in more business to the town during the day and evening.
Seiger-Cottoms said Bar-J closes at 10 p.m., but Maddigans Waterfront has live music, and closes later.
"There will be a chance for an after party at Maddigans," he said.
Bar-J is now located in the Riverwalk Shops on Mill Street in Occoquan. 
Post Your Email Notices, Press Releases, Event Fliers, and Photos
The FREE email packed with local news
The FREE email packed with local news
The FREE email packed with local news
Sign Up