Sedan left on blocks at Horner Road commuter lot in Woodbridge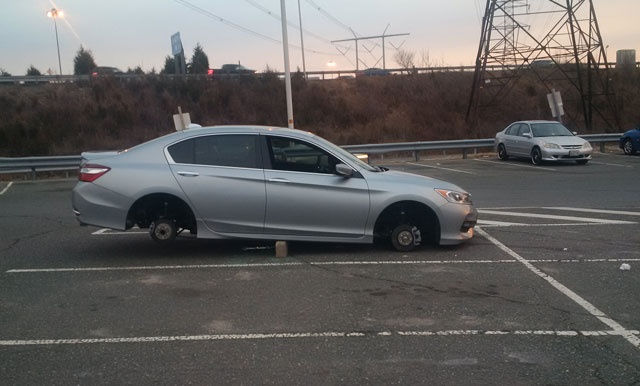 This car had wheels on it when the driver parked it in a Woodbridge commuter lot.
Commuter David Snead returned to the Horner Road commuter lot Friday evening to find silver sedan missing all four tires and rims. A cinderblock appeared to have been placed underneath the car for support while the thieves did their dirty work.
Snead parked his car nearby and said he didn't know the owner of the car now missing its wheels and rims.
"I came back from work on the PRTC commuter bus about 5:40 p.m. Most of the cars were gone, and this car was near mine. I don't know how long it was … there…too many cars in the morning to see it. A few people were dispersed across the lot, but none near the car. Police were not in the vicinity," Snead told Potomac Local in an email.
The commuter noted he emailed Prince William County police via the agency's website about the theft.
The incident comes on the same day Prince William police released a statement on a recent rash of wheel and rim thefts in the Woodbridge, and Dumfries and Triangle areas. There's been an uptick in crimes like these in those areas since September, according to police.
Mostly Hondas, Toyotas, and other high-end vehicles have been the target of thieves who have concentrated their efforts on commuter lots, and car dealerships. The thefts are happening on all days of the week, mostly during overnight hours, according to police.
Police encourage drivers to park in driveways when they can, ensure car alarms are working, lock doors and report any suspicious activity to police.
The Horner Road commuter lot is the largest in the state and is located just off Prince William Parkway at Interstate 95. A commuter lot at Route 234 and Route 1 in Dumfries also attracts a large number of commuters who park and slug or take transit to work in Washington, D.C.
Post Your Email Notices, Press Releases, Event Fliers, and Photos
The FREE email packed with local news
The FREE email packed with local news
The FREE email packed with local news
Sign Up