Mike's 610 Diner in path of a wider Road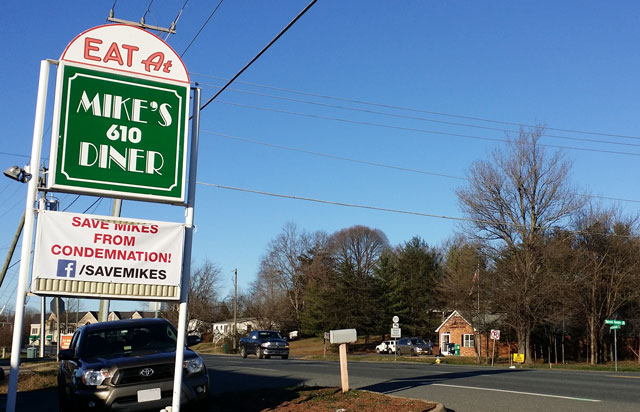 Mike's 610 Diner has been described as a "cheers" of Stafford County.
The small eatery caters to a mostly breakfast crowd, and a stream of regulars — all on a first-name basis — stream in all morning long.
"I love this place… great food," said Chirs Caldwell, of Aquia Harbour.
The diner may be served a condemnation notice due a road construction project. Stafford County will spend $13 million to widen Garrisonville Road to six lanes between Onville and Eustace Roads.
"It sucks, it really does," said Karen Sharpe, whose been serving customers here for the past six years. "Everybody who comes in here is talking about it. I don't know what I am going to do if the place closes."
Diner owners created the Facebook page "Save Mike's 610 Diner" to raise awareness of the impending demise of the business. It urges Stafford residents to contact local officials to demand the widening project be tweaked to reduce the length of turn lanes to built as part of the proejct. Shorter lanes might mean the diner wouldn't have to be condemned.
A total of 39 properties will be affected by the road widening, said Stafford County Public Works Director Christopher Rapp. The owners of Mikes 610 Diner, and its neighbor at Professional Collision Center are the only two owners who asked for additional time to review cash offers from the county for their properties.
Building a retaining wall at Mikes 610 Diner would be an option to allow the business to remain. The building already sits at on a slope lower the surface of the street, and a retaining wall would be the diner's already limited number of parking spaces even smaller, said Rapp.
The diner owner was offered money to help the business relocate to, said Rapp. All of the impacted businesses were offered cash for their properties based on current assessments.
"The county is dedicated to keeping Mikes Diner here," said Stafford Garrisonville District Supervisor Laura Sellers.
Transportation officials Monday night talked about relocating some of the parking spaces to another property adjacent to the diner. 
"Right now we're taking away about nine spaces and we're talking about putting back about 12," said Alex Owsiak, with Stafford County's transportation office.
It's ultimately up to the owner of the diner if he wants to move ahead with the off-site parking plan. Owsiak said the ball is in the owner's court.
Rapp told Aquia District Supervisor Paul Milde that if officials shifted their attention to properties across the street to the north and leave the diner and collision repair shop in place, it would require the county to take even more property to widening the road.
"We have to remember that this once was a 2-lane road," said Griffis-Widewater District Supervisor Jack Cavalier. " We've already widened it to four lanes, so the buildings that were here when the road was just two lanes will be affected the most."
Construction crews will begin relocating utility lines on the project this month. Road construction is slated to begin in August.
Post Your Email Notices, Press Releases, Event Fliers, and Photos
Subscribe to the weekday Breakfast Links email FREE!
Get
updates straight to your inbox.