Treat and release: What Dominion wants to do with toxic water at Possum Point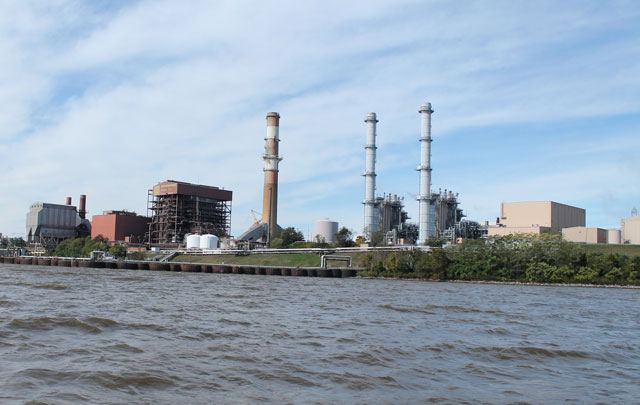 The Possum Point Power Station opened in 1948 as a coal-burning facility, generating electricity for the region.
Coal, when burnt, leaves behind coal ash — a fine powdery, toxic substance. That ash was placed in five ash ponds surrounding the power plant.
Dominion Virginia Power owns and operates Possum Point Power Stations on the banks of the Potomac River outside Dumfries, but it hasn't burnt coal since 2003. It now uses natural gas and oil to generate electricity.
The plant is in the process of capping those ash ponds. Water from a final pond will treated and drained into the Quantico Creek and then will flow into the Potomac River. Only two of the five coal ash ponds remain — three have been dry since the 1960s.
A 2013 permit allowed Dominion to dig up coal ash from the three old dry ponds and move it to the largest of the five ponds on the site, D-Pond. Some coal ash from E Pond was also moved to D-Pond, as allowed by the permit.
The coal ash movement took place between June and Octobert of this year. Now, Dominion wants to treat the water in D-Pond, scrub it of deadly toxins contained in the ash, and release the water into Quantico Creek where it will flow into the Potomac River.
The utility behemoth will need a permit to do so, and Virginia's Department of Environmental Quality is now taking public comments about Dominion's request to treat the ash water and eventually flow it — about 2.53 million gallons of water per day — into the river. If approved, DEQ will add an amendment to Dominion's 2013 permit that allows it to move the coal ash.
If all goes to plan, water in the ponds will be treated and drained, and the ponds "capped" and closed, and filled with dirt.
"Once the final permit conditions are finalized, a waste water treatment system will be selected. The discharge will be routed through the treatment system prior to discharge. DEQ will develop limits for specific constituents that are associated with discharges. These limits are developed using conservative EPA and DEQ procedures that will ensure that the receiving stream and human health are protected. Monitoring of the discharges will occur to ensure that these limits are met," said Dominion spokesman Dan Genest.
Virginia's Water Control Board will meet Jan. 14, 2016 to decide whether or not to allow Dominion to drain the water. The change would amend a permit issued in 2013 that allowed Dominion to consolidate ash from all five ponds into one, and then drain treated water from the final pond into the Potomac River.
Written public comments are being accepted by Virginia DEQ until December 14. A public hearing at the DEQ Northern Virginia Regional Office, located at 13901 Crown Court in Woodbridge, will be held at 6 p.m. December 8.
How the coal ash is being moved
Coal ash is grey and dark. It turns to sludge when placed into a ash pond, said Bryant Thomas, with the Virginia DEQ Northern Virginia Regional Office.
There are five ponds at the Possum Point site. All of them are identified by letter: A, B, C, D, and E.
Ponds A, B, and C haven't been used since the mid-1960s. Coal ash was buried in the ponds, and then dirt was used to cover, or cap the ponds. Trees and bushes now grow on the land, and power lines were strung overhead.
Between June and mid-October, crews at Possum Point have been digging up dirt and coal ash from ponds A through C and moving the ash into Pond D — the largest of two remaining ash ponds at the site. Some ash from Pond E — located next to Pond D, and easily seen from Possum Point Road — is being moved into Pond D.
A 2013 permit allows Dominion to consolidate the coal ash into one pond. The ash is toxic, and chemicals contained in the ash have been linked to causing cancer, neurological disease, respiratory illness, and organ disease. 
Treating the water
Waters from ponds D and E is largely contained by earthen berms. Some water from the ponds drains into Quantico Creek from two small toe drains or outfalls.
The water and sediment from around the toe drains are consistently monitored by DEQ, said Thomas. The sediment in the water contains elevated levels of copper, nickel, and zinc. However, elevated levels of those elements are not detected in the water.
"A domino effect is possible, where the detected elements in sediment could affect the water column, but we're just not seeing that," said Thomas.
Dominion says it has the experience to do the job correctly.
"We have benchmarked with other companies that are closing ash ponds and are applying best practices. Firms to complete the work were evaluated and a firm selected based on experience and performance in conducting similar work. We have project oversight to ensure the project is completed in compliance, focusing on safety and according to the design," said Genest.
DEQ is now taking public comments on defines appropriate levels of metals are allowed in the waters of Quantico Creek and the Potomac River near Possum Point. DEQ would require Dominion to test regularly the waters for as long as it deems necessary, and then report their findings to the state.
Such self-reporting requirements are common in cases like these as Dominion could rack up several penalties that could lead to major fines if incorrect information on water contaminants is given to state authorities, said Thomas.
A large "Brita like" filter would be used to treat the water that would eventually flow into the creek.
"It could take months to drain," added Thomas.
Post Your Email Notices, Press Releases, Event Fliers, and Photos
The FREE email packed with local news
The FREE email packed with local news
The FREE email packed with local news
Sign Up