City Council OKs Manassas Gateway waterfront development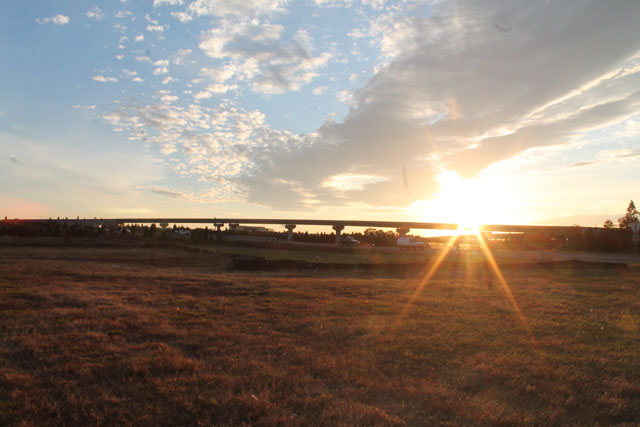 Manassas will move ahead with a plan make old farmland into a new waterfront development.
The City Council this week with a vote of 5-2 to instruct the city's Economic Development Authority to sell 40 acres of land on Gateway Drive, between Prince William Parkway / Route 234 Bypass and the Manassas DMV, to Buchanan Partners. The firm will develop the property into space for retail, offices, restaurants, hotels, and 279 new homes.
Heritage Brewery will be an anchor at the new center known as Manassas Gateway, which will be the city's first waterfront development, located next to a large stormwater retention pond that can be seen from Prince William Parkway / Route 234 Bypass.
"The City of Manassas is excited to have attracted a development company of the caliber of Buchanan Partners to help the city move forward with this development that has been under consideration for more than 20 years," said City Manager W. Patrick Pate in a press release. "This project will help City Council to realize their strategic goal of enhancing economic development for the entire community while complementing other city businesses and the historic downtown."
Economic developers in the city have identified this as currently the most important project in for growth in the city. The project would be developed in phases, with the residential and retail portions of the project built first.
The new 165 townhomes and 114 new condos are expected to bring 194 new children into the city's school system. That number is 69 more children than a previous project that called for 500 apartments and condominiums to be built at the site.
[ngg_images gallery_ids="553″ display_type="ds-nextgen_royalslider"]
Those plans – which included a mixed-use development to include offices, retail, and a hotel to be developed by Lerner Enterprises — went bust at the onset of recession the during the last decade.
"It's hard to get excited about 114 more condos and 165 more townhouses with more traffic on the roads and more kids in our school system," said Councilman Mark Aveni, who along with Councilman Ian Lovejoy voted against moving forward with the project.
Traffic in and out of the new development is expected to use Godwin Drive to access Prince William Parkway / Route 234 Bypass, to get to Interstates 66 or 95, according to city documents. The Broad Run Virginia Railway Express station is located 1.4 miles from the development.
The city has been in negotiations with Buchanan Partners for the past 18 months in efforts to solidify a deal. Two other developers approached the city after the Lerner agreement expired. Their plans included up to 934 new homes, and city officials chose not to pursue them.
Manassas stands to generate up to $20 million for the sale of the property. The city expects to collect $50 per square foot of building area for retail, $23.50 per square foot for office, $50,000 per townhome, $30,000 per condo, and $15,000 per hotel room.
"We calculate that using these contractual pricing guidelines, total land sales could top $20 million over the life of the project. These prices apply only to the contract with Buchanan and are indexed for inflation. Sales to third parties may be at higher prices. Discounts to land prices could be offered by the EDA as an incentive to attract competitive economic development prospects" said Manassas Economic Development Director Patrick Small.
The development will sit on a portion of the old Wakeman Farm the city purchased for $4.3 million in 1982. It sold 21 acres between 1996 and 2005 for office development.
Later in 2006, the city entered into a deal with Lerner Enterprises to develop a mixed use property. The developer was unable to meet its first city-manded objective of building 75,000 square feet of retail space, and the City Council allowed the agreement to expire in 2011, according to city documents.
Buchanan will not own the land west of the bypass. The developer will also be held to similar mandates Lerner was faced with.
"The contract has a 5-year term with a 5-year extension, which is subject to performance. These are standard timelines that allow Buchanan enough time to begin development, marketing and sales during the initial term. The extension protects both Buchanan and the city in that it allows Buchanan to continue to develop the property and profit from its capital investment while ensuring the city can be released from the agreement if Buchanan is unable to perform its obligations," said Small.
The Manassas EDA is scheduled to take up the matter at its Tuesday, Nov. 3 meeting at City Hall.
Post Your Email Notices, Press Releases, Event Fliers, and Photos
Subscribe to the weekday Breakfast Links email FREE!
Get
updates straight to your inbox.