Marshall concerned over I-66 toll plan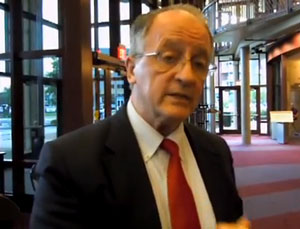 VDOT recently released their "preferred" plans for the Transform 66 project both inside and outside the Beltway.
I have serious concerns about both proposed plans and encourage the citizens of Northern Virginia to learn more about these plans and voice their opinions to VDOT both through the Transform66.org website and at the upcoming meetings.
The Transform 66 plan for inside the Beltway is proposed to begin construction in 2016 and will convert all lanes of I-66 inside the Beltway to HOV-3/Toll lanes during peak hours in both directions.  The estimated tolls could be as high as $17/day which would be over $4,000/year for citizens who use these lanes.  I have numerous concerns but the main one is that these tolls will not be used to add new lanes to I-66 inside the Beltway but rather the funds will be turned over to an unelected board which will use the funds to build bike paths and expand bus services.  The soonest VDOT would even consider adding another lane inside the Beltway would be approximately 10 years from now. 
The Transform 66 plan for outside the Beltway is to convert the existing HOV lane to a 24/7 HOV-3/Toll lane and build another lane in each direction which will also be HOV-3/Toll.  No additional regular use lanes will be built.  Again, I have multiple concerns.  Making the lanes HOV-3 and disallowing Hybrid users from using the new lanes will almost certainly put more vehicles into the regular lanes.  It is also unfair to citizens who made decisions about where to live and what vehicles to purchase based on the current rules.  At a minimum current Hybrid owners should be grandfathered. 
Additionally, these new lanes on I-66 outside the Beltway will be tolled 24/7 which will reduce the number of regular use lanes available during off-peak hours because currently drivers can use the HOV lanes during non-HOV hours.  Lastly, it seems likely that VDOT will also take the existing shoulder lanes that are available for use during peak hours to build the HOT lanes which again, reduces the number of regular use lanes.  
Again, if any of these plans concern you I encourage you to contact VDOT and attend the upcoming meetings.  There will be a meeting at Piney Branch Elementary School, 8301 Linton Hall Road, Bristow, VA 20136 on October 21, 2015 from 6:30-8:30PM. 
Post Your Email Notices, Press Releases, Event Fliers, and Photos
Subscribe to the weekday Breakfast Links email FREE!
Get
updates straight to your inbox.