Controversial Virginia family subject of Manassas Museum exhibit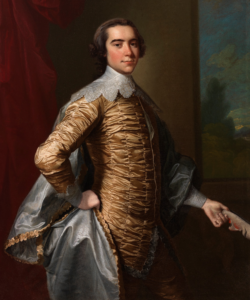 Manassas wants to talk about the Carter family.
In their newest exhibit, 'New World Aristocracy: The Carters of Virginia', which opens on August 15, the Manassas Museum wants to highlight an important family in America's history.
According to a city release, the free exhibit is open daily from 10 a.m. to 5 p.m. until December 31.
More from a Manassas release:
The Carter family was among America's first millionaires and emancipators. They lived amid a swirl of controversy and extreme wealth worthy of reality TV. Their Virginia backyard included half a million acres in the 1700s and 1800s, but they left a lasting impact on much of Virginia.

"Everyone that lives in this area today lives on land that was once owned by a member of the Carter family," said Manassas Museum Curator Mary Helen Dellinger.  To see exactly what land the family owned, the exhibit will feature a map of Carter properties overlaid on a modern day map of area neighborhoods.

"A lot of these Carter storylines connect present-day neighborhoods," said Prince William County Historic Site Operations Supervisor Rob Orrison. "Most people are amazed at how much land the Carter family owned around here."

Liberia Plantation, Ben Lomond House, and Oatlands Plantation in Leesburg are among the properties built by Carter family members.  In addition to vast land holdings, the Carter reach extended to Virginia's cultural life.

"There's a history here that goes back centuries, one that touches on slavery, politics, religion, trade and architecture," Dellinger says. Robert "Councillor" Carter III, the grandfather of Liberia's owner Harriet Weir, was a particularly colorful member of the family, best known for gradually freeing nearly 500 of his slaves, and leaving the Church of England to become an evangelical Christian.

One of the artifacts on loan from Oatlands Historic House and Gardens is a book from Carter III's collection, The Doctrine of the New Jerusalem Concerning The Lord, which may explain his break with the Anglican Church. "This, coupled with his manumission of his slaves, paints him as somewhat of a radical running around in the Northern Neck during the late 18th century," Dellinger says. "One wonders what his neighbors thought."

Gathering artifacts and images for the exhibit proved to be a challenge since so few of the Carter family possessions still exist and so many of their homes no longer stand. "To visit this exhibit and see these objects and images is to try to connect to the very place in which you live, where a few families of wealth and power once dominated the social, political and business landscape and forged a beginning for the place we call home," Dellinger explains.

Orrison and colleague Bill Backus were inspired to create the exhibit when they visited and led tours to Christ Church, the Carter family church in Virginia's Northern Neck, where the Carter legacy is especially visible. Historic Christ Church is loaning Robert Carter III's writing desk and bottle pieces with Carter's seal for the exhibit.

"People who love history will enjoy so many rare things on exhibit," Orrison says. "But even people who don't like history will enjoy the story."
Post Your Email Notices, Press Releases, Event Fliers, and Photos
Subscribe to the weekday Breakfast Links email FREE!
Get
updates straight to your inbox.
Readers also enjoyed...
A word from our sponsors...